Ask any commoner, elitist or downtrodden about what sets PM Modi apart from the rest of the political leaders? You will get one common answer- his ability to interact with the people of the country at a very personal level. His connect with the citizenry is what makes him a charismatic statesman. Since he came into power, he has taken several innovative decisions that have made him a brilliant communicator.
Women's Day campaign
Yesterday on the occasion of Women's Day, PM Modi surprised everyone by signing off from his Twitter handle and allowing seven women achievers to narrate their life journeys through his handle. This is a part of PM Modi's larger, effective outreach campaign. Here the Prime Minister not only recognised the achievements and contributions of these seven women achievers but also brought them before the entire country through his own Twitter handle.
'Mann ki baat' 
This has to be one the most influential outreach programmes initiated by Prime Minister Modi, or any political leader in India for that matter. Recognising how radio has remained a major mode of communication by reinventing itself even in the age of interest and television, PM Modi chose radio to directly communicate with the people of the country in the form of his 'Mann ki Baat' programme after coming to power in 2014.
Last year a study carried out by Prof Pulak Ghosh of IIM-Bangalore, V. Kamakoti of IIT Madras, and Bhuvanesh Pareek from IIM Indore based on data analytics revealed Mann Ki Baat has become the biggest online influencer in India. PM Modi's flagship outreach programme is thus one of the most successful programmes.
Main bhi Chowkidar campaign
This was one of the most underrated campaigns carried out by PM Modi. Coming as an effective counter to Rahul Gandhi's 'Chowkidar Chor hai' jibe, it became an instant hit and took internet by storm. The longevity of the campaign- extending till well after the 2019 polls and its resonation with Modi supporters led to a number of them prefixing Chowkidar before their names on social media.
On a more scientific note though, it ended up giving a massive push to the social media campaign of the BJP. It created an impenetrable ecosystem and wide scale networking among the 'Chowkidars'. Before the liberal brigade and the social media cells of the opposition could realise, they were facing an invincible people-led campaign. In such a backdrop any messaging dropped by the party spread rapidly as its ecosystem kept expanding exponentially. At the same time, the vicious propaganda against PM Modi and the BJP was also countered and obliterated effectively.
Candid, apolitical appearances with Bear Grylls and Akshay Kumar
 PM Modi is easily the most popular leader in the country, and while the rest of the political spectrum was busy with propaganda and petty politics before the 2019 General Elections, the Prime Minister came up with an innovative move- an appearance on Man v Wild with ace adventurer Bear Grylls.
An episode in the breathtaking Jim Corbett national park in Uttarakhand and a recollection of Prime Minister Modi's early days at the Himalayas served as a wonderful outreach initiative in which he made an effort to interact about his personal life with the citizenry at large.
Writing in Indian languages and foreign languages to target specific audiences
While allegations of Hindi imposition have been regularly levelled against PM Modi and BJP, especially by Dravidian nationalists like MK Stalin, the Prime Minister has time and again proved his critics wrong.
Recently, he spoke in four different languages- Kannada, Telegu, Marathi and Hindi, at the closing ceremony of the centenary celebrations of the Shri Jagadguru Vishwaradhya Gurukul in Varanasi, a city that falls right in the core of the Hindi heartland. Even at 'Howdy Modi!' in the United States, PM Modi had spoken in several Indian languages to convey 'everything is fine'.
Language is usually very personal to a social group. When you speak in the language close to the other individual, it leaves a very strong impression on that other individual. This is also the reason why this initiative seems to have gained popularity among other world leaders who have started following him in this aspect.
Interaction with Bollywood artists
PM Modi is an unconventional leader and someone who doesn't believe in remaining aloof from the grassroots. His primary focus has been to engage the youth of the country in order to leverage India's demographic dividend. As a part of this goal, he invited Bollywood stars in the Prime Minister Office (PMO) for a meeting to discuss issues related to cinema last year.
In fact, PM Modi has been interacting with Bollywood actors time and again, as he knows that there is an entire generation which follows the Bollywood artists. Therefore, he has got them to participate in conversations and campaigns for the betterment of the nation. This is a part of the strategy to engage millennials- the 'Instagram generation."
Putting on traditional attire and headgear during rallies
Ever since PM Modi came to power in 2014, he made it a point to reach out to the Northeast- a part of the country often neglected by the past regimes. Ever since the days of 2014 Election Campaign, he sported the headgear of Adi tribes during a poll rally in Arunachal Pradesh. Then he was also seen wearing a Hornbill cap during a rally in Orange on March 31, 2014. The whole purpose is to celebrate and honour the diversity of cultures and traditions that exist across the length and breadth of India.
In Assam, he wore the traditional Jaapi hat presented to him by party members at Lakhimpur. In Nagaland he wore the traditional Naga warrior headgear during the Hornbill festival. All of these were attempts to give a human touch to his rallies- so that the people in the region could resonate easily.
Even in other states such as Punjab, he wore the turban reaching out to the people of the state. Hosting Xi Jinping during the Mamallapuram summit, PM Modi sported the traditional Tamil veshti reaching out to the people of Tamil Nadu. Thus, from the Northeast to the northern state of Punjab to down south in Tamil Nadu, the Prime Minister makes it a point to wear clothes and headgears that capture the imagination of specific audiences.
Celebrating Diwali with India's brave soliders
Take a look at PM Modi's Diwali celebrations since 2014:
2014- Celebrations with Army jawans at Siachen.
2015- Celebrations with soldiers at Dograi War Memorial at Khasa in Amritsar.
2016- Celebrations with ITBP, Indian Army and Dogra Scouts at Kinnaur, Himachal Pradesh.
2017- Celebrations with Indian Army troops in the Gurez region along the Line of Control (LoC) in Jammu & Kashmir.
2018- Celebrations with ITBP jawans stationed at the Harshil, Uttarakhand near the Indo-China border.
2019- Celebrations with Army jawans posted at Jammu & Kashmir's Rajouri.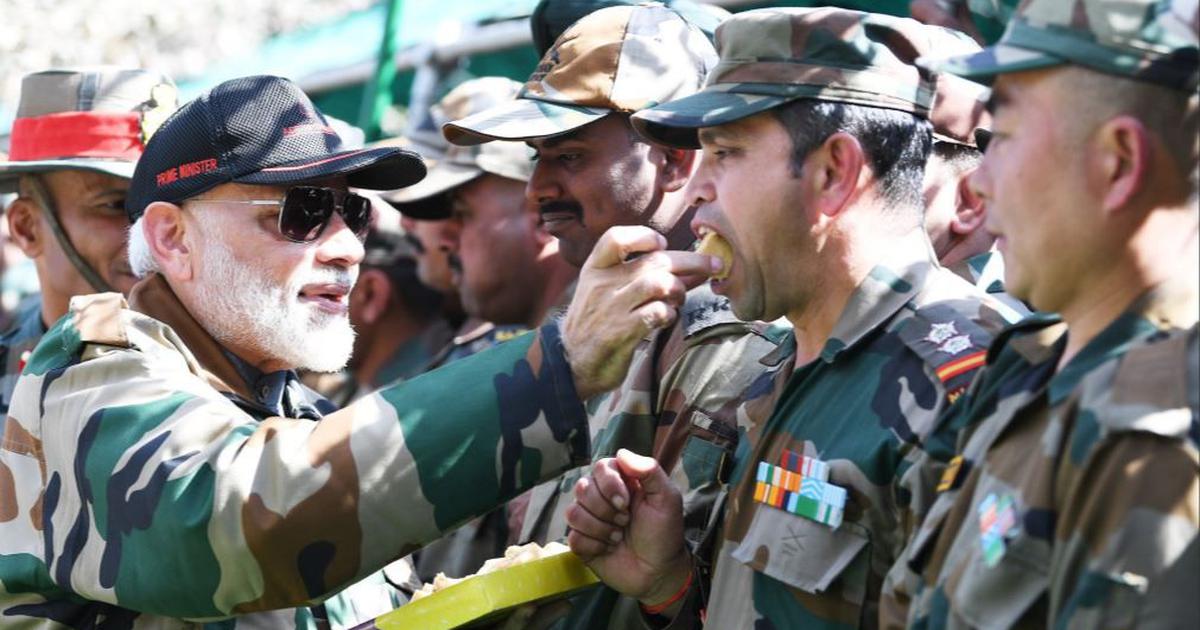 Armed forces are one of the biggest indicators of National power. PM Modi has always been highly respectful of the valour of the Indian forces unlike his political competitors. What shows his gratitude and respect towards these selfless soldiers guarding our borders in some of the most inhospitable terrains of the world, is his gesture to celebrate every Diwali with the troops of the Indian Army and other security forces.
PM Modi is a people leader who enjoys the overwhelming love and appreciation of Indian people across cultural lines. He reads the pulse of the nation, his outreach campaigns are always innovative, smart and hence effective and widely talked about by both his supporters and detractors.