In the last few months, many large companies like DHFL, HDIL, PMC Bank and Yes Bank have gone bankrupt, and one family that was associated with all these names is Wadhwan family.
Born to Dewan Kuldip Singh Wadhwan, Rakesh Singh Wadhwan opened firm named HDIL and Sarang Wadhwan is his son. Dewan's other son, late Rajesh Wadhwan opened the firm named DHFL, and his sons Kapil and Dheeraj Wadhwan now look after the business. Now, most of the family members of Wadhwan family are in jail or out on bail.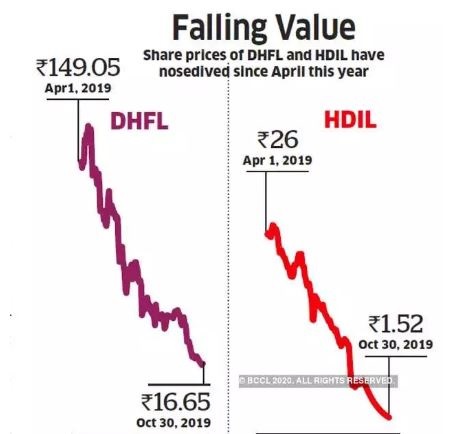 The share price of the firms run by them is on nosedive drive and the investors, lenders, and depositors have lost their money.
The first case against the Wadhwan family was the bankruptcy of Punjab and Maharashtra Cooperative (PMC) bank. PMC was more of a community specific entity rather than being a general private bank. Located in Guru Tegh Bahadur Nagar of Mumbai, the PMC bank was primarily driven by Punjabi Hindu and Sikh community, who migrated to Mumbai during partition and after that.
Guru Tegh Bahadur Nagar is heavily dominated by Punjabi community and almost every family has an account in PMC bank. "As the population of Sikhs in Mumbai began to expand, there was a corresponding demand for our own bank, similar to the Saraswat Co-operative Bank," says Ram Singh Rathore, a local.
The Wadhwan family rescued PMC bank from going bankrupt and since then controlled it. Wadhwan's are Punjabi Khatri and used to be respected and well-known among the locals of Guru Teg Bahadur Nagar. They saw PMC bank as their own, at least before it went bankrupt. With full control of PMC management and clout over the local community, Wadhwan's siphoned off more than 70 percent of bank's total alone, which is against the RBI norm. With the failure Wadhwan's family firms- Kapil Wadhwan led DHFL and Rakesh Wadhwan led HDIL – the money of PMC bank was at risk, until RBI came to rescue the bank.
After PMC case, the Economic offences wing arrested Rakesh Wadhwan and Sarang Wadhwan- the directors of HDIL.
Now with Yes Bank going bankrupt, CBI has arrested Kapil Wadhwan for cheating and corruption. Kapil Wadhwan led DHFL has been involved in siphoning off 2,200 crore rupees from PF fund investment of UP power sector employees. Now after the Yes Bank case came out in open, it was revealed that Yes Bank invested 3,700 crore in the short-term debentures of DHFL for a kickback of 600 crore rupees loan to a firm owned by daughter of Rana Kapoor.
ED is separately investigating a case against Kapil Wadhwan and his links with Iqbal Mirchi, right hand of underworld don Dawood Ibrahim, who is accused in many criminal cases. "Kapil Wadhawan, being chairman and managing director of Dewan Housing Finance Ltd (DHFL), had visited London along with a city-based real estate broker to meet Iqbal Mirchi in 2010. He has been instrumental in siphoning off huge amounts of money as part of the illegal deal between Mirchi and the Wadhwans," reads ED note against Wadhwans.
The Wadhwan's are primarily involved in development of real estate and financing. While HDIL develops read estate, DHFL's primary business is housing loans, and with the collapse of real estate sector, both companies and the family came under the bus. There is an interesting trivia too. While the HDIL came under the bus at the time of Diwali and Rakesh Wadhwan was arrested, by the time of Holi, the DHFL and the other Wadhwans are under fire.