Karan Johar has been in the news for all the wrong reasons. His ambitious film 'Takht' seems to be in trouble after radical Islamist and the writer of the movie shared 'Hindu terrorists' tweet and unsurprisingly, '#boycottTakht' trended on Twitter. 
Hussain Haidry has locked his Twitter handle, and therefore his tweets can no longer be accessed. But screenshots of his shameful tweets are now circulating on Twitter. In one of such tweets, Haidry can be seen spewing venom against Hindus by tweeting, "Use these two words. Words are important." Thereafter, he goes into an almost lunatic spree- writing HINDU TERRORISTS, HINDU TERRORISTS, HINDU TERRORISTS…."
Apparently, the 'Takht' scriptwriter was referring to action against anti-CAA rioters and arsonists in the state of Uttar Pradesh. It is utterly shocking and unconscionable how Haidry was referring to action against arsonists and hooligans who had run riot in Uttar Pradesh as "Hindu terrorism".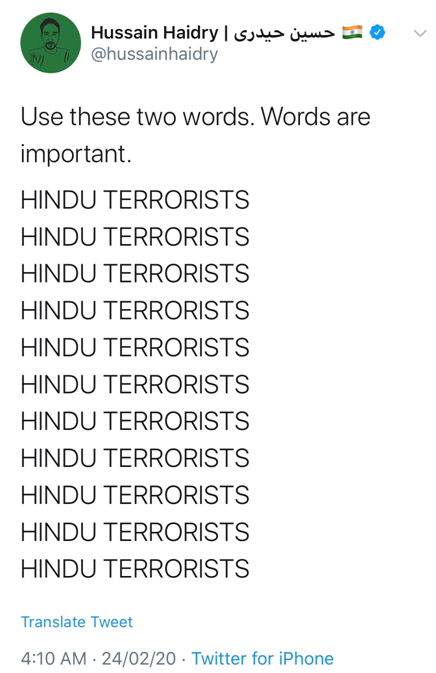 To further compound his problems, his production house Dharma along with 5 other production houses have come under the Income Tax's radar.
Seven production houses including Karan Johar's Dharma Production and Ekta Kapoor's Balaji Telefilms have come under the Income Tax Department radar for suspicion that they have not been deducting enough tax while paying the extras in their films. Other production houses include that of Ritesh Sidhwani-Farhan Akhtar's Excel Entertainment, Vashu Bhagnani's Pooja Entertainment, Dinesh Vijan's Maddock Films, Luv Ranjan's Luv Films and Ajay Rai owned Jar Pictures have been put under questioning. These production houses pretty much control the entire Bollywood with Karan Johar's Dharma being the largest production house with a turnover of just under Rs 500 crore in FY19. Close on the heels of Dharma are Balaji and Pooja with a reported turnover of Rs 460 crore Rs 35.57 crore in FY19.
The Income Tax department and the producers have clashed over the disagreement over the wage distribution of the extras in movies. Since the last decade, production houses have been cutting 2 per cent as TDS (Tax Deducted At Source) from the wages that have been paid to the extras which are against the set limit for the deduction of TDS is 10 per cent which is not being followed according to a survey by the IT department.
 It remains to be seen how the production houses react to the latest action by the IT department.