Filmmaker Karan Johar has hit headlines once again, but this time over wrong reasons. The scriptwriter of Karan Johar's upcoming flick, 'Takht'- Hussain Haidry has come into limelight over tweets that reek of intense hatred against Hindus. He has been caught posting some rather incendiary tweets against Hindus, which has led to a massive outrage on Twitter. #BoycottTakht is now trending on Twitter.
Stop bigotry and hate against Hinduism and Hindus.✋🚫

Raise your voice against wrong,
Take a stand for what's right!#BoycottTakht pic.twitter.com/ufrA4cxNgL

— Shivani Sharma (@Shivani2297) February 24, 2020
Hussain Haidry has locked his Twitter handle, and therefore his tweets can no longer be accessed. But screenshots of his shameful tweets are now circulating on Twitter. In one of such tweets, Haidry can be seen spewing venom against Hindus by tweeting, "Use these two words. Words are important." Thereafter, he goes into an almost lunatic spree- writing HINDU TERRORISTS, HINDU TERRORISTS, HINDU TERRORISTS…."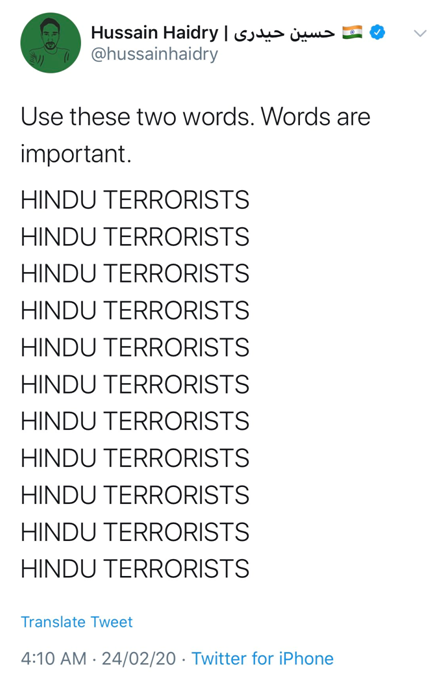 In this wave of anti-Hindu remarks, the scriptwriter of 'Takht' tweeted, "Upper Caste Hindus have ruined this country. But still try to dominate in terms of intellect, linguistical aesthetics and humility." He further spoke with with derogatory language for Hindus and BJP supporters.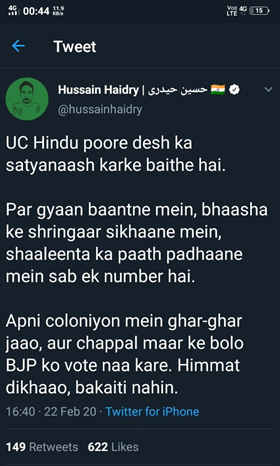 Indore post-graduate, Haidry left Kolkata after working there from some time. After migrating to Mumbai, he worked as a lyricist in movies- 'Kareeb Kareeb Single', 'Mard ko dard nahi hota', etc. He has also worked for TVF series, 'Tripling', 'Yeh Meri family', etc. apart from Amazon Prime series, 'Lakhon me ek'.
The movie 'Takht' is based on the family struggles within the Mughal era. It will depict the struggle for power among the four sons of the Mughal emperor Shahjahan. The role of Shahjahan will be played  by Bollywood actor, Anil Kapoor, while Kareena Kapoor Khan will play the role of Shahjahan's daughter, Jahan Ara and Ranveer Singh will play the role of Shahjahan's heir apparent, Dara Shikoh. Apart from this, Vicky Kaushal will play the role of the most despotic Mughal ruler, Aurangzeb.
However, the movie is bound to end up in a controversy owing to Haidry's incendiary, provocative remarks. In one of his tweets, he displayed sheer hatred for Hindus by saying, "This is State-sponsored Hindu terrorism. And Hindu-sponsored State terrorism."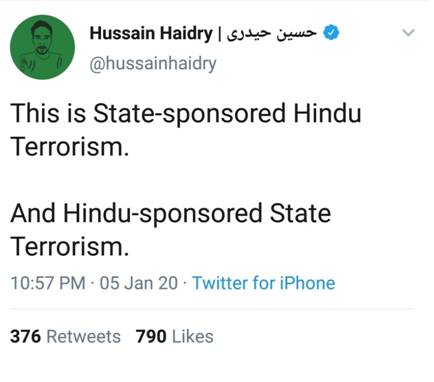 Apparently, the 'Takht' scriptwriter was referring to action against anti-CAA rioters and arsonists in the state of Uttar Pradesh. It is utterly shocking and unconscionable how Haidry was referring to action against arsonists and hooligans who had run riot in Uttar Pradesh as "Hindu terrorism".
The kind of hatred that Haidry is manifesting against Hindus has given to the apprehension of how the movie 'Takht' might have also projected despotic Mughal rulers in a rather benevolent manner.
It seems that Karan Johar hasn't learned his lessons after his movie 'Kalank' tanked at the box office owing to Deepika Padukone's support to the leftist, anti-CAA lobby within the JNU. Now, Haidry's Hinduphobic comments and tweets are bound to cause massive outrage and 'Takht' might also flop miserably at the box office.
After 'Tanhaji' succeeded phenomenally at the box office, Communists and Islamists have been fuming. They wanted an answer to the historical realities shown by the movie and they seem to be looking for an answer in 'Takht'- a movie based in the backdrop of the Mughal era.
Given the larger theme of Karan Johar's upcoming movie and the vicious character of Haidry's tweets which is full of anti-Hindu hatred, there is little doubt about the fact that the movie might make a desperate attempt at exonerating the Mughal empire of all their excesses. The Mughal rule was one of the most brutal chapters in the Indian history. For decades, Marxist historians have tried to whitewash the bitter realities of the Mughal era. This ideology of extolling the Mughal rule into a benevolent rule might find support in 'Takht'.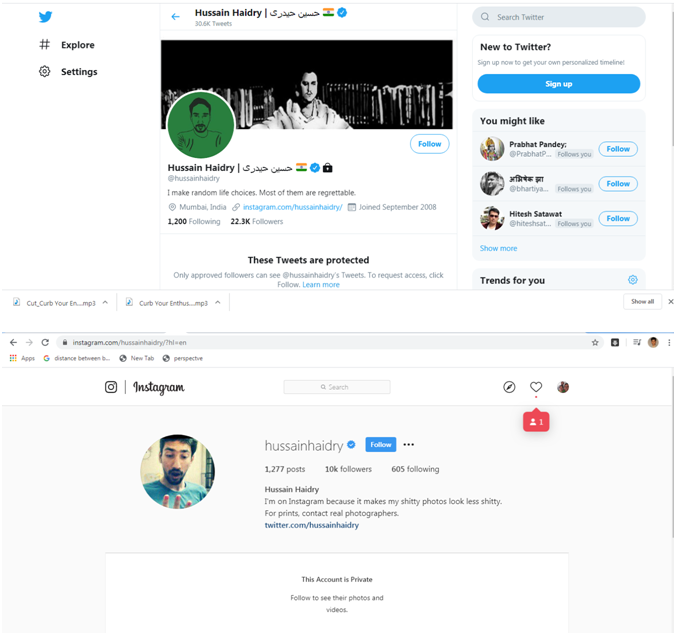 Facing outrage, Haidry locked his account. Now, it seems as if he has deleted his account. He is trying to escape answerability over his vicious, Hindu hating remarks. But with #BoycottTakht trending on Twitter, he and Karan Johar's movie are set to face a lot of trouble.