Days after Yogi Adityanath had made it clear that rioters and goons causing damage to public property would not be spared and would have to bear the losses that the state has incurred, 28 people have been issued notices by the government to cough up Rs.14 Lakh for property damage.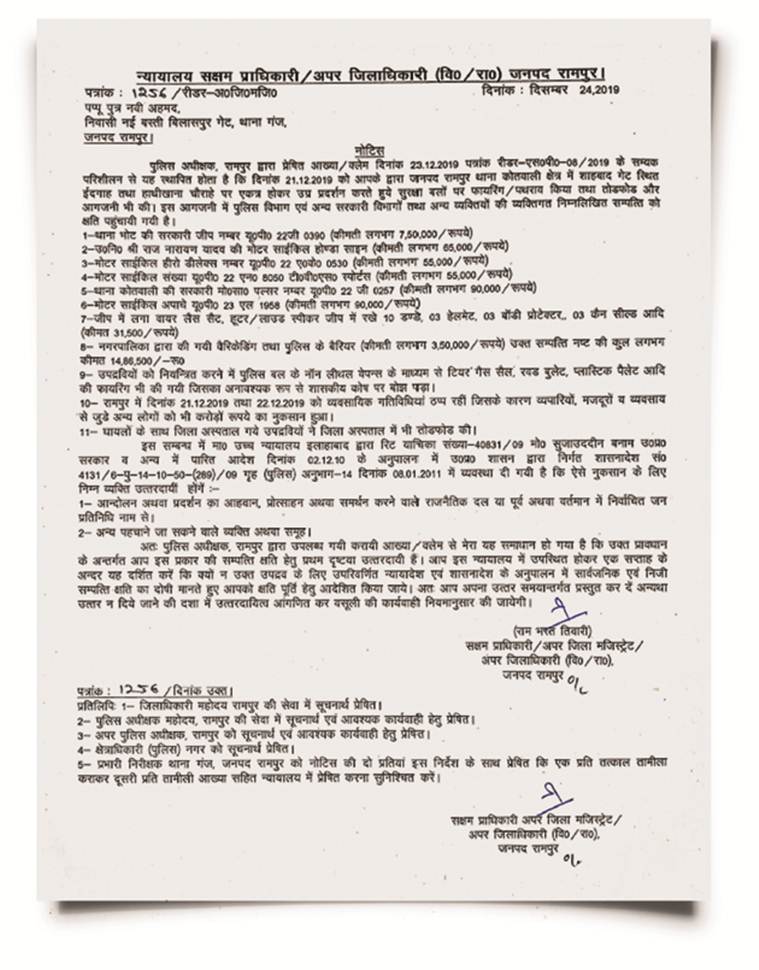 The Rampur district administration was the first to take such action against goons. The administration, while holding them responsible for acts of violence and damage to government property, has sought an explanation on why recoveries should not be made for damage worth Rs. 14.86 lakh. Rampur District Magistrate Aunjaneya Kumar Singh said, "We issued notices to 28 persons whose role were found by police during investigation. Police submitted evidences against them. They (28) have been asked to submit their response within a week, otherwise the process of recovery against them will be started. Of the 28, a few have been arrested while raids are on to trace others. An accused and his family can submit evidence to support their plea that they have been wrongly booked in the case."
Apart from these notices, the UP administration also ceased 50 shops in Muzzafarnagar of individuals who caused damage to public property during the anti-CAA protests. The police are making full use of CCTV footages and other videography's to identify and initiate action against goons.
Such acts are dealt under the Prevention of Damage to Public Property Act of 1984. Supreme Court direction allows all states to seek compensation from individual rioters and goons who cause damage to public property. Yogi Adityanath has made use of this direction rightfully. For this, Yogi is winning approval and admiration not just in UP but across the country.
He has set a strong example for other state governments to follow, which otherwise let go of rioters and hooligans who damage public property. During the anti-CAA protests, damage to public property was seen from Assam to Lucknow and from Delhi and Mangaluru. Cars and buses torched, while buildings were damaged due to stone-pelting.
Rampur is just the beginning. Going by Yogi Adityanath's mood, it is expected that all district administrations will soon be issuing similar notices to people who were involved in state-wide damages. While the media and liberals are claiming this to be an act of revenge by the Yogi government, it is, in fact, a mere obeyance of the apex court's directions to all state governments in the country.