Riding on the foreign-invested in Indian equities; Sensex has reached all-time high, breaching 41,000 mark. At 4.18 PM on Wednesday, the benchmark index of Bombay Stock Exchange was on 41,020 points with 199 points (0.49 per cent) gain compared to closing hours of last day.
The foreign investors have invested 2.27 billion dollars in Indian equities so far this month, the highest investment in a month since March this year. The investors are bullish about the Indian market because they expect some more government stimulus to spur the demand, and comprehensive economic reforms in the next budget. 
The government has already announced a cartel of sops for real estate, and auto sector. The investors hope that stimulus will be announced for a few more sectors. The market analysts expect that this sentiment will last till the end of this year. "When the liquidity flow from foreign investors is there, it's a tsunami and we need to enjoy it," said A. K. Prabhakar, head of research at IDBI Capital Market Services Ltd. in Mumbai. "The bullish sentiment may continue till the end of the year."
For a developing country like India that has an abundance of cheap labour, capital, and a pro-active government are the two other things required to make its manufacturing hub. The country got a pro-active government when Narendra Modi stormed to power in 2014 but the only thing that stops India from attaining double-digit growth is the unavailability of cheap capital.
The government tried to solve this problem by easing the FDI norms and PM Modi personally tried to improve relationship with capital-rich western countries to attract more FDI.
If the relationship between FDI growth rate with that of GDP is compared, one realizes that 'Every 1% increase in 'Foreign Direct Investment' results in about 0.4-0.5% increase in GDP, though it depends on country's development stage heavily'. Therefore, huge investments from capital-rich countries is very important for attaining a double-digit economic growth.
The efforts of the government have proven fruitful as FDI in India has increased exponentially in India while other developing Asian economies are losing on this front.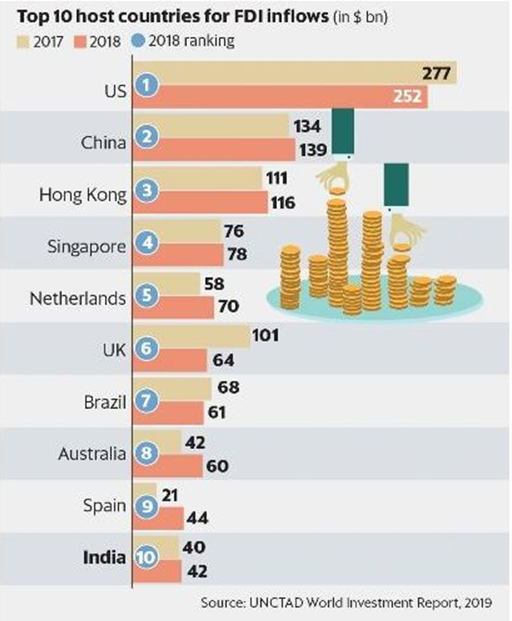 The FDI inflows to India increased by 6 per cent to 42 billion dollars compared to 40 billion dollars last year, as per United Nations Conference on Trade and Development (UNCTAD) World Investment Report 2019. The rise in FDI was helped by 16 billion-dollar Flipkart Walmart deal which took total cross border merger & acquisition amount to 33 billion dollars from 23 billion dollars a year ago.
Overall, the South Asian region received 54 billion dollar FDI with 3.5 per cent growth rate. The inflow to Bangladesh and Sri Lanka rose to 3.6 billion and 1.6 billion dollars respectively. However, investment in debt-ridden Pakistan declined by 27 per cent to 2.4 billion dollars which means India received 18 times more investment than Pakistan. FDI received by India state of Maharashtra and Delhi was bigger than that by Pakistan.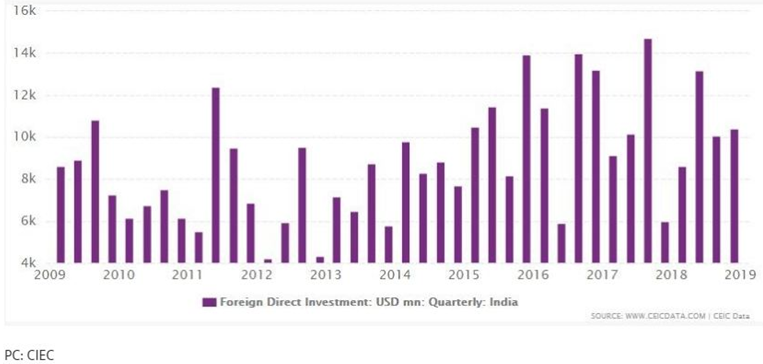 Manufacturing sector bagged the majority of the FDI shares followed by 'Information and communication services' and 'financial and insurance activities'.
Modi government has majorly focused on the manufacturing sector. To give a boost to manufacturing, the government launched the 'Make in India' programme on 25th September 2014, just 4 months after coming to power. Under this initiative, FDI policy was liberalized with 100% Foreign Direct Investment (FDI) being permitted in all 25 sectors, except for space (74%), defence (49%) and news media (26%). As a result, India emerged as the top destination globally in 2015 for foreign direct investment (FDI), surpassing USA and China.