A few days ago, the CEO of Hindustan Unilever Limited (HUL), largest Fast Moving Consumer Goods Company, painted a very grim picture of India's rural consumption story. Sanjiv Mehta, chairman and MD of HUL Group, blamed the slowdown in rural demand for bad weak second quarterly results.
"The past three months (Q2) has seen a sharp deceleration in the fast-moving consumer goods (FMCG) market growth rate, led by a slowdown in rural areas. Though the government has taken policy initiatives in the past few months to spur demand, income transfer to rural areas would be a key monitorable," said Mehta.

The company, however, posted 16 per cent growth in earnings before interest tax depreciation, and amortisation (Ebitda), and 5 per cent growth in volume, despite the claims of rural slowdown.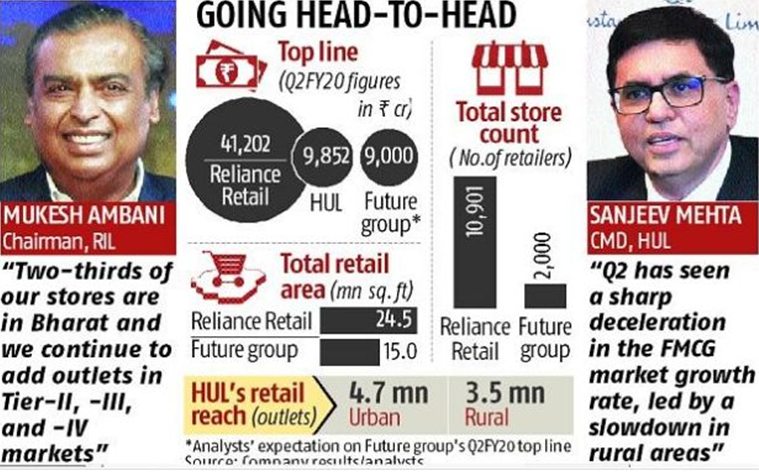 But the quarterly results of Reliance Retail, the largest retailer in the country, painted altogether a different story about rural consumption. The organized retail business posted 36.1 per cent growth in revenue and 64.8 per cent growth in profit before taxes. Mukesh Ambani, chairman of RIL, emphasized that the company's growth is driven by demand in rural areas.

"Two-thirds of our stores are in Bharat and we continue to add outlets in Tier-II, -III, and -IV markets. We continue to seize the large market opportunity in India by expanding presence," said Ambani. 
Mukesh Ambani has made it clear that Reliance retail is looking for aggressive expansion and the company wants consumer business, which contributes only 20 per cent to the total revenue, to contribute as much energy and refining businesses by 2025.
Previously, the company announced that exclusive brands like Best Farms, Good Life, Masti Oye, Kaffe, Enzo, Mopz, Expelz and Home One which are currently available only on Reliance Fresh, Reliance Smart and Reliance Market stores will be available at local stores. The company will distribute the products with the help of distributors.
Reliance is all set to enter the e-commerce market to take on Amazon and Walmart. It will enter the e-commerce market with innovative online-to-offline (O2O) model. It will also explore the untapped rural and small towns market for e-commerce and is expected to be outside of the discounting game.
In January, Mukesh Ambani had announced the entry of Reliance in e-commerce at the inauguration of the three-day Vibrant Gujarat Summit. "Jio and Reliance Retail will launch a unique new commerce platform to empower and enrich our 1.2 million small retailers and shopkeepers in Gujarat, which are part of the over 30-million (retail) community in India," said Ambani in Gandhinagar.
Analysts praised Reliance retail's aggressive expansion strategy for the retail market. "Apart from an aggressive store expansion policy, Reliance Retail also has a strong catchment-focused assortment strategy. The company also has impactful consumer activations and a wide portfolio of store brands," said Abneesh Roy, executive vice-president of research (institutional equities) at Edelweiss. 
The company added 337 stores in the second quarter, taking the total number of stores to 10,901 in 6,700 towns. In the last fiscal year, the company opened 2,829 stores and for the first time crossed revenue crossed 1 lakh crore rupees.
While companies like HUL resort to blame-games, Reliance is expanding its business operations. The company aims to use Jio's rural penetration and Reliance retail's physical infrastructure to take e-commerce to rural areas by leveraging on small retailers.  
Earlier, the big e-commerce players were involved in a heavy discounting game with exclusive deals from particular retailers who were backed by the platform itself. The small retailers were being pushed out of business through this unethical practice. Reliance is likely to give more importance to these small retailers.
There is not an iota of doubt among analysts that Ambani-led Reliance will give tough competitions to existing e-commerce players as the history of its operations in other sectors suggests. The upcoming years will give us a good show on the competition in the Indian e-commerce market especially between the richest man in Asia and the richest man in the world- Jeff Bezos. 
Mukesh Ambani is known to work for monopoly in the markets, similar to his father. In the early days of the business his father monopolized thread-making business, and he has himself done the same in the refining and petrochemical business. Now, the company is trying to monopolize the telecommunication market and retailing business also.