Reliance Industries Limited (RIL), the largest company in India, released quarterly results on October 18. The company's transition from a refining and petrochemical to retail and digital business was visible in the results. While the revenue from Refining, Petrochemical segment decreased, retail and digital services revenue registered exponential growth.
Previously, Reliance chairman- Mukesh Ambani said that the company plans to move consumer business from energy sector. Emphasizing the focus on digital services business, "In this new world, data is the new oil. And data is the new wealth," said Ambani in Vibrant Gujarat Summit.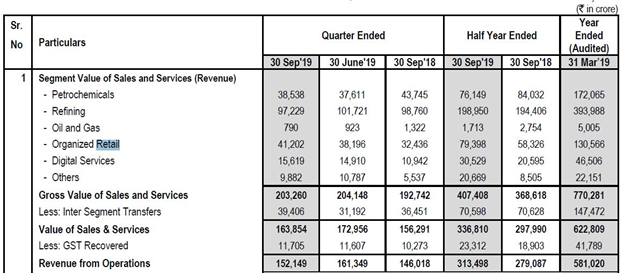 Reliance Jio, the digital services division of the company posted 990 crore rupees net profit in the second quarter. Jio is now the largest telecom company with more than 35 crore user base. It took only three years for the company to weed out smaller players from the market and race ahead of Vodafone Idea and Airtel.

The revenue from digital services business increased from 10,942 crore rupees in September quarter of last year to 15,619 crore rupees, registering 48.2 per cent growth. The total number of subscribers grew by 41 percent, from 25.23 crores to 35.52 crores. Company's profit before taxes grew by 70.4 percent to 3,322 crore rupees from 2,024 crore rupees a year ago.
"Jio crossed the 350 million subscriber mark to remain the world's fastest growing digital services company, and we are still adding more than 10 million new customers every month. Jio is not only India's largest telecom enterprise in terms of subscribers and revenues, but has also become the digital gateway of India," said Mukesh Ambani.
Reliance Retail, the fastest-growing unit of Reliance Industries Limited is the other segment which showed an impressive growth. Mukesh Ambani has made it clear that Reliance retail is looking for aggressive expansion and the company wants consumer business, which contributes only 20 percent to the total revenue, to contribute as much energy and refining businesses by 2025.

The organized retail business posted 36.1 percent growth in revenue and 64.8 percent growth in profit before taxes. Previously, the company announced that exclusive brands like Best Farms, Good Life, Masti Oye, Kaffe, Enzo, Mopz, Expelz and Home One which are currently available only on Reliance Fresh, Reliance Smart and Reliance Market stores will be available at local stores. The company will distribute the products with the help of distributors.
Reliance is all set to enter the e-commerce market to take on Amazon and Walmart. It will enter in the e-commerce market with innovative online-to-offline (O2O) model. It will also explore the untapped rural and small towns market for e-commerce and is expected to be outside of the discounting game.
In January, Mukesh Ambani had announced the entry of Reliance in e-commerce at the inauguration of the three-day Vibrant Gujarat Summit. "Jio and Reliance Retail will launch a unique new commerce platform to empower and enrich our 1.2 million small retailers and shopkeepers in Gujarat, which are part of the over 30-million (retail) community in India," said Ambani in Gandhinagar.
The company's transition from refining and petrochemical business to consumer business is clearly visible in quarterly results. The consumer and retail businesses of the company have registered profit and grown exponentially over the last few years. "Now consumer businesses account for almost 25% of RIL's Ebitda (earnings before interest, tax, depreciation and amortization)," said Srikanth, Joint Chief Financial Officer, after the release of last financial year's result.
Mukesh Ambani is known to work for monopoly in the markets, similar to his father. In the early days of the business his father monopolized thread-making business, and now he is himself doing the same in the refining and petrochemical business. Now the company is trying to monopolize telecommunication market and retailing business.
Since his company entered the market with a 1GB free data and unlimited free calling package throughout India, the prices of calling and data services have crashed. He was being compared to the freebie distributing Chief Ministers of Tamil Nadu but he was doing it with his own money, not the taxpayers' money.