The International Monetary Fund, the global lender, has published its flagship biannual survey – World Economic Outlook yesterday. This is the second report (first one came in April this year) under the Indian American IMF chief economist- Gita Gopinath. The document forecasts global and national economic growth in near and medium context.
This year, IMF report categorized the countries in a very unusual nature, the countries which are expected to contribute to global growth were put separately from Group of Four (US, Euro area, China, and Japan) as the countries which will cause the slowdown. Usually, IMF divides the countries on developing country and developed country, but, to categorize China among those whose growth will moderate, it came up with a 'Group of Four' category.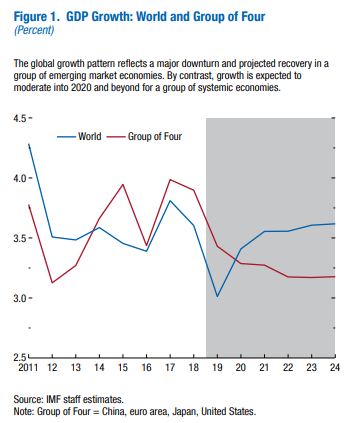 "Growth is expected to moderate into 2020 and beyond for a group of systemic economies comprising the United States, euro area, China, and Japan—which together account for close to half of global GDP," said the IMF report.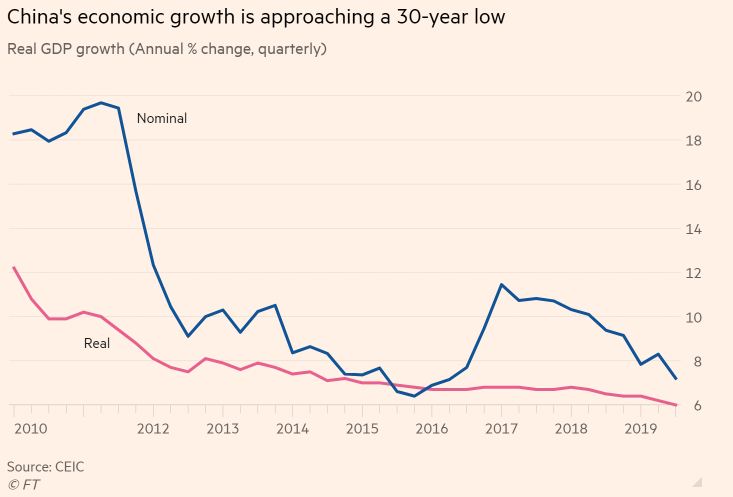 Chinese economy posted 6 per cent growth in third quarter of this calendar year. This is lowest growth posted by the Communist country in the last three decades. The ongoing trade war and slowdown in domestic demand are the reasons behind growth slowdown. "In China, the growth downgrade reflects not only escalating tariffs but also slowing domestic demand following needed measures to rein in debt," added the report.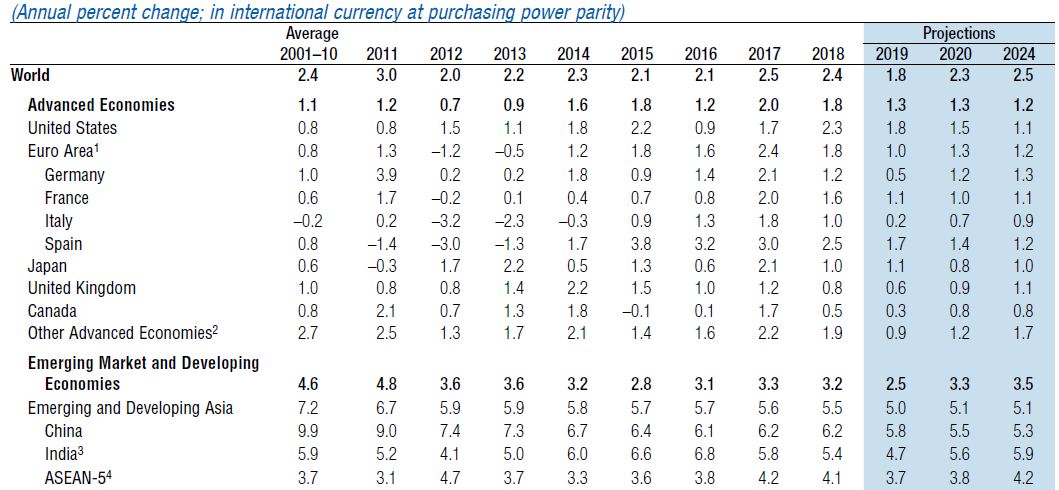 The GDP (PPP) growth of China is expected to moderate to 5.8 per cent in the ongoing calendar year in comparison to 6.2 per cent in the last year. The projections for 2020 and 2024 are 5.5 per cent and 5.3 per cent respectively. Therefore, GDP growth of China in terms of purchasing power parity is expected to soften in the upcoming years.
On the other hand, PPP growth in India is expected to grow at 5.6 per cent in 2020 and pick up further to 5.9 per cent 2024.

The real GDP growth of China is projected to moderate to 5.8 per cent in 2020 while that of India will pick up to grow at 7 per cent, a 1.2 per cent lead from neighboring rival.
Even the 6 per cent growth posted by National Bureau of Statistics is under doubt and the experts question the authenticity of China's official data. "We still believe the actual growth slowdown might be worse than the headline official numbers," said Nomura's chief China economist Ting Lu.
A research paper published by Brookings Institution argues that the provincial authorities in China inflated growth figure for nine years. The paper's analysis covers the period of 2008 to 2016 and it was found that the Communist government inflated the growth figure by 2 percentage points. Therefore, the actual size of Chinese economy is one seventh (almost 16 per cent) smaller than what is being claimed by National Bureau of Statistics of China.
The trend in the last few quarters, gives a clear indication that the Chinese growth story is over. For almost 4 decades, the Chinese economy registered near a double-digit growth but now it is not able to sustain the same.
The major problem for China is that its economy is investment and export driven. Private investment accounts for about 60 per cent of overall investment in China and it is going down exponentially. As trade war escalates and export comes down, both pillars of the economy will shake. The investment is crumbling and exports are expected to decrease as Trump plans to impose further tariffs on China.
In 2016, China was the largest goods trading partner with $578.2 billion in total (two way) goods trade during 2016. Goods exports totaled $115.6 billion; goods imports totaled $462.6 billion. The U.S. goods trade deficit with China was $347.0 billion in 2016. Trump is opposed to China running such a huge trade deficit and wants to renegotiate trade deal. The impact of trade war is yet to take place on Chinese economy; the escalation of trade war will further deteriorate Chinese economy as it faces slowdown in investment.