On his visit to Jadavpur University in Kolkata, Union Minister Babul Supriyo was ambushed by student protesters from SFI who did not want him there. The wretched communist student union that is SFI put up barriers to stall the entry of the two-time MP and a woman BJP leader with him. Needless to say, backed by students from ABVP, the duo pushed on and the communists went bonkers in their zealous protests. Babul Supriyo was heckled, manhandled and his shirt was ripped apart by these patrons of Jadavpur University.
Student politics knows no bounds in Kolkata. Heinous visuals from the incident will make you re-think about entering any God forsaken university in Kolkata. "They assaulted me the moment I got out of the car. They kicked me, punched me, caught my hair … pulled me from one end to another. These were apparently students," said Supriyo. "They hit me again with wooden sticks on my hand after I came down from the programme," he added.
Whatever that pricked their bums with the visit of right winger Supriyo, it should have been restricted to protests that keep a distance from the union minister, or anyone else for that matter, whose entry they opposed. But these were no Gandhian protests. Hundreds of 'boys and girls'went berserk with no sense of distance first of all. But that's a kind way to put it. With lathees and red-flags, the intention, from the start, was assault, and to scare the living daylights out of the ABVP and these two BJP leaders who kept moving forward. Visuals of Supriyo's entire head being yanked by his hair by some really enthusiastic commie, his shirt ripped and hundreds of 'girls and boys' with red flags jumping all over in that sweaty and damp Kolkata weather really captured the millions of years of entropy added to the universe in one day. Oh and the rich exchange of profanities, because why not.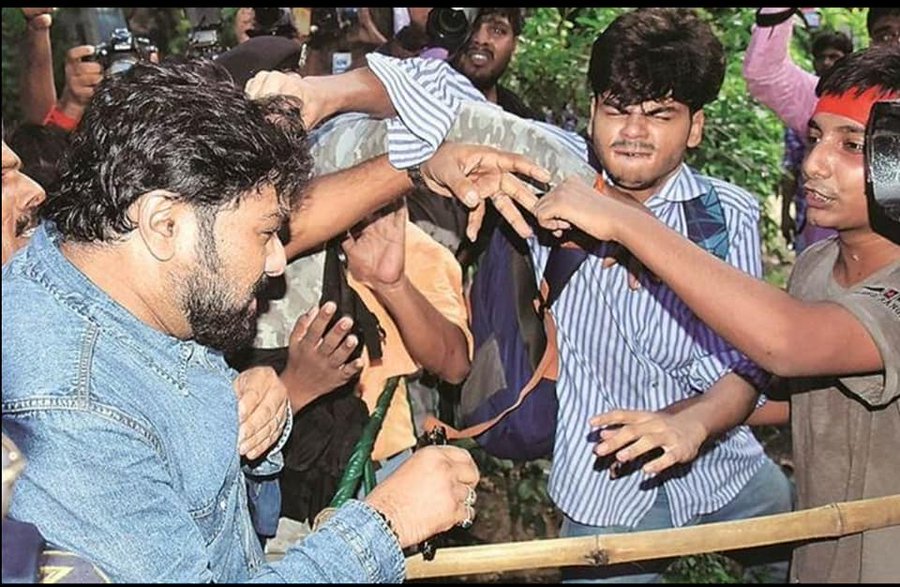 This is how some Left Jadavpur University students assaulted Union Minister Babul Supriyo.
They call this campus politics in Bengal.pic.twitter.com/j7JdE1UD3X

— Sᴏᴜᴍʏᴀᴅɪᴘᴛᴀ (@Soumyadipta) September 20, 2019
Agnimitra Paul, the BJP leader accompanying Supriyo, also committed the serious mistake of wearing a saree on her visit to the wild-habitat that is Jadavpur University, and so, she was mauled and groped, and her saree was in tatters, all because the fashion designer was a member of the BJP and because the communist 'boys and girls'slipped into a Mao Zedong spirited orgy, shedding brain cells all over the place.
Real face of @CPIM_WESTBENGAL, She is Agnimitra Paul, BJP Member and Professional Designer, Goons of Jadavpur University tear her Saree and Blouse, Faces of Terrorist are clearly visible will Police of @MamataOfficial arrest this criminals. pic.twitter.com/U4ebkNEQSk

— Akshay Singh (@Akshaysinghel) September 20, 2019
But in all this, the keyboard communists, waiting to give this incident a twist, sat down and came up with delicious propaganda, ready for intake, especially after all those brain cells that meanly deserted some of our youth. Initially when the incident still looked indefensible, it was romanticized by many- Justice of a different kind, artistic at a different wavelength, don't bother asking what this means if you are a right winger reading this. Supriyo was accused of hitting a woman, backed by a photo which was truly a work of art. He is seen elbowing a girl, who is really holding him by the waist (okay), his shirt is ripped, you can see his chest, now why would he ask for that at Jadavpur University? Oops, Supriyo hit a girl on the face with his elbow, her jaw must have cracked with that blow, but hold up: what was she doing there holding the man? And why was she among hundreds of goons (read: apex beings) that gheraoed Supriyo and Paul to prevent their entry?
The Government of Thugs – Modi's Minister of State for Environment, Forest and Climate Change #BabulSupriyo is elbowing a student at Jadavpur University, Kolkata. #ClimateAction pic.twitter.com/68oW6ubDZ2

— Ashok Swain (@ashoswai) September 20, 2019
The gender(s) of the attacker does not matter when the attacker is part of a swarm of hostile, God-forsaken (literally) crowd of raging twenty-somethings. It's also human instinct to defend yourself from even women if you are caught up alone in a crowd of hostile individuals. But who am I kidding? It's really Supriyo who was wrong to not want to be heckled by raging 'girls and boys' and it's really a false claim when Paul says her saree was ripped off, cus you know, she is from the BJP. Misogyny is a one way street. The eternal victims of this ordeal are SFI and those who were calling themselves 'naxalites' like its some renaissance protest, except it got louder when it heard 'Jai Shri Ram'and 'Bharat Mata ki Jai' –  Man, I guess its thank you to the high-grade intellect nurtured at Jadavpur University.