The flood situation in Assam is deteriorating day by day as the water level of river Brahmaputra continues to rise. The mighty Brahmaputra has shown no mercy and has ravaged major parts of the state. Not just Brahmaputra Valley, even the Barak Valley of Assam has been severely affected with major parts of Silchar town inundated as the tributaries of both the rivers keep flowing over danger level. Heavy rains have also affected normal lives in other parts of Northeast.
According to the latest reports, 15 people have already been killed while 46 lakhs have been affected. Not just people, even lives of animals have been severely hit by the havoc. According to reports, almost 90% of the Kaziranga National Park has been submerged by the floods, affecting around 10 lakh animals.
An official of the Assam State Disaster Management Authority revealed that as of Monday afternoon, a total of 4,175 villages, with 46.28 lakh people, have been affected due to the floods, while close to 90,000 hectares of agricultural lands are inundated.
While the government has already put the National Disaster Response Force and State Disaster Response Force into action, the Army has been called in to assist the administration in relief and rescue operations. Prime Minister Narendra Modi has assured the state government of help from the Centre. PM Modi spoke to Chief Minister Sarbananda Sonowal on Monday and took stock of the flood situation and assured him of all assistance from the Centre.
The situation in the state is no doubt grave with 30 out of 33 districts submerged under floodwaters. Just imagine the plight of the people (remember 46 lakhs) and the animals (10 lakhs in just Kaziranga) who have been affected by the flood. However, it is not surprising that a large section of the national media has decided to give it a miss as far as prime time coverage is concerned. What surprises me the most is the absolute deafening silence from Priyanka Chopra. Now, you must be wondering why are we mentioning the name of Priyanka Chopra here? Well, let me tell you, she happens to be the Brand Ambassador of Assam Tourism and was appointed in 2016.
Now when the state is reeling under such a crisis, the least we can expect from Priyanka is a tweet or comment expressing concern for the people or urging the citizens of the country for raising funds. Nothing…  not a single tweet has come from her side that talks about the ongoing flood in the state. 
She is too busy in either promoting a beauty campaign or tweeting pictures of her holidays with her husband. She has also had the time of tweeting about the situation of young girls all over the world as she also happens to be the Goodwill Ambassador of UNICEF, but not a single word on Assam.
As they say.. it takes a village ?????? #BeautyconAmbassador | I'm heading to @beautycon LA on August 10th and I can't wait to see you guys there! Get your tickets here – https://t.co/8JK0xbTr7s #BeautyconLA pic.twitter.com/MaOZDRSSpk

— PRIYANKA (@priyankachopra) July 13, 2019
Through UNICEF, I've met many incredible, young girls from world over & to know that some of them end up dropping out of school due to poor sanitation is heartbreaking.
Join me & @glblctzn to ask leaders to support #KeepingGirlsinSchoolAct: https://t.co/D9rSFZ6GNk#SheIsEqual pic.twitter.com/UYiUuXGqXi

— PRIYANKA (@priyankachopra) July 12, 2019
Best use of vacation. The hubby taking pictures. Lol ?
? @nickjonas pic.twitter.com/DZiF241KUg

— PRIYANKA (@priyankachopra) July 7, 2019
Not just Twitter, her Instagram profile also finds no mention of the current situation of the state, although she has posted and talked about her other humanitarian work across the world on her profile before.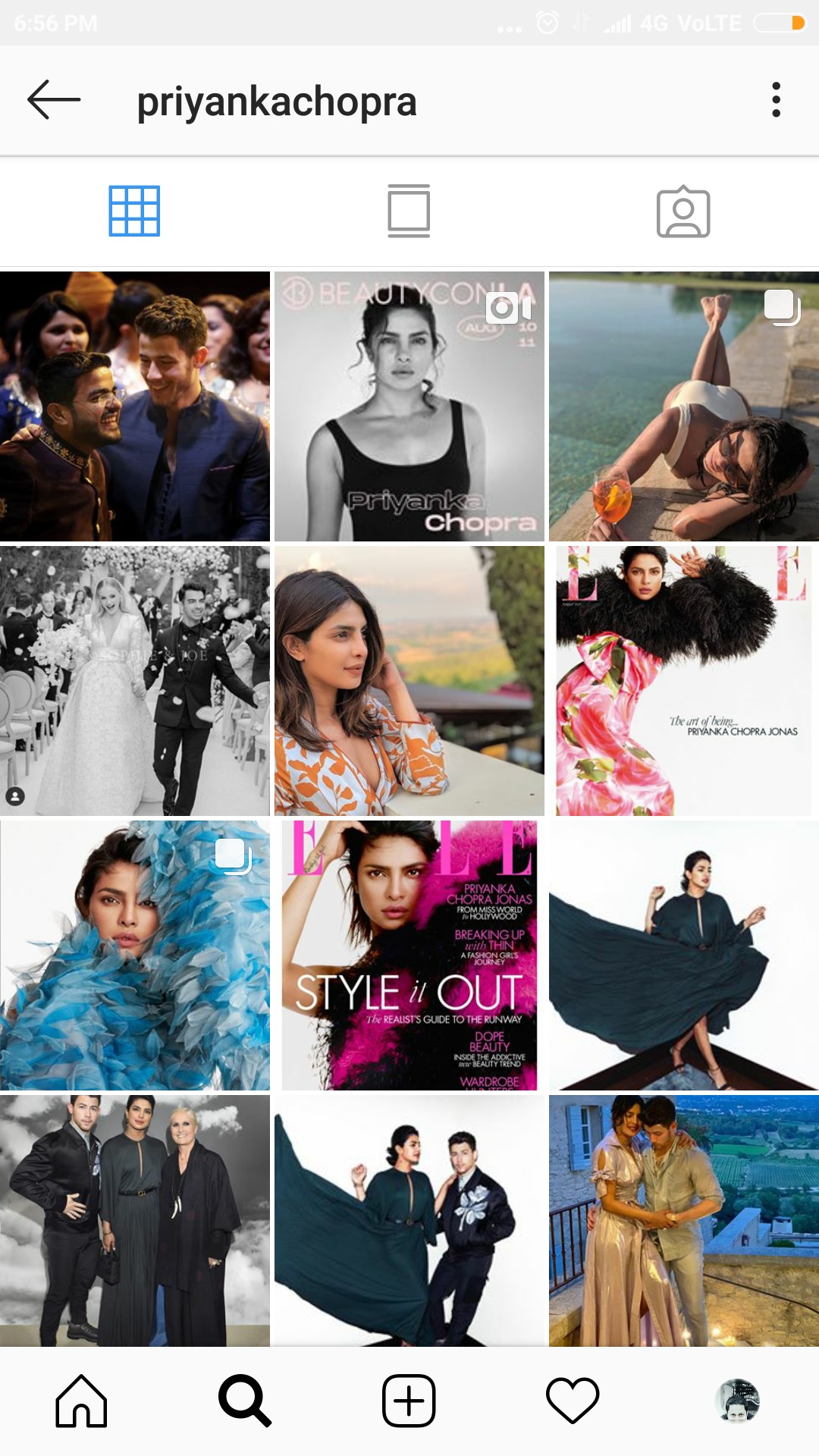 Not surprisingly, netizens have lashed out at her for not speaking about the ongoing situation in the state. 
Dear Priyanka Chopra
In case you have forgotten, you are also the Brand Ambassador of Assam Tourism. A state submerged in flood right now. Where is your concern, your tweet creating awareness and asking people to extend help for them?
Shame on you. https://t.co/C1BH9dpTy7

— Aditi AGARWAL (@aditiagarwal811) July 16, 2019
@priyankachopra Where are you PC? I wanted to clear a doubt actually, aren't you the face of Assam Tourism? SO WHERE ARE YOU NOW WHEN THE WHOLE STATE OF ASSAM IS SUFFERING BECAUSE OF FLOODS. Your "Awesome Assam" is drowning and we can't hear a word from you..

— Sondu_187 (@Bhai_187) July 16, 2019
Hey @priyankachopra, as you are the brand ambassador of #AssamTourism, people are expecting some initiative from u towards the current devastating scenario of Assam.Your one tweet can make a difference in the fund raising campaigning for the affected people in Assam.#AssamFloods

— Dibya Jyoti Sundi (@i_m_sundi) July 16, 2019
@priyankachopra Just one tweet about Assam floods is too much to ask for ? This is the least you could do, at least for the sake of your humanitarian image #AssamFloods x

— Gayatri Bhagawati (@GayatriBhagawa2) July 17, 2019
@priyankachopra hello madam Assam is under severe flood 90% of kaziranga national park is under water , 28 districts are reeling under flood . Request you to use your good office to raise awareness about our situation you are our tourism brand ambassador #AssamFloods pic.twitter.com/WqzRqVWYsY

— Dibyaranjan Bora (@BoraDibyaranjan) July 16, 2019
Last year, Priyanka Chopra has also had the time to visit Rohingya camps in Bangladesh's Cox Bazar. This speaks of complete hypocrisy on the part of the Quantico star and this is not the first time people have called out her hypocrisy and disgraceful attitude. There are a number of instances where she has been exposed. In the past, she received the ire of the Indians for her role in a controversial episode of Quantico. 
Also, if you remember, Priyanka Chopra had urged people to not burst crackers on Diwali. The actress, who was diagnosed with asthma, had urged people not to burst crackers during Diwali. She had put out a video saying, "Please meri saans ko berok rakhiye. Diwali pe patakho ko skip kijiye."(please keep my breathing unstoppable, skip the crackers this Diwali) Adding to this she said that the festival should be celebrated with "lights, ladoos and love, and not pollution." But as Nick Jonas and Priyanka Chopra got married at the Umaid Bhawan Palace in Jodhpur, fireworks lit up the sky. 
Those who know me well know that I'm an asthmatic. I mean, what's to hide? I knew that I had to control my asthma before it controlled me. As long as I've got my inhaler, asthma can't stop me from achieving my goals & living a #BerokZindagi.

Know more: https://t.co/pdroHigNMK https://t.co/P50Arc9aIo

— PRIYANKA (@priyankachopra) September 17, 2018
#WATCH: Fireworks at Umaid Bhawan Palace in Jodhpur, Rajasthan, after Priyanka Chopra and Nick Jonas tied the knot as per Christian rituals. pic.twitter.com/XpzYtGZG2G

— ANI (@ANI) December 1, 2018
Not just this year, earlier too, Priyanka Chopra has been accused of staying mum on floods in Assam. In 2017, model and actress Mahika Sharma hit out at Priyanka for not showing interest in the flood situation despite being the state tourism's brand ambassador. She had said, "Priyanka is my aspiration and inspiration. She is really a humble person. But I'm very upset with her. Because she owns some power to help the poors who are victims of Assam flood. She didn't even show any emotions for the state even on the social networking site. This is what not only me but anyone from Assam would be upset."
It is time the state government removed her as the Brand Ambassador of Assam Tourism and probably appoint someone who actually cares about the state and its people and culture.