The 2.7 km Rao Tula Ram (RTR) flyover has finally been inaugurated by the Delhi Chief Minister after missing six deadlines. The highway will reduce the travel time to Indira Gandhi International Airport for the residents of Noida, Greater Kailash, Muniraka and Hauz Khas as they would not be forced to take congested Outer ring road and RTR crossing to reach the airport. Interestingly, the cause for delay in the construction of the RTR flyover runs deep into Lutyens' cirlce besides AAP government's inefficiency.
The construction of flyover started in November 2014 under Kejriwal led AAP government. The flyover was expected to be completed by November 2016 which means the government already took a liberal estimate of more than 2 years delay to construct 2.7 km long highway. However, the project was pushed further many times. As per a report by Hindustan Times, "This deadline was later pushed back to September 2017, then to March 2018. It was later shifted to June, then to December and later to March 2019. The latest deadline was June 2019." As a result the cost escalation caused an increase in construction cost from the initial estimate of 278 crore rupees to 364 crore rupees.
The sluggish work under Kejriwal led AAP government is not the only reason for the delay in construction of RTR. Some 'self-serving elites' of Lutyens, cabal are also responsible for the delay. In July 2012, Sheila Dikshit led Congress government was ruling Delhi when the construction of the Delhi RTR flyover was proposed. Karan Thapar, a well-established member of Lutyens' cabal opposed the construction of the flyover in 2012 and argued that this could become "a matter of life and death", reported Times of India.
He wrote a letter to the then lieutenant-governor Tejendra Khanna and said, "at all costs the service lane between houses 1 to 8, Palam Marg (Olaf Palme Marg), must not be further reduced in width but retained at its present width." In the letter dated July 12, 2012 he also claimed to speak on behalf of other 'self-serving elites' who carried special influence in Congress party. "I know that Aroon Purie, Editor-in-Chief of India Today and Aajtak, and Harmala Gupta, daughter of late Lt. Gen. Harbaksh Singh, endorse and support the request I am making in this letter…" wrote Thapar.
The other local residents blamed Karan Thapar for holding the whole city to ransom for 'self-interest'. "They have held not only an entire city, but also interstate travellers, airline passengers and international tourists, to ransom. This is similar to Lata Mangeshkar in Mumbai blocking construction of the Peddar Road flyover to protect her flat at Prabhu Kunj," said Ratna Sahai, owner of house no 10, Vasant Marg.
Another resident named Gautam Vohra who was president of Vasant Vihar RWA at that time accused these individuals including Karan Thapar for not addressing greater public good. "I have never been approached by Karan Thapar regarding the flyover or any related issue. These people have never raised their voice on water or other problems faced by people of the area, nor have they taken any interest in addressing issues of greater public good," said Vohra.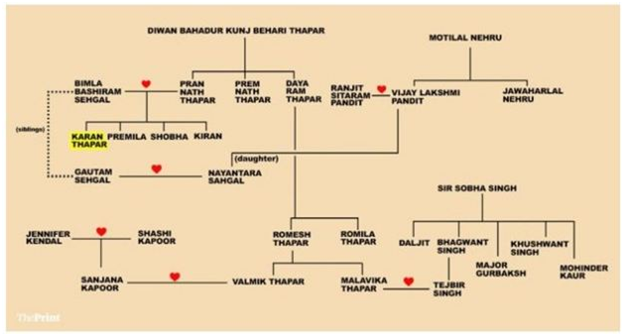 Journalist Karan Thapar has deep connections in the Lutyens' circle of Delhi, and is known for his biased reporting. Karan Thapar's family has close links with Nehru-Gandhi family which was in power back in 2012. He was a close associate and schoolmate of Sanjay Gandhi. "I first got to know Sanjay as my sister Shobha's friend. It was the early 1960s, Daddy was army chief and we were living in Army House on what was still called King George's Avenue (now Rajaji Marg) in Delhi. At the time, Sanjay was the prime minister's grandson and studying at St Columba's School," wrote Thapar in his biography. He is well known for having a pro-Gandhi family stance and vehement opposition to PM Modi. He used his proximity to the Gandhis in order to influence the Congress which was the ruling party in the state and center to halt the work on the second Delhi RTR flyover project, causing a long delay in its completion, extended by the inefficiency of the Kejriwal led AAP government.