Along with seeing the dark days of emergency, assassinations, corruption in India the transformation that India is undergoing economically is also manifesting socially. History has witnessed that voters have been reluctant to travel small distances to vote but India is witnessing a dynamic shift in the way its citizens perceive elections for the good.
Gone are the days when the ilk's of private sector employees and business professionals that they took vacations on days of voting and that they were okay with the fact that they never cast their votes in elections. But one can say with certainty that those days of ignorance and indifference are firmly behind us. Citizens nowadays are going out of their way to cast their vote and ensure that they make themselves factors of potential change.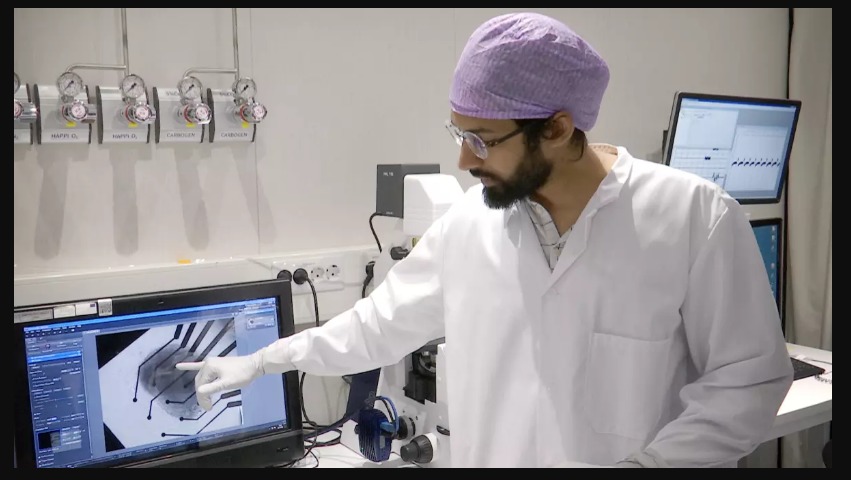 We caught hold of one such first-time voter, who has traveled to India all the way from Tampere, Finland cast his vote.
Twenty-eight year old, Disheet is currently pursuing his doctoral studies from Tampere University in Finland in the field of cardiac diseases and has flown to India to cast his vote in the ongoing elections. We had the chance to speak with the budding scientist and what motivated him to come to cast his vote in the ongoing Lok Sabha Elections.
After residing in Europe for almost a decade, he opined that he had found the present Indian Government's and PM Modi´s out of box initiatives as unprecedented, remarkable and gigantic. Disheet shared the perception of India in Europe of being a non-entity, ignorable, not to be taken seriously, dangerous, not positive country, steeped in poverty, and darkness, which was also repeated in certain stereotypes in their movies and media shaping its attitude towards Indians and being a bystander than being an active player in global politics. He says that although this perception of India over the last five years in the international community has changed considerably.
He said, "I would like to give credit to the people of India for this, for making sure we have a leader and a strong government that our country deserves. We are simply lucky to have him (PM Modi)".
Upon asking if he sees change, after visiting India, he said, "Major change is not visible on ground in cities, the roads, encroachments, traffic, local corruption continue to remain social evils. But surely a change can be seen, as if India is turning a new leaf, change being systemic is happening right from the bottom of the sea making those changes turn into undercurrents, he said right from building toilets, providing subsidies directly into bank accounts or the support for startups, research and innovation and rural indigenous industries, this government was doing it all and that was the sign that India was the market that one would want to venture into in the coming decade. This change he said would transpire the undercurrent into a tsunami and would take over the urban towns and cities into its fold.
He further added that certain policy decisions by the present government such as the international solar alliance, easy of business, yoga day, surgical strikes, air strikes, demonetization, GST, statue of Unity, Jan Dhan Yojana, launching 104 satellites, standing up against terrorists and at the border with China had changed the attitude of people towards Indians outside India and amongst Indians living abroad who until then were just another brown race from Asia. Disheet further pointed out how India had come of age and its image as a sporting nation after 2014 was on the rise, be it the international recognition of boxers like Shiva Thapa, Olympic medallist PV Sindhu or the speedster Heema Das, young sportspersons under the present government are being given much better facilities and opportunities by the present government and they have not failed on their part to make the country proud on foreign soil.
A country perceived to be doing so much good is surely getting acknowledged and it earns a lot of goodwill, confidence for Indians abroad. From not being confident about one's identity, the colonial slave mindset is slowly fading out and winds of change are strongly blowing thereby brewing confidence into individuals like never before.
The way China, Germany, Japan have grown enormously due to stable long term leadership, Disheet said, if we let go of this opportunity for giving another majority government to this dynamic leadership of PM Modi, another opportunity may not knock on our door for a very long time. India needs a stable government and a permanent break from parties constantly targeting Indian culture. This, Disheet said, had to go hand in hand. India was an ancient ´Rashtra´ and an extremely diverse multicultural society and that India the slogan of sabka sath sab ka vikas, a mutual respect of all, was a major strength of this government and India.
Disheet further added that the Lok Sabha elections would decide which leader will represent You and your country internationally. The anarchist mindset of NOTA and that of nepotism which promotes castism and of running political organizations like family businesses don't think twice before choosing self-interest over National interest and as a conscious democracy, these entities need to be weeded out from the system.
The election of 3 phases are already over and while the voting numbers this time around have marginally improved, we hope that this trend of citizens coming back home to vote keeps increasing.