Undisclosed money had been recovered by income tax officials in raids involving the aides of the Chief Minister of MP, Kamal Nath, a few days before the elections. Now, in the midst of polling, another case of black money has erupted. An IAS officer in Karnataka, Munish Moudgil, has written a letter to the Chief Electorate officer in Karnataka outlining the recovery of unaccounted money amounting to Rs 1.2 lakh.
Munish Moudgil had been appointed as a special officer (Enforcement) for BBMP and 14 districts in Karnataka's first phase in the Parliamentary Elections 2019. In this context, as part of his duties, he visited the Hassan district on 17th April, 2019 to review the enforcement and preparations for elections in this regard. Thereafter, a case of cash recovery was brought to his notice by the Superintendent of Police Hassan. Rs 1.2 lakh were seized from an Innova vehicle no KA MH 01 4477 upon information by income tax raiding team by FST-48. A criminal case had been registered for the same in Holenarsipura town police station for "undue influence" under section 171-C of the IPC. It has been discovered that the said vehicle belongs to Bengaluru city police and registered in the name of deputy commissioner of police, CAR HW, Bengaluru.
It has been stated by Moudgil that the incident reveals the use of a police vehicle for carrying money for misuse in elections. Due to this, he has appealed to the election commission to issue orders for investigation by an independent team as the case involves police officers themselves in the commission of the crime. Officials, including police personnel, Income-Tax department officials and Holenarsipur police have been questioned regarding the case.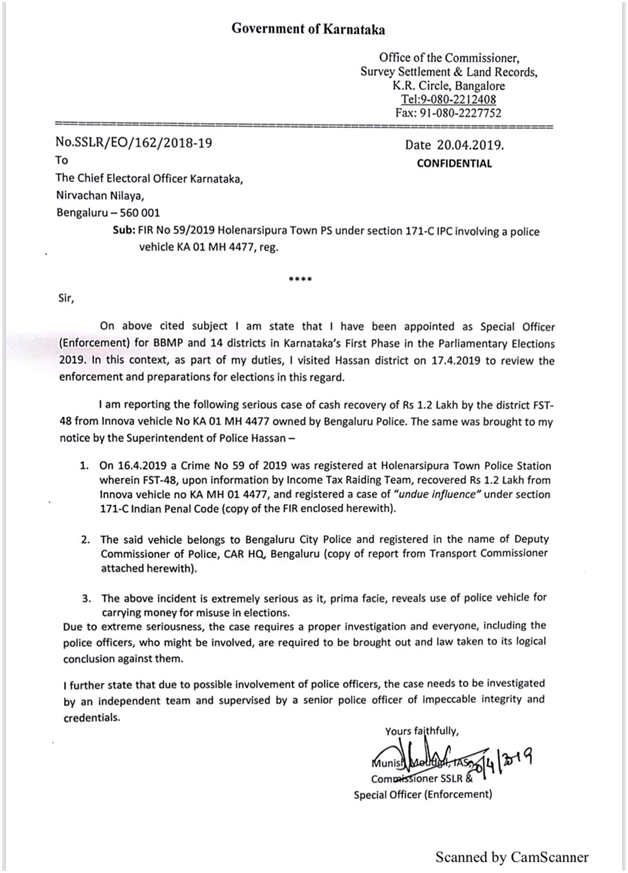 In this regard, Rajeev Chandrasekhar, an MP and the vice-chairman of the Kerala wing of NDA, has tweeted on the unfortunate incident. He brings to light the supposed perpetrators and cause behind the undisclosed money. He has stated, "Evidence that HD Kumaraswamy and Rahul Gandhi were using Police vehicles to move cash when IT raids started". He has further continued, "Shameless, brazen and criminal misuse of institutions by this Mahamilavat. Needs investigation by EC through CBI".
Evidnce tht @hd_kumaraswamy n @RahulGandhi were using Police vehicles to move cash whn IT raids started.

An IAS officr has reportd to @ceo_karnataka and FIR filed.

Shameless, brazen n criminal misuse of institutns by this #Mahamilavat. Needs investigatn by EC thru CBI pic.twitter.com/TnOvGvm4Ei

— Chowkidar Rajeev Chandrasekhar ?? (@rajeev_mp) April 26, 2019
Both Kumaraswamy and Rahul Gandhi happen to be persons holding prominent positions in the state. Kumaraswamy is the CM of Karnataka, from Janata Dal and Rahul Gandhi is the president of the Congress party.  The parties of Congress and Janata Dal have had an alliance in Karnataka since a long time.
According to Rajeev Chandrasekhar, both these parties have gotten together and are involved in unaccounted black money, for election purposes. Moreover, they have involved the state institutions, thereby corrupting the public services. If this is proven to be true, Congress' involvement in yet another case of unaccounted cash will have huge repercussions on their electoral future.