China is hosting second Belt and Road Forum in Beijing from 25th to 27th April and the heads of states of 37 nations have confirmed their presence. Interestingly, the map Chinese authorities used for the summit showed the Indian states of Jammu & Kashmir and Arunachal Pradesh as part of India. Generally, China shows the Pak Occupied Kashmir (PoK) as part of Pakistan and Arunachal Pradesh as part of south Tibet. The government of China recently destroyed thousands of maps which showed Arunachal Pradesh as part of India. Therefore, using the map which shows the two states as part of India comes as a surprise move.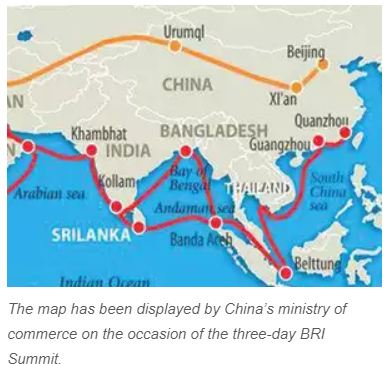 The map also portrays India as part of Belt and Road Initiative (BRI), despite the fact that Modi government refused to participate in the forum for the second consecutive time. India has repeatedly refused to be a part of OBOR project, last year addressing the concerns of India on OBOR PM Modi said, "Connectivity with the neighboring countries is India's priority. We welcome the connectivity projects which are sustainable and efficient and which respect territorial integrity and sovereignty of the countries." It is not clear yet whether China used this map intentionally or if it was a mistake.
The OBOR initiative was unveiled in 2013, a few months after Chinese president Xi Jinping took over from his predecessor, Hu Jintao. OBOR is considered a major part of Xi Jinping's domestic agenda and foreign policy.  OBOR initiative represents by far China's most ambitious project to connect the country with Africa, Central and Southeast Asia, Europe, and the Middle East through transportation infrastructure. OBOR's two main components, the Silk Road Economic Belt and the Maritime Silk Road, comprise a multi-trillion dollar plan spanning 68 countries, which represent 60 percent of the global population and up to 40 percent of global GDP. The idea of overland Silk Road comes from Han dynasty which developed an ancient silk road to trade with Central Asia and Mediterranean basin in second century BC. The idea of Maritime Silk Road also goes back to the fifteenth century when maritime expeditions of Admiral Zheng connected Ming-dynasty China to the littoral states of the Indian Ocean. Although, despite these two ancient routes for overland and maritime trading, most of the Chinese trade has been limited to its Eastern and southern neighbors for most of its recent history. The OBOR plan is an attempt by Xi Jinping to revive these two ancient trading routes.
The OBOR's stated goal is to develop infrastructure for poorly connected regions of the world but hidden agenda behind this ambitious plan is to lay the groundwork for a Sino centric global order. China wants to economically colonize the poor countries in Central, South and Southeast Asia through this ambitious project. This project could be compared to Marshall Plan which United States announced for infrastructure building in post-World War II Europe. The unstated goal of Marshall Plan was to stop countries in Europe from joining the Soviet Union and pressure them to join NATO by building ports, pipelines, roads, and railways for them. Similarly, China, by building ports, economic zones, railways for poor countries like Pakistan wants to bring them under its hegemony. This plan would also help the country economically because it will save China from the economic decline that it's slowing growth rate and high debt levels seem to portend. The Chinese economy is slowing down after almost three decades of unhindered growth which made China second largest economy in the world. This infrastructure initiative, according to China's leaders, would create new markets for its companies and at the same time provide a shot in the arm to the struggling banks and state-owned enterprises. The nationalized companies of China are posting negative growth since last few years and its banks are struggling because the lending activity has slowed down significantly. China has foreign reserves of more than three trillion (This is one and a half times of India's GDP for this fiscal year) and through this project, the country will invest this forex throughout the world.