In a recent Facebook post, Dhruv Rathee, a self-proclaimed saviour of journalistic 'ethics' and YouTuber, shared a screenshot claiming the amount purportedly BJP supporter pages were spending on ads and promotions. However, a Facebook user soon exposed Rathee's hypocrisy by pointing out at one of his heavily promoted videos on YouTube. Rathee's video related to Dassault's Medium Multi-Role Combat Aircraft (MMRCA) deal is on the top of the list if one searches the keyword 'Rafale deal'.
Interestingly, 'Rafale Deal' is one of the most searched keywords, as the current political discourse is majorly revolving around the Rafale deal row. When the FB user firstly confronted Rathee regarding the promotion, he instantly claimed that the image was a fake one and was photoshopped. He went on to add that he never spent any money on the promotion of his videos on YouTube. 


However, when other users pointed out the same fact with screenshots and videos, he finally accepted it but made a vague argument. It is clearly mentioned on the YouTube page that Dhruv Rathee's video titled "Rafale: Scam or Not" is an ad, that pops up when the keyword 'Rafale deal' is surfed.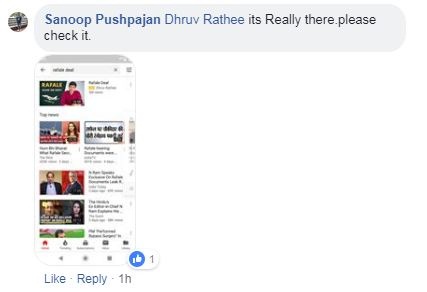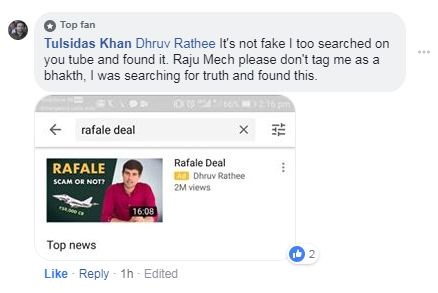 In his defense, Dhruv made a bizarre statement that he had no idea who is promoting his page. "Then it looks like some unknown person is doing promotion on my name. It's being done from my account and I have no idea who is doing it," said Rathee.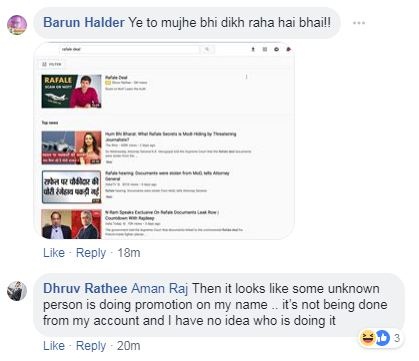 It is very clear that political money is going into the promotion of Rathee's very biased YouTube channel. Another important point to note here is if not Rathee then who is promoting his videos. Beside him anyone who will be benefitted by his political propaganda are the opposition parties. It is an open secret that Dhruv Rathee is part of that 'elite cabal' that leaves no stone unturned to portray PM Modi in bad light.
Dhruv Rathee is a pro-AAP YouTuber who has been caught spreading fake and misleading news several times. His propaganda is centered on bashing Prime Minister Modi and he seems to be a proxy who has been set up by a certain political party. He seems to be doing the dirty job of making unsubstantiated claims and spreading fake/ misleading news on the behalf of his political masters.
Earlier, in a bid to take a potshot at NDA government, Dhruv Rathee mocked Naga Sadhus and equated them as unemployed people who have no other option but to become Sadhus. He is also accused of cyber stalking the accounts of dissenters, and peddling absurd lies against even common people. Practicing shoot and scoot politics is just daily bread and butter for this guy. The only question that remains to be answered is: for how long?