In a major setback for Congress party, a phone call transcript has been leaked, making the contents viral within hours of the leak. Not only does the leak reveal the infighting between the leaders of Maharashtra Congress, but it also exposes one of the main reasons why tainted Maharashtra Congress chief, Ashok Chavan, has decided not to fight the 2019 Lok Sabha elections.
In the leaked audio tape, Ashok Chavan expressed his displeasure over the selection of a particular candidate from the Chandrapur Lok Sabha constituency, ruing over the fact that nobody in the party was listening to him in this matter. In the telephonic conversation, he also dropped hints that he would resign as the party chief in Maharashtra.
Following is a copy of the transcript, as accessed by India Today:-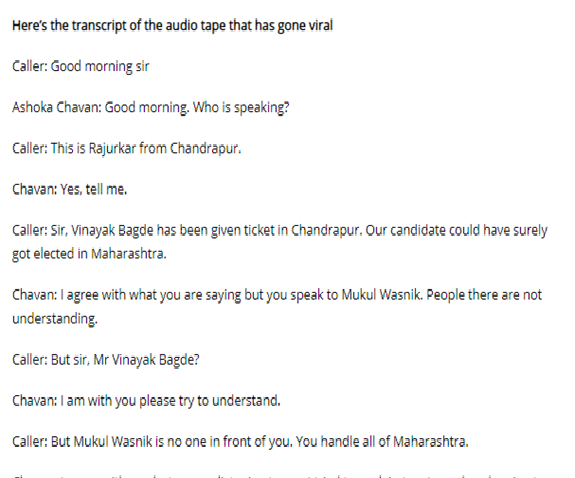 For those unaware, Ashok Chavan is the current chief of Congress in Maharashtra. He had served as the CM of Maharashtra for a brief time, before resigning in disgrace, after he was found aiding those guilty of usurping the flats meant for the dependencies of the Kargil martyrs in the much-publicized Adarsh Society scam. He had currently made it clear that he wouldn't contest the upcoming Lok Sabha elections.
This is not all. In the leaked phone call, Ashok Chavan also blamed Congress leader Sanjay Nirupam for the current state of the party. This is the same Sanjay Nirupam, who has time and again embarrassed the party with his insulting jibes at opposition politicians, and his mockery of issues relating to national security.
Big Revolt in Maharashtra Congress. Ashok Chavan thinking for resign.
Says No one listen to him… blames @sanjaynirupam for screwing up Congress #CongressInsultsIndia #ShutTheFakeUp #FattuPappu #JDSJawabDo #RahulGandhiFattuHai #DynastyMuktBharat pic.twitter.com/CIpsxZlYyN

— J.K.Patel (@jasminkbera) March 23, 2019
However, when the reporters confronted him, Ashok Chavan switched to a different gear altogether. He said, "It was a personal conversation between two people. The party's decision is final. We have not been able to satisfy all the Congress workers but the party's decision is final. There are complaints about the Chandrapur seat. I don't want to discuss the party's internal matter in the public."
To be honest, the leaked phone calls are reason enough to say that all is not well within Congress, especially in Maharashtra. After the party suffered a huge setback with more than half a dozen sitting MLAs defecting to BJP in Gujarat, Congress was in for a rude shock when Sujay Vikhe Patil, son of the Maharashtra Leader of Opposition Radhakrishna Vikhe Patil, joined BJP.
To make matters worse, Radhakrishna himself resigned from the Leader of Opposition post within days. With the reports of infighting between Ashok Chavan and Sanjay Nirupam being leaked, it is only growing worse for Congress, and it would be a wonder if they manage to even repeat their tally of 44 from 2014.