Remember that viral video in which BJP spokesperson Gaurav Bhatia introduces Priyanka Gandhi "as no ordinary lady" but the mother of "the future president of the Congress party". Bhatia's sarcastic jibes led to a chain reaction of memes and thug-life-videos but the integral truth in his sarcastic jibes was not denied by anyone. Truth, after all, is the funniest joke in the world, while you can laugh at it, you cannot deny it. While no one knows who's going to be the next president of the Bhartiya Janata Party, it's quite easy when one is asked to predict the next president of the Congress party. It has to be a Gandhi. Or this time a Gandhi – Vadra. But before coming to the topic of the next president of the Congress party, let's revisit some chapters from History.
The chilly winters of 1997 suddenly got heated up as Sonia Gandhi who was, till then a reluctant campaigner formally announced that she would campaign for the Congress party in Lok Sabha election due for March 1998. Sitaram Kesri was the Congress president at that time. And he was in no mood to quit.
Sonia quietly plotted Kesri's downfall. On March 14, 1998, the Congress Working Committee passed a resolution asking Sitaram Kesri to step down as party president. Kesri was a connected man and had enough numbers to support him but he was reportedly locked in a room in the Congress headquarters in New Delhi to ensure a smooth coronation for Sonia Gandhi. As Kesri bloodied his hands against the locked door, Sonia Gandhi arrived in Congress party and national politics like a master coup artist, her cronies frantically chanting her name. Sonia Gandhi had restored the glorious congress legacy of keeping the control of the party within the family. After Nehru, Indira and Rajiv, the control that had briefly left the family came right back in. Sonia held on to the post of the president of the Congress party for 19 years. In 2017 she passed the mantle to her son Rahul Gandhi.
And now the big question is – who'll be the next president of the Congress party? Marriage doesn't seem to be on Rahul Gandhi's mind. Hence in all probabilities, it's going to be Priyanka Gandhi Vadra's son Raihan Vadra. What was a speck of doubt in everyone's mind until a year back is an inevitability after Priyanka's formal entry in politics and Congress party after being a reluctant campaigner for a long time just like her mother was. Priyanka's credentials of being a full-time politician will give a semblance of credibility to the candidature of her son Raihan Vadra whenever he is coronated as the president of the Congress party.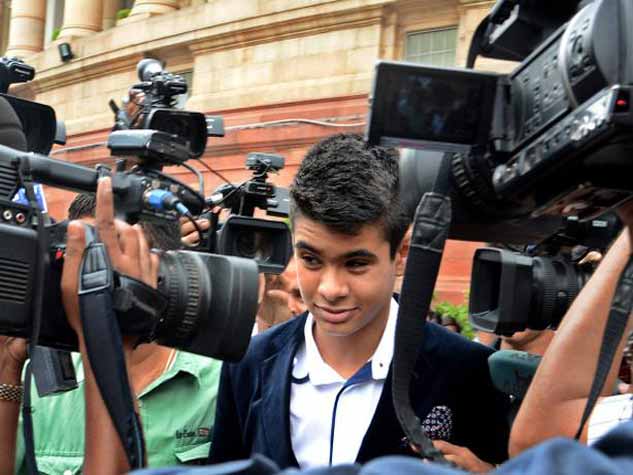 Raihan Vadra following the footsteps of his maternal uncle Rahul Gandhi, mother Priyanka Vadra and grandmother Sonia Gandhi paid a 'surprise visit' to the people of Amethi back in 2015 itself. While in Amethi he did the regular Gandhi-in-Amethi things such as eating simple vegetarian meals in modest 'kuccha' huts and asking 'gareeb gaonwaalas' if they are hunky dory?
Cut to Feb 2019, Raihan Vadra is making his candidature stronger by choosing to accompany Rahul 'Mama' on his one-day trip to Andhra Pradesh. Rahul Gandhi was in Andhra Pradesh to flag off temple run season 3.0 from the Tirumala Tirupati Devasthanam.
It's fitting. Raihan Vadra seems to be a traditionalist as he chose Doon and UK for his education like most of the members of his family from the mother's side. Traditions must always be respected. And the glorious tradition of nepotism must be respected at any cost. It's worthwhile to mention that the products of meritocracy can be insufferably smug and high-headed, as compared to the products of nepotism who are often charming, awesomely humble and loaded with a winsome smile that masks every shred of stupidity on their fat satisfied faces.