The acting Finance Minister, Piyush Goyal, today tabled the most awaited interim budget of the Modi government. The market reacted positively to the interim budget with Sensex and Nifty both witnessing the surge.
The interim budget is full of surprises with a few big announcements. The market witnessed an upswing due to the positive sentiments brought by the interim-budget. Sensex jumped by more than 400 points which was running low earlier.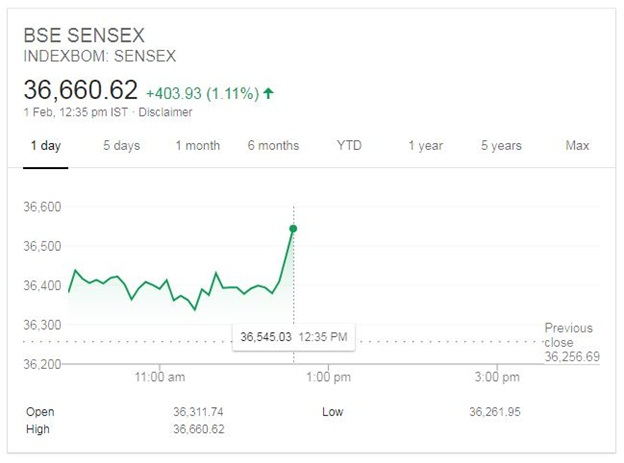 In the interim budget, the Modi government announced a direct benefit transfer of 6,000 rupees per year for landholders up to 2 hectares. The total amount allocated to this scheme named Pradhan Mantri Samman Nidhi is 75,000 crore rupees for the year 2019-20. This will be implemented retrospectively from December 1, 2018. Therefore, every farmer with 2 hectares of land will get 6000 rupees from the Modi government at the very start of the fiscal year. The government plan includes free crop insurance and alteration of credit schemes. The amount of loan which a farmer could avail through Kisan Credit Card has been doubled. This is on the lines of Rythu Bandhu scheme of Modi government. The government also has decided to subvent 2-5% interests on farmers affected with natural calamities.
Similarly, the workers in the unorganized sector will get a 3,000 rupees monthly pension under the mega pension scheme announced in the interim Budget of 2019. The retired senior citizens of 60 years of age or older can avail benefits of this scheme. A budget of 500 crore rupees has been allotted for the scheme in this interim budget. This will benefit 10-crore workers of unorganized sector in the country.  
Moreover, the groundbreaking decision of Modi government is the increase in the income tax exemption limit to 5 lakh rupees in the interim budget. The NDA government doubled the income tax exemption limit from the existing 2.5 lakh rupees. As of now, the tax on income up to 5 lakh rupees is 10 percent. The corporate tax which is 25 percent for the companies making turnover up to 250 crore rupees is expected to remain the same.
Nifty too registered strong gains along with the Sensex and surged by more than 100 points.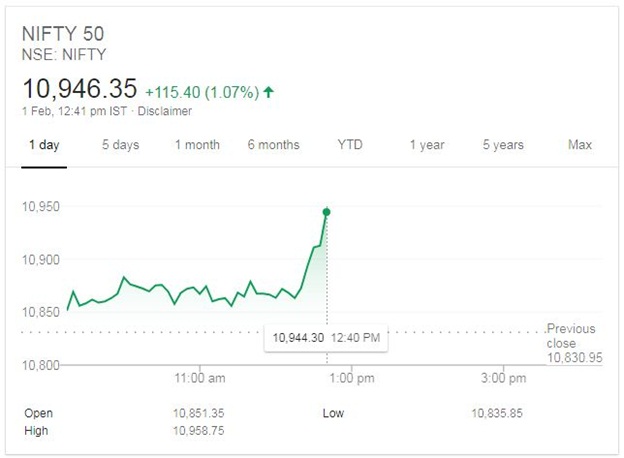 Not only that, the fiscal deficit has been revised to 3.4% as well. The market seems to have been positively impacted by the interim budget. Moreover, the middle class has been benefitted in many ways. The wellbeing of the poor, as well as the health of the economy and its PSUs, is paramount to the nation's progress and it can well be credited to the honest taxpayers.