According to reports, Kamal Nath is going to be the next CM of Madhya Pradesh, as the Congress party manages to get the majority in the state. Since his candidature for the CM post was announced, left-liberals have started hailing Kamal Nath, knowing fully well that he has been a serious offender of communal harmony and had also compromised with the national security. Kamal Nath has been accused of passing classified and sensitive information to US consul general.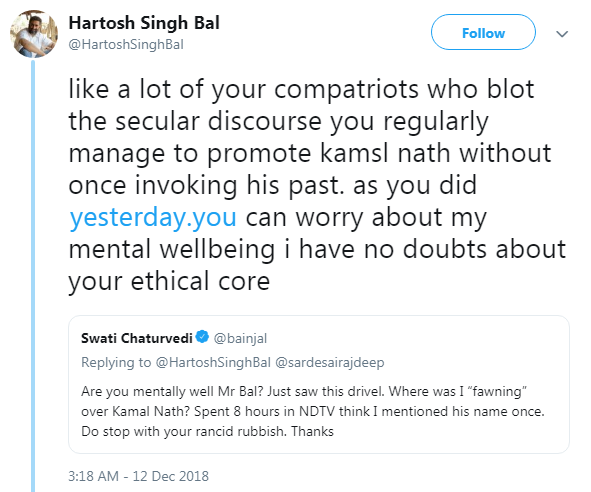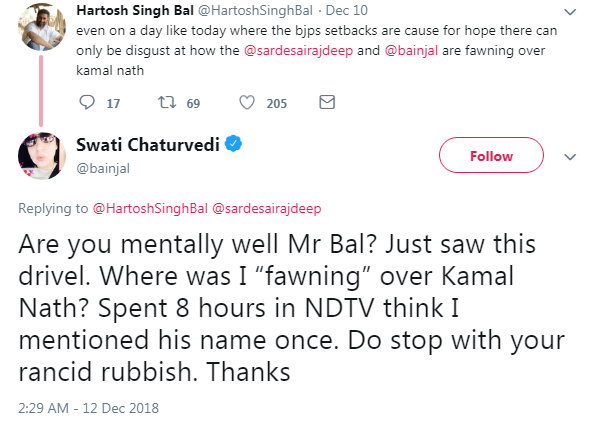 On the contrary, whenever something related to PM Modi or the BJP comes to light (whether it is good or bad), the liberal cabal comes out chanting "But what about 2002", despite him getting a clean chit in the case. Not only that, but Kamal Nath has also been alleged in the '1984 riots'. The CM candidate of Congress party had been caught on camera bashing Hindus while campaigning in Madhya Pradesh elections. In the video, he told to Muslim clerics that 'Congress will surely deal with the Hindus after the election, for now, the Muslims should stand with the Congress.'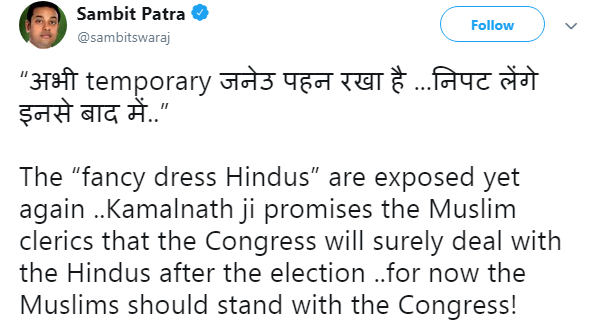 After the video surfaced, no one from liberal brigade came out and condemned it. This is not the first time that the liberal cabal has exposed its hypocrisy. One of the recent examples is of Swati Chaturvedi, a known cheerleader of Congress masquerading as a journalist, who wrote an article praising Mr. Kamal Nath and his possibility of being the next CM of Madhya Pradesh.
When Hartosh Singh Bal, a renowned author and political editor of The Caravan magazine, confronted her on Kamal Nath's history, she resorted to name calling and tried to dismiss the whole argument. Addressing to her article, he tweeted, "So let us @bainjal look at your coverage of Kamal Nath, here goes 1. That's a plug piece if I ever read one; I still wonder how the @thewire_in let it pass. Of course, it turned out to be totally wrong, a fact evident to most good journalists at the time."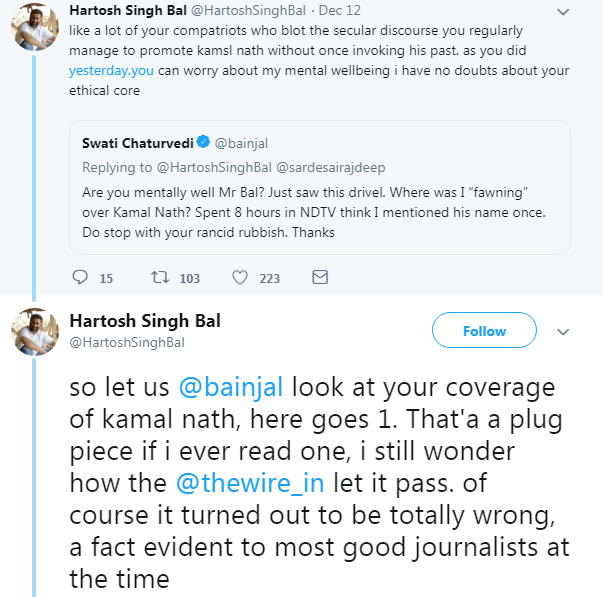 On this, she got annoyed and replied, "Are you mentally well Mr. Bal? Just saw this drivel. Where was I "fawning" over Kamal Nath? Spent 8 hours in NDTV think I mentioned his name once. Do stop with your rancid rubbish. Thanks."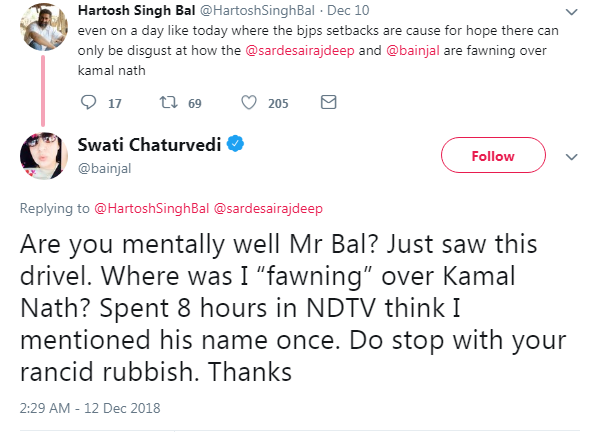 Being a gentleman, he calmly replied to her by saying, "Like a lot of your compatriots who blot the secular discourse you regularly manage to promote Kamal Nath without once invoking his past. As you did yesterday you can worry about my mental wellbeing I have no doubts about your ethical core."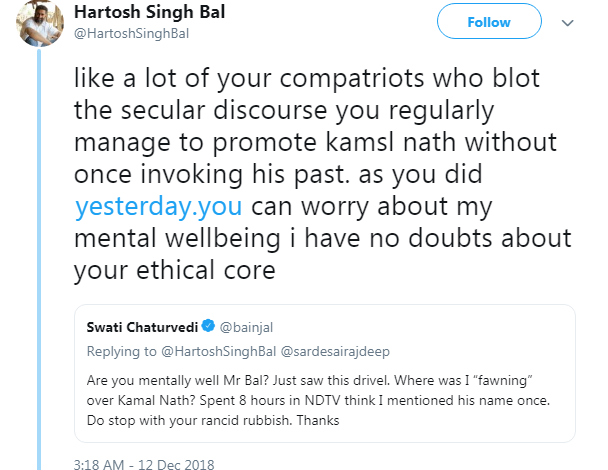 Only thing liberal about these so-called liberals, is that they are termed as 'liberals' when they are proven, hypocrites. When PM Modi was first elected as the Prime Minister in 2014, these so-called liberals started movements against him and targeted him ad nauseam for the "2002 Riots". But no one is asking "tough questions" to Kamal Nath. Is it not the "death of democracy" for them this time?