Arvind Kejriwal started his political career as an anti-corruption crusader, joined the politics with the promise that he would be a leader with a difference, but very soon he turned out to be just another practitioner of pseudo-secularism and Muslim appeasement politics. He openly declared that Batla House encounter was fake. Arvind Kejriwal published a full-page ad in Milli-Gazette that read AN APPEAL TO INDIAN MUSLIMS TO VOTE FOR AAP. He went to Bareilly to seek the blessings of Maulana Tauqeer Raza, the same cleric who issued Fatwa against Taslima Nasreen. There was a huge contrast in outrage over the killing of Akhlaq in Dadri and lynching of Dr. Narang in Delhi. On Republic day, Kejriwal gave a venomous speech. In his speech, he said, "We stayed quiet when Muslims were killed when Dalits were burnt, beaten, we stayed quiet".
मुसलमानों को मारा, दलितों को जलाया???

सामने स्कूल के बच्चें बैठे है और मीडिया के कैमरे

आवाज केजरीवाल की हैं पर शब्द ओवैसी के है।

दंगे की तैयारी? साजिश ख़तरनाक है। pic.twitter.com/mRPZWoLY5o

— Kapil Mishra (@KapilMishra_IND) January 25, 2018
He leaves no stone unturned to appease minorities. Now, an RTI reply has revealed the expensive and extravagant Iftar parties organized by Arvind Kejriwal government had cost more than two crores to the exchequer. In the year 2015-16, Kejriwal wasted Rs. 4,385,810 on Iftar parties. In 2016-17, the Kejriwal government had spent Rs. 11,489,544 on organizing Iftar parties. In 2017-18, he spent Rs. 4,223,619 for the same purpose.
The Delhi CM office had also spent a huge amount on organizing Eid party. In the year 2016-17, Rs. 899,729 was wasted on Eid parties. In 2017-18, Rs. 862,858 was wasted for the same.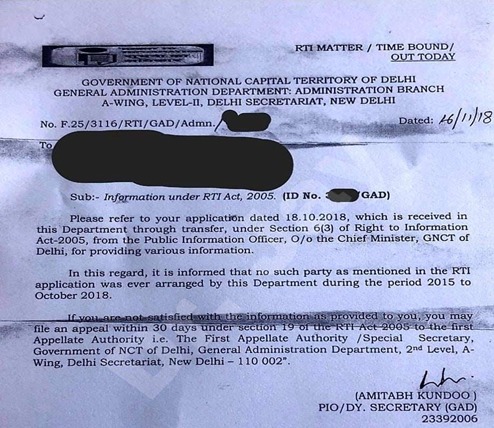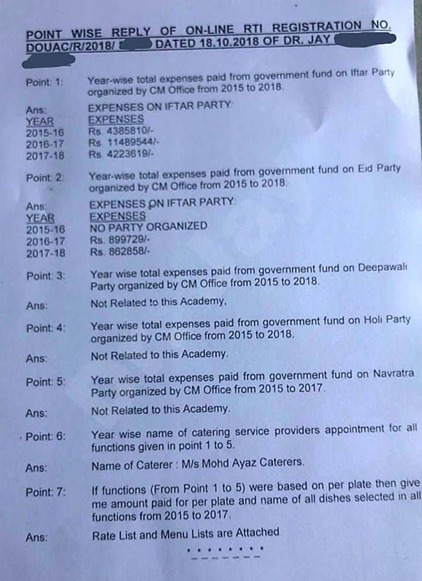 The AAP belongs to the clan of pseudo-seculars, so this doesn't come as a surprise. In India, Iftar parties have been a grand occasion for politicians to prove their secular credentials. Kejriwal government is wasting public money on hosting Iftar parties just to project themselves as a 'secular party'. It is extremely difficult to understand how hosting Iftar parties using public money or wearing a skull cap could reap any tangible benefit for the masses and in case wasting public money meant for developmental expenditure actually helps the masses then why is it not being spent on hosting parties before Diwali or for that matter any other festival. This discrimination clearly shows the anti-Hindu mindset of the party.
No matter how desperately Arvind Kejriwal tries to project himself as the champion of clean politics but the truth is that he belongs to the same tribe of politicians who practice Nehruvian secularism. They go to any extent to appease Muslims. Time and again, the party has appealed to the Muslim community to vote for AAP. Ahead of Bawana by-polls, in August 2017, a controversial pamphlet surfaced which showed an 'appeal to Muslim brothers' by Imran Hussain, AAP leader. The pamphlet made an appeal to Muslims to vote for AAP.
. @DelhiPolice should immediately file FIR against @ArvindKejriwal for violation of election code of conduct https://t.co/mK1vQGIvZk

— Tajinder Pal Singh Bagga (@TajinderBagga) August 21, 2017
It further made blatantly communal remarks like Muslims traditionally ruling over Delhi for thousands of years and that the community still holds the 'key to power' in the city. It is unfortunate that India is still ridden with the disease of minority appeasement and as of now, AAP is the torchbearer for the same.