Modi government announced Diwali bonanza to Micro, Small and Medium Enterprises (MSME) sector on Friday. The government announced many steps to support MSME sector including faster approval of licenses, easier and cheaper credit. The MSMEs registered under GST will get 2 percent interest subsidy on new loans. The government also launched a website named psbloansin59minutes.com to provide easier and time bound access to loans for MSMEs. "Yeh naya Bharat hai, isme bankon ke baar baar chakkar lagana khatam (This is New India, here you don't need to go to banks again and again for loans)," said Modi while addressing MSME players from across the country.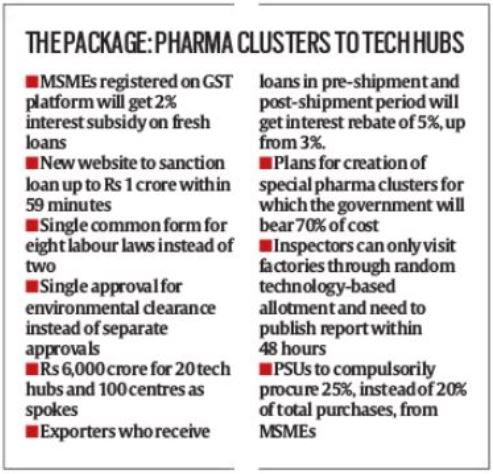 The MSME sector was struggling for loans since the crackdown on public sector banks started during Raghuram Rajan era. In the light of rising NPAs, RBI implemented strict norms for loans and credit to MSMEs almost halted. Big companies have multiple source of capital like foreign direct investment, foreign portfolio investors (FPIs), foreign institutional investors (FIIs), debentures and equities. But MSME sector companies are largely dependent on loans from banks for capital requirements. The hawkish policy for NPAs cleanup made loans scarce and this led to slowdown in economy, especially in MSME sector. Rajiv Kumar said rising NPAs during the tenure of Raghuram Rajan stalled credit disbursal to the industry and in the case of the micro, small and medium enterprises (MSME) industry, credit actually shrank.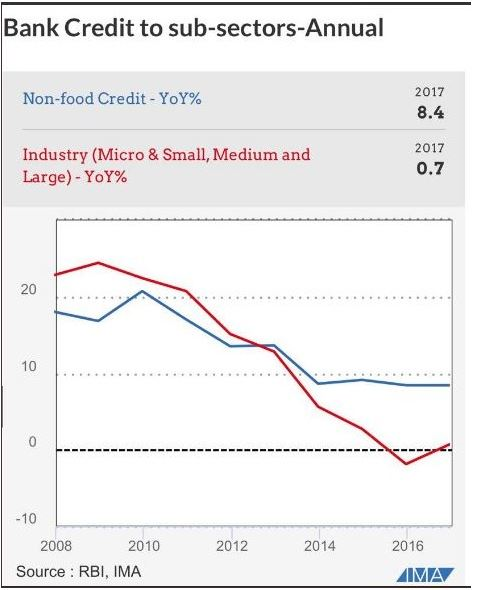 The MSME credit was expected to pick up once the NPA mess started getting cleaned through Insolvency and Bankruptcy code. However, when credit to MSMEs saw an upward trend, the IL&FS crisis hit. The Non Banking Financial Companies (NBFCs) like IL&FS are major source of credit for MSMEs. The credit squeeze to MSME sector was one of the major bone of contention in RBI-Finance ministry tussle. After the IL&FS default, it was found that many other NBFCs are on verge of default and the government feared that more defaults could create panic in the market. Finance ministry wanted RBI to ease out credit disbursal to MSMEs from public sector banks, but RBI was not ready for this. However now RBI has understood the gravity of the situation and released a note on Friday, in which it permitted the banks to offer credit support to NBFCs and Housing Finance Companies (HFCs). "It has now been decided to allow banks to provide partial credit enhancement (PCE) to bonds issued by the systemically important non-deposit taking; non-banking financial companies (NBFC-ND-SIs) registered with the Reserve Bank of India and Housing Finance Companies (HFCs) registered with National Housing Bank," said RBI in its notification.
Now as RBI and government have agreed to improve the situation of MSMEs, the sector can hope for good times ahead. The government has announced some more steps to improve the situation for MSMEs, like easing out rules, regulations and procedures. The MSMEs will need to file a single common form for eight labor laws and will need a single approval for environmental clearances. The pharma sector which has become one of the major industries in the country in recent years got special attention from government. Special clusters will be created for MSMEs in pharma and government will bear 70 percent of total cost. 20 technology hubs will also be opened with support of 6,000 crores from government. The government has also mandated that PSUs will purchase 25 percent of their total requirements from MSME players instead of the previous 20 percent. The inspectors were also made accountable to stop them from harassing MSME players, they can now visit the factories only through random technology based allotment and after that, they would have to publish a report of visit within 48 hours.
The government has also proposed a plan to define MSMEs on basis of revenue, rather than on basis of investment in plant and machinery. As per the new definition a business with revenue under 5 crore will be called micro, 5 crore to 75 crore category will be small and 75 crore to 250 crore will be medium sized enterprise. However the amendment bill is still pending in parliament due to hurdles from opposition. The initiatives taken by the government to cut the red tape and provide easy access to credit will definitely help the MSME sector, which happens to be the second largest job creator after agriculture.