AAP MLA Amanatullah Khan pushes Delhi BJP chief Manoj Tiwari during Signature bridge inauguration event. 
In a shocking incident, a video has surfaced in which AAP MLA from Delhi legislative assembly can be seen pushing Delhi BJP chief Manoj Tiwari during the inauguration ceremony of the Signature bridge bridge in Delhi.
Even as the Delhi chief minister Kejriwal was addressing the crowd from the stage, AAP MLA Amanatullah Khan pushed the Delhi BJP chief, who was reportedly standing with his supporters near the stage. This hooliganism is shocking and unbecoming of an elected legislator. Tiwari was about to fall down even as Amanatullah Khan pushed the Delhi BJP chief, however, police officials present on the scene, managed to prevent that from happening.
AAP MLA Amanatullah Khan has a miserable track record and it is not for the first time that this legislator has been caught red handed making slanderous remarks or conducting himself in a manner unbecoming of a legislator. In one such instance, he had been caught giving a speech in which he labelled the incumbent government as 'Haramkhor Modi Sarkar'. His hateful speech was in effect a call to arms to all Muslims to rise against the 'oppressive policies' of Modi government. Amanatullah Khan could be clearly seen exhorting Muslims to picket Home Minister's residence, everytime an 'innocent' Muslim is picked up by the Police. The 'innocent' Muslim, shockingly in that case, was the Deobandi cleric, Mufti Abdus Sami Qasmi who was arrested for his fiery sermons in support of the Caliphate and instigating youth for anti-national activities.
AAP supporters justified the speech stating that the Modi government was suppressing free speech and this made sense. It went on to show how Amanatullah Khan was openly and shamelessly abetting radicalism. In yet another incident, which brought Amanatullah Khan into limelight was the Delhi Chief Secretary assault case. The Delhi Chief Secretary had accused the AAP MLAs of assaulting him. Amanatullah Khan was one of the accused and it was alleged that Amanatullah Khan and one other MLA allegedly beat up Anshu Prakash without any provocation.
In a bid to take all the credit for the Signature Bridge in Delhi, the AAP has totally lost it. It has lost all control over itself and has been making one blunder after another. The AAP tweeted an image of Netherland's Erasmus Bridge instead of the newly inaugurated bridge. AAP which has manifested great desperation for taking credit for building the iconic bridge, posted three images of the Netherlands bridge claiming them to be of the Signature Bridge in its tweet. It only made AAP a laughing stock and exposed how it was using the Signature Bridge for reaping political benefits in a hurried manner.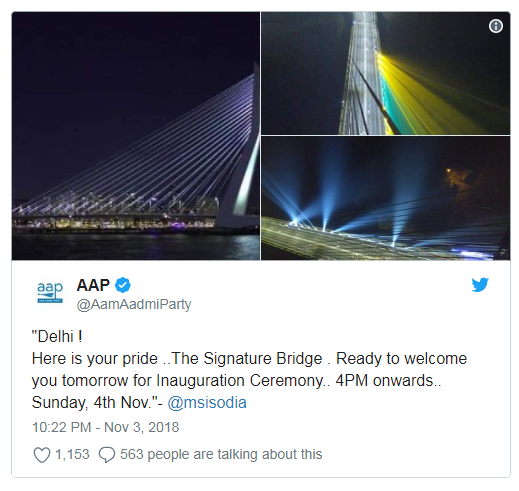 This is not all, Delhi chief minister Kejriwal resorted to malicious narrative while inaugurating the Signature Bridge. Instead of gracefully inaugurating the Bridge, Kejriwal sought to make it an opportunity for settling political scores. He went on to allege that the NDA government did all that they could in order to delay the completion of the Signature Bridge project. He did not stop here and even took a dig at the Statue of Unity that was constructed as a tribute to the Iron Man of India, Sardar Vallabhbhai Patel. He went ahead and claimed that had India's first prime minister, Nehru made such statues, 'we would not have been where we are today'. It is extremely shameful how Kejriwal and the AAP resorted to such uncivilized political narrative and made the Signature Bridge and the Statue of Unity issues of political discord.
The conduct of AAP MLA Amanatullah Khan and in fact the AAP itself is condemnable. Delhi has been suffering due to the misrule under the present AAP government and on the top of that, AAP is now resorting to vicious propaganda and open hooliganism in order to remain politically relevant.