The left-liberal media establishment of India is epitome of hypocrisy. The people in this establishment take 'high moral ground' in front of Camera. Be it on women empowerment, eve teasing, transparency in businesses, crackdown on black money so on and so forth. But when it comes to adhering to these principals in personal life or office environment, they violate almost every rule of these principals. A few days ago, IT department raided Quintillion Media Private Limited for cases of money laundering. Almost all 'mainstream' media organization called it a 'political witch hunt' against the section of media which is critical of government. 
The media organization did not tell the other side of the story and neither investigated claims of Income Tax department and simplified whole case into political witch hunt. The only website so far reported the claims IT department is Newslaundry, a media critique, news and current affairs portal. According to the story, Raghav Bahl promoter and owner of Quintillion Media Private Limited has made 114 crore with an investment of 3.03 crore rupees. As per the story, Raghav Bahl bought 13.2 lakh shares of PMC FinCorp at 5.5 rupees per share via cheque. PMC Fincorp Limited is a penny stock company registered at Kanpur Uttar Pradesh, the company was founded in 1985 and was publicly listed in Kanpur. The company does not have any significant trading activity since long, a person named Raj Kumar Modi serves as the Chairman and Managing Director of PMC Fincorp Limited. "The company was acquired by me in 2003. The shares of PMC Fincorp were held by me and my family (21 per cent), by companies managed by me (20-22 per cent) and remaining was held by the general public. The company got listed on the BSE in 2012," Raj Kumar Modi told the IT officials. Modi got a share of 1.5 percent for converting more than 100 crore of Bahl's black money into white. "I remember Ritu Kapur and Raghav Bahl got 100 crore converted,'' Raj Kumar Modi stated. "The financials of the company have no correlation with the movement in share prices. With respect to the sharp rise in prices, I would like to state that prices of the shares have been rigged for purpose of bogus long-term capital gain. My net earnings were 1.5 per cent of the amount converted to white money from black.''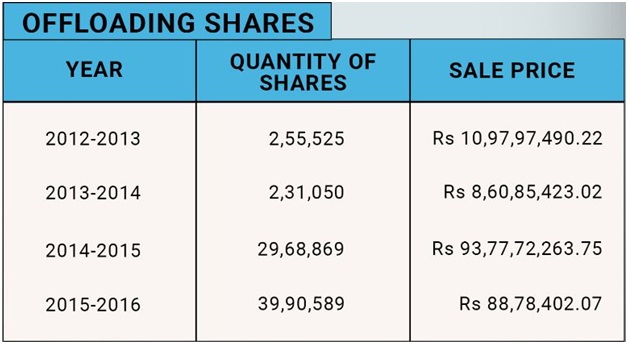 In the subsequent years, Raghav Bahl and his wife Ritu Kapur sold majority of the share in these companies. The interesting thing is within a year, the share value of the company rose to 848 rupees per share between September 2013 and March 2014 when Raghav Bahl offloaded majority of these shares, the share value of the company crashed to 0.47 rupees per share. So who purchased the share of a penny stock company at 848 rupees per share within a year of Raghav Bahl's investment? Well, Raghav Bahl himself gave money to Raj Kumar Modi, as he stated, to route the cash to seven shell companies to purchase these shares. Seven companies which purchased shares at such high prices are Economy Suppliers Pvt Ltd, Seabird Vincon Private Ltd, Seabird Retail Private Ltd, Embassy Sales Pvt Ltd, Famous Investment Cons Pvt Limited, Rolex Vinimay Pvt Ltd, and Seabird Distributors Pvt Ltd., all being paper companies registered in Kolkata at same address. All these companies have a single director named Navneet Singhania who admitted that he is actually entry operators for all practical purposes besides his position as director in these companies.  "I worked as an entry operator to adjusting the fund and getting a commission on it. Various kinds of works like collecting and delivering cash from various parties, depositing and withdrawing cash from various accounts. These companies are not doing any real work as these are paper companies doing work of Jama Karchi/accommodation entry," said Singhania.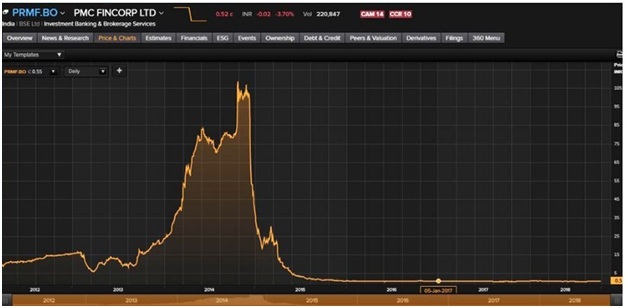 Therefore, in plain words Raghav Bahl purchased his own shares at a growth rate of nearly 15,318.18 per cent by using black money. Raghav Bahl used 'shell companies' for practically 'buying back' these share by using cash on which taxes were not paid. SEBI fined three of these companies, Economy Suppliers Private Limited, Seabird Retails Private Limited and Seabird Distributors Private Limited with penalty of 1 lakh, 3 lakh and 3 lakh respectively. All these companies are shareholders of PMC Fincorp. The SEBI order in the matter of PMC Fincorp stated: "During the examination, in the scrip of PMC Fincorp Limited, a company listed on the Bombay Stock Exchange (BSE), Securities and Exchange Board of India (SEBI) observed that during the period March 2012 to August 2014 there was a change in shareholding of Economy Suppliers Private Limited, Embassy Sales Private Limited, Seabird Retails Private Limited and Seabird Distributors Private Limited in the Company." The insider trading is banned in India and almost every other stock market in the world. "Based on the information provided by BSE, SEBI observed that the change in the shareholding of the Noticees in the Company had triggered their obligations to make disclosures to the Company and BSE in terms of the provisions of SEBI (Prohibition of Insider Trading) Regulations, 1992, and SEBI (Substantial Acquisition of Shares and Takeover) Regulations, 2011," read the SEBI order.
The high moral ground taken by left-liberal media establishment remains in front of the camera. In backrooms they behave as tax evaders, money launderers, sexual predators, sycophants and what not. This establishment is responsible for informing the public, if their personal dealing are full of scams and biases, how it could be expected that they would tell 'right' story to populous of the country. The interesting thing is they cry foul of 'political witch hunt' when some legal action is taken against them. The establishment's pleas for freedom of the press whenever their corporate wrongdoing is exposed but the question is how objectivity is expected from these tainted media houses.