Indian economy grew by 8.2 percent in the first quarter of this fiscal year, this is highest growth achieved in last two years. This shows that economy has shrugged off twin shocks of demonetization and GST implementation and now it is time to get benefits of these reforms. India became sixth largest economy this year by overtaking France. India's GDP stood at 2.597 trillion dollars in 2017 in current prices in market exchange rates, ahead of France whose GDP stood at 2.582 trillion dollars in 2017. By the end of this fiscal year, India is expected to overtake mighty British who ruled us for 200 years. United Kingdom's GDP is 2.622 trillion dollars and if this growth continues India will easily overtake this figure in this fiscal year. "India's GDP for the first quarter this year growing at 8.2% in otherwise an environment of global turmoil represents the potential of New India. Reforms and fiscal prudence are serving us well. India is witnessing an expansion of the neo middle class," Finance Minister Arun Jaitley said in a tweet. The 8.2 percent GDP growth in first quarter is higher that 6.7 percent growth in China for same time period. This reaffirms India's tag of fastest growing major economy on earth.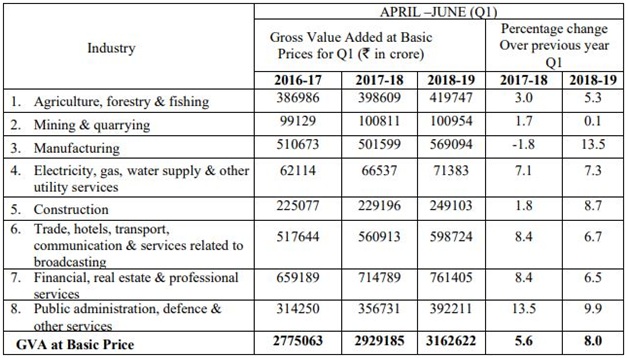 Indian economy grew so fast due to robust domestic consumption which accounts for more than two third of the GDP. As per RBI annual report household savings are at highest since last seven years, the high savings will lead to increase in private investment which will propel growth further in upcoming quarters. As we can see that manufacturing and construction posted highest growth in this quarter. This is a good sign because manufacturing growth has not been very good in previous years. This also indicates towards the fact that 'Make in India' was not just a slogan, it is now successful on ground due to tremendous efforts by the government.  Bibek Debroy, Chairman of the Economic Advisory Council to Prime Minister (EAC-PM), said that "the growth numbers indicate superior acceleration in India's growth trajectory and validate that the economic fundamentals remain robust. The encouraging growth rates in agriculture, manufacturing and construction show that the growth momentum continues to be broad-based. In addition, one also expects favorable monsoons to further boost agricultural output and rural consumption in the coming quarters."
The Indian economy got major shocks in previous financial years. In fiscal year 2016-17, demonetization shook economy in MSME and unorganized sector. Then
In next fiscal year, implementation of GST has brought some major changes in the way businesses operate in India. Now, almost a year after GST implementation, businesses have started reaping its benefits and this resulted in high GDP growth. Stressing on recovery Department of Economic Affairs Secretary Subhash Chandra Garg said that "the V-shaped recovery of growth in Indian economy is complete now. The Indian economy should grow at robust and steady state in full year, remaining the fastest economy in the world. Robust GDP performance in Q1 raises hope of exceeding estimates of 7.5 per cent for current fiscal."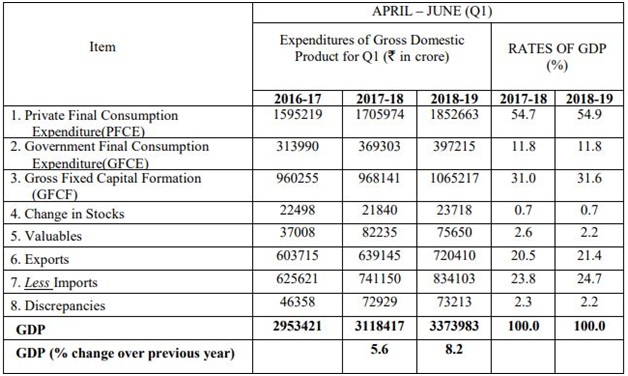 The share of private consumption, government consumption has remained almost same as that of previous year but Gross Fixed Capital Formation (GFCF) grew from 31 percent to 31.6 percent. The increased GFCF shows that investment is poised to grow. Exports and imports grew by almost same rate which almost nullified their impact on other indicators. So, overall Indian economy is in good shape with almost every industrial sector growing good pace. The sound macroeconomic fundamentals will propel growth further in upcoming quarters.