The market which is creating buzz in recent month is e-commerce. Investment by global players in domestic companies, the new regulatory framework, cut throat competition, anticipated entry of Reliance all this has led to lot of churn in the e-commerce market. The exponential rise in the number of internet users and demographic dividend of the country prepared base for this churn. Now, interesting thing to watch is where this entire churn will take Indian e-commerce in the next 4-5 years. According to a report by Nasscom and PwC, the e-commerce market could grow to 150 billion dollars by 2022, riding on rising middle class and surge in the number of internet users. The e-commerce market was estimated to be around 36 billion dollars last year, dominated by Flipkart and Amazon. "A 'Make-for-India' solution approach along with conducive policy environment can potentially make e-commerce a $150 billion market by 2022 with a globally leading compounded annualized growth rate of 35%," said the report. The exponential growth of e-commerce is also expected to create more than 10 lakh jobs in the sector by 2022.
According to report the Indian middle class will reach to 54 crores from 380 crores in 2017 and the number of internet users are projected to be around 85 crores in five years from 45 crores in 2017. The new users will come from tier 2 and tier 3 cities and their demands will be very different from demands of current users which is by and large limited to population which speaks and understands English language.  The new users will ask for diverse language choices, payment modes and substantially different products from the current user base. "The next frontier for the battle in the Indian e-commerce industry is set to be fought around a seamless shopping experience, building digital trust, voice-based or conversational commerce and creating an inventory of localized content," said Sandeep Ladda, partner and global technology, media and telecom sector leader at PwC India.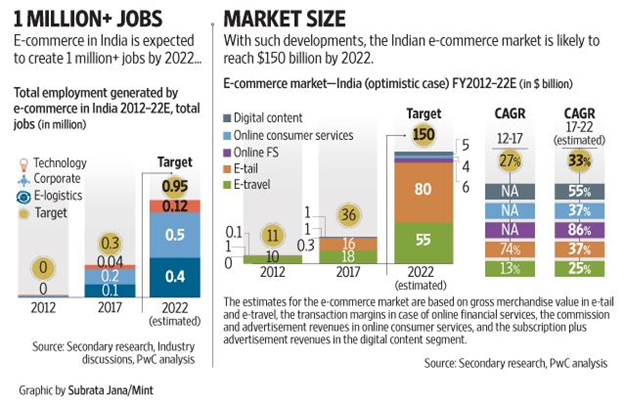 The fastest growing e-commerce segment will be digital financial services. Paytm's digital transaction segment is growing exponentially, Google has renamed the Tez app as Google Pay and plans to offer quick loans along with transaction facilities.  Amazon Pay and the government's app BHIM are also competing to capture the market.  Transactions through unified payments interface (UPI) reached a new high with 1 crore transactions in June this year. This was 30 fold increase from June last year when it took a whole month to reach 1 crore transactions. India with 26% penetration in online financial transactions still lags behind from neighbor China which has 62 percent penetration. Sankalpa Bhattacharya, partner and leader in deals strategy at PwC India highlighted ease of financial transaction problem along with longer deliver periods, "On the other hand, the ability to serve these customers may also be constrained due to limited assortment, low ease of ordering and payment, longer delivery times and trust issues," said Bhattacharya.
India is also behind all BRIC countries in e-commerce readiness index. India at 10% ranks behind countries such as Brazil (20%), China (30%) and Russia. "With demand drivers in place, Indian e-commerce maturity can match that of China's and Russia's in 5-6 years," the report said. The entry of Reliance and aggressive expansion by Paytm will create more competition which will solve these problems. The money being invested by global players like Walmart, Amazon, Alibaba, Google, Softbank is huge, the availability of capital will help domestic players to innovate and expand at explosive rates. As per the report e-commerce industry is expected to contribute 4% of GDP by 2022.