The Pension Fund Regulatory and Development Authority (PFRDA) has proposed to the Modi government to raise the limit of Atal Pension Yojana (APY) to Rs 10,000 per month from the current slab which is up to Rs 5,000 per month. Chairman of PFRDA, Hemant G Contractor said "the proposal has been sent to the finance ministry with an aim to increase the subscriber base of Atal Pension Yojana. Currently, we have five slabs of pension from Rs 1,000-5000 per month. There has been a lot of feedback from the market asking for higher pension amounts because many people feel that Rs 5,000 at the age of 60 years, 20-30 years from now, will not be sufficient."
Atal Pension Yojana was launched by Prime Minister Narendra Modi on 9 May 2015 in Kolkata. It is a Modi government backed pension scheme targeted at workers of the unorganized sector who are largely out of the social safety net. The current subscriber base of Atal Pension Yojana is 1.02 crore and PFRDA aims to increase the subscriber base by raising the pension limit. Almost 50 lakh new customers subscribed to this scheme in the fiscal year 2017-18, and the PFRDA hopes to add another 60-70 lakh subscribers in the ongoing fiscal year. Currently, the scheme has 60% men and 40% women which suggest that women are also participating actively in the scheme. The returns according to the age of entry are as follows: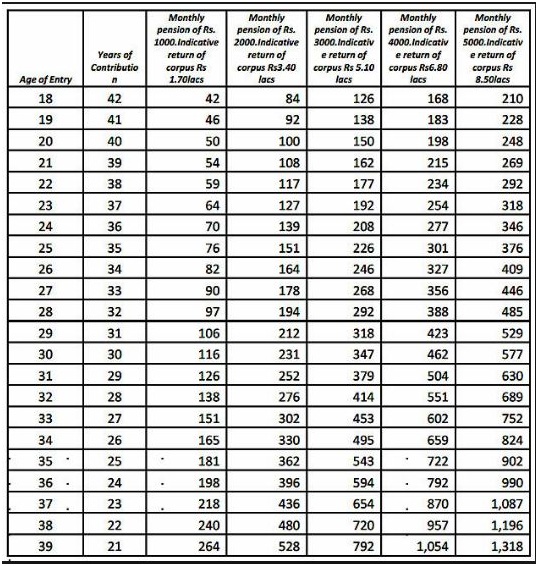 Madnesh Kumar Mishra, Joint Secretary of Department of Financial Services (DFS) responded to the proposal sent by PFRDA saying "We have seen the proposal (sent by PFRDA) of increasing the pension value to (up to) Rs 10,000 per month and it is under our active examination." Currently, the age to join APS is 18 to 40 years, limit by 10 years to 50 which will bring more people who are tending towards old age. The Pension Fund Regulatory and Development Authority (PFRDA), a statutory body, is the pension regulator established by Government of India on August 23, 2003. Like other financial sector regulators like RBI, SEBI, Insurance Regulatory and Development Authority (IRDA) and Insolvency and Bankruptcy Board of India (IBBI), PFRDA is a quasi-government organization having the executive, legislative and judicial powers.
PFRDA currently administers two pension schemes run by the government- the National Pension System (NPS) and Atal Pension Yojana (APY). NPS is a defined contributory pensions system introduced by the Indian government to stop defined benefit pensions for all its employees who joined after 1 January 2004, and is mandatory for all Central Government employees with effect from January 1, 2004. The government wanted to transfer the burden of pension for its employees from the taxpayer to employee itself. Now the NPS is open to the people 18 to 60 years age working in private (organized or unorganized) sector. It is a government guaranteed scheme, therefore, the chances of assured return are very sound, and so every eligible person who has not subscribed to a pension should go for it.
Indian economy is largely unorganized with 80 percent of workers working in this sector. These employees are vulnerable to every difficulty relating to education, health, insurance, pension etc. It is very important to provide social security to people working in unorganized sector. The Modi government is focused on making India a true welfare state which the Congress government has promised over the last 70 years but has not been able to achieve in its almost 60 years rule. The Modi government has brought many schemes like National Health protection scheme (NHPS) for universal health care and Pradhan Mantri Jeevan Jyoti Bima Yojana for universal life insurance. Therefore, we can say that the Modi government is focused towards fulfilling the Antyodaya (upliftment of the last person) dream of Jan Sangh ideologue Pt Deen Dayal Upadhyay.