Shocking details on expenses of Arvind Kejriwal were revealed recently in a reply to an RTI query. The RTI application which was filed by RTI activist Mukund Chaudhary revealed that Arvind Kejriwal has spent over Rs 1 crore (Rs. 1,03,04,162 to be precise) on refreshments alone. During the year 2017-18, the amount spent on refreshments was Rs 33, 36,899. The details of the RTI completely expose the fake promises and claims made by Arvind Kejriwal and his government.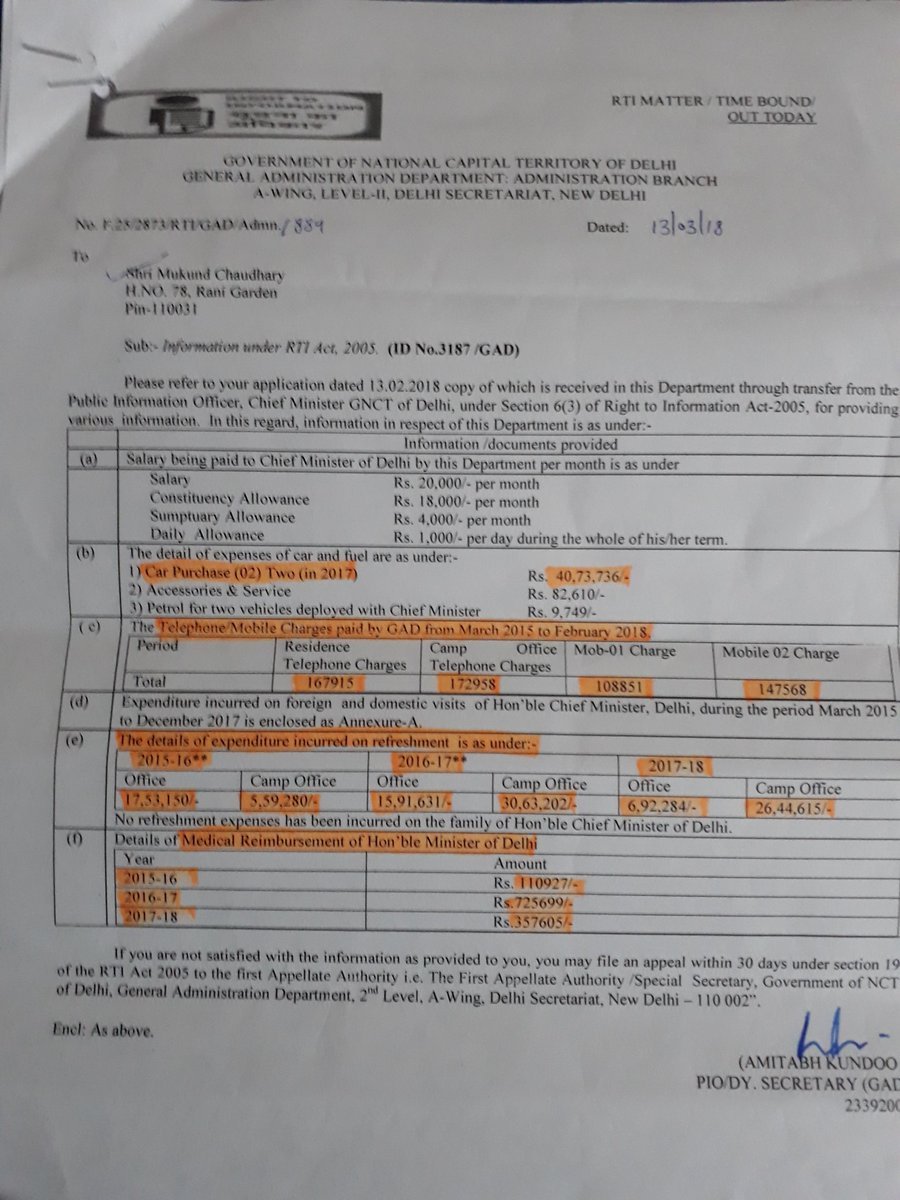 The refreshment expenses were divided into his actual office and the camp office, which was Rs 6, 92,284 and Rs 26,44,615 respectively for the year 2017-18. Former AAP MLA Kapil Mishra had claimed that Kejriwal hardly ever goes to the office, so while the refreshment amount spent in the office was comparatively less, it was still not justified. The camp office is one of the duplex flats that was converted into an office for Kejriwal. He lives in the five-bedroom duplex flat in the same premises. The amount of money spent on refreshments in the camp office in the first year was roughly 5.5 lakhs, in the second year was over 30 lakhs and over 26 lakhs in 2017-18.
 We did some simple math on the amount spent at his camp office in 2017-18, and it appears that Kejriwal gave Rs 7,250 per day on refreshments. Assuming that he worked 8 hours every day, he ordered Rs 906 in refreshment every hour. Let's take this one step ahead, so every hour, Kejriwal and people visiting him eat roughly about 90 Samosas, or drank about 114 teas. We reached at this number assuming that he worked for 8 hours, all 365 days at his camp office. Yes, we did not subtract the time he spends apologising, silly us!
Arvind Kejriwal whose claim to fame was on the backdrop of Anna Hazare's fast appears to have gone in a completely different direction. Kejriwal was very vocal about ending the VIP culture and being an ordinary man. The RTI reply also debunks these fake claims made by the Delhi CM. Kejriwal purchased two cars in 2017 worth Rs 40, 73,736. He also spent Rs 82,610 on accessories and service. Why does he still appear at all photo-ops in a blue Wagon R?
The telephone expenses paid by Kejriwal do not instil any confidence either. While it would be difficult to evaluate the fixed telephone charges, the mobile expenses are astonishing. These are not as exorbitant as the refreshment expenses. The RTI reply states that Rs 1, 08,851 and Rs 1,47,568 were spent on Mobile 1 and Mobile 2, respectively during March 2015 to February 2018. Again applying some basic math skills, the cost per month for mobile 1 comes to Rs 3,023, and mobile 2 comes to Rs 4,100. How about going for Jio unlimited or Vodafone Postpaid plans? Only if, that does not amount to colluding with Ambani in Mr Kejriwal's books.
It is ironic that a man who came to power on the pretext of being a crusader for the "Aam Aadmi" is spending so much money on refreshments. Perhaps, it is time to apologise to the common people as well!