After Nazism there's no other ideology as harmful as Islamism. Brigette Gabriel an American journalist has stated "According to Intelligence Agencies reports and other surveys, Islamic Terrorism or Jihad has taken much more lives than Nazism and Communism put together." Every dreadful terrorist attack one of them being the 9/11, has some or much more connection to Saudi Arabia, the custodian of Islam's holiest sites, a country that still functions in the garb of medieval laws and religious principles of Islam.
Irony is that the USA, a secular democratic country as it calls itself to be, has been Saudi Arabia's chief-partner and protector ever since WW2.
The result of this partnership has been disastrous for other countries. Because of the mighty shield that Saudi Arabia has, it is able to spread its militant doctrine in countries like Indonesia, Philippines, Syria, India and many countless countries. USA has constantly overlooked the activities of Saudi Arabia. Saudi constantly funds Madrasas abroad to spread its Wahhabist doctrine in many countries. USA although being completely aware has always acted oblivious to this fact. Or more precisely Washington has cunningly exploited Wahabbists in numerous boiling pots like Afghanistan where they used them to drive out the Soviets in 1980s.
World is aware of the fate of Afghanistan after that. Also, Bosnia, where USA-Saudi smuggled millions of dollars and arms into Alija Islamic Republic, which is now the home of Salafi-Wahhabbism. It would be precise to say Saudi Arabia who presents itself as protector of Islam has done more harm to the religion and people than anyone else ever will by toeing down to the imperialist ideas of USA.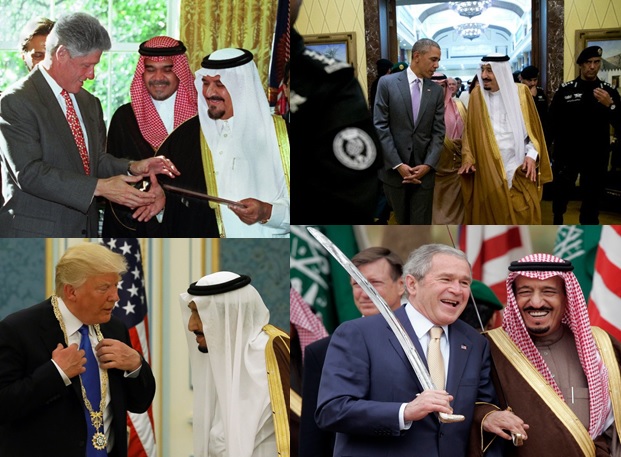 To name a few instance – When USA supported Hashim Thaci in Kosovo and Saudi Arabia smuggled millions of dollars to back the 'Jihadis' against the government, Hillary Clinton herself recruited Qatar to support movement against Muhammed Qaddafi in Libya all funded by Saudi money, Syria still pays the price of being the part of 'not on good terms with U.S' list by witnessing itself stride into religious extremism and being the birthplace of World's deadliest Terrorist Organization: ISIS. Chechnya is the place Neo-colonialists like Kenneth Adelman, Elliot Adelman , Frank Gaffney have played a catalyst's role in rise of Wahabbist Militants.
Wahabbism gained its impetus mostly after the fall of Ottomon. The cunning House of Saud bridged alliances with major world powers and then the extremist ideology that previously limited to Saudi Arabia, began to spread its claws across the Islamic World and the whole world at large. It seemed like a Well Chalked out plan. Saudi Arabia would have been criticized or may have been in a big trouble pertaining to its strict laws that violated human rights at large, had USA not required its help during the Afghan Jihad, the deadliest clash between the two World Powers, both equally brutal and ruthless in their own ways: USA and the Soviets. USA having sought help of the Saudis in their sinister strategy, ruined Afghanistan forever.
With the advent of Oil Money, the Wahabbist indoctrination had spread in Afghanistan in the Madrasas began to gain impetus. Soon the Multiplexes, Theatres, Cinema Halls began to shut down. Many unusually large-bearded 'Holy Warriors' of Islam began to visit Saudi Arabia to get training to fight against the 'Kuffr' Soviets and protect Islam. Many 'Mujahdeen' from Saudi Arabia too joined the Afghans, Palestinians etc in their 'resistance' against Zionist regimes. But this was a blowback plan, as the indoctrinated militants who came back were more hardened to fight corruption and other 'Zionist' Policies and Laws back home.
Osama Bin Laden had once claimed, the land of two mosques alone had 40000 Mujahdeens ready to fight for the cause of Islam. This created a lot of problem, as the snake the Saudi Arabia had nurtured and protected began to bite it. Also the jihadists militancy had grown so much that they began to work on their own targeting many abroad, which did create a lot of mayhem. But overall gains were much bigger than the losses for both the countries.
U.S began its control over Middle East, Many powers that dared to look into the eye of U.S were taught a lesson to remember. The most important one was the breaking of Soviet Union, although Russia can be seen a major world power today too, but its losses were devastating as it still can't see USA in the eye as it earlier used to. It worked for Saudi Arabia too, to recruit Wahhabbist Mullahs in various countries like it does our country, which revered as the 'pious-ones' by their community and issue and frightened by the others pertaining to the power of issuing sermons they have and their secret alliance with the left.
Saudi Arabia does benefit from this, as it recruits its loyal servants from other country ready to die for 'the cause' or indirectly to work in favour of House of Saud. This U.S-Saudi commodity proved highly effective as it provided an exclusive military force at very less cost and time. It worked effectively for both the powers and no one dared to discuss it, no matter how many innocents were killed or how many countries were bombed and devastated, until 19 Hijackers took down The World Trade Center, attacked Pentagon, killed 3000 innocent lives and brought down America down to its knees.
After this event, the world really began discussing 'Terrorism'. Surely America had tasted the venom of the Snake it had pampered. This really should have brought the imperialist power to its senses, but sadly the event wasn't gruesome enough to shake the conscience of the USA. Although the moral act would have been to break up the alliance with the Saudis since 15 of 19 Hijackers were Saudi citizens. But in political context this move would have been surreal as it didn't provide far-fetched results.
Al-Qaeda had gained vast support among the Saudi masses and intelligence angency surveys showed 95% of Saudi's educated people between the age-group of 25 & 41 sympathised Laden, that meant the House of Saud was vulnerable to the violent protesters. Also Russia had began showing its foothold over the Middle East aligning with Basshar Al Asad regime of Shiaite Syria, rising as the potential threat to USA.
Considering all the happenings that were enfolding in the Middle East, the trumpets of the current bloody war that we are witnessing as of today over there were blown by covering up Saudi Arabia's alleged involvement in the Attack, and Saudi emerged as a valuable U.S Partner in the region. Also to save its face from the international community, began a war against the militants sanctioned by U.S as terrorists, possibly nurturing the fugitives working for its cause. The move much to U.S's dismay turned disastrous as the sectarian conflicts emerged between the Islamic World. This threw U.S into never ending 'War on Terror'.
The current Yemen Crisis, ISIS, and Iran-Saudi crisis are all results of U.S's strategy to use Wahhabbism as a tool to check the competitors. Although the move did prove beneficial for 15 to 20 years, it threw the whole world into a bloody war with no exact enemy other than some religiously indoctrinated minds.