Red Alert in the Left-Extremist Red Carpet zone as Maoists Top and Mid-level Leadership crises looms large. Is it the Beginning of CPI(Maoist)'s End?
Mupalla Laxman Rao, aka Ganapati, one of India's most wanted man, is in a lot of trouble these days to maintain and survive the strategic and intellectual leadership of his party CPI (Maoist). His (and Maoists) movements are weakening by days in both rural and urban areas. PLGA's credibility, by accounts of the members of its own Politburo, is decelerating and the party as a whole is losing the grip in all of the nine states including in some of its strongholds such as Chitrakonda Reservoir, Lalgrah in West Bengal etc. Nambala Keshav Rao alias Basavraj, leading the CMC since its formation in 2004, and the brain behind many attacks in Chhattisgarh, is having a hard time to gain grounds there as well.
However, the nightmare for Ganapathy, has particularly intensified after the Ramaguda operation last year in October that crippled the party at the top and mid-level leadership. The Politburo (PB) strength was 14 in 2005 is now 7 (of which 5 are from AP and Telangana itself). The Central Committee (CC) membership was 40 in 2005 is only 14 now (of which 9 are from AP and Telangana). The present Communist Party of India (Maoist) which was formed in September 2004 as a result of the merger of Maoist revolutionary streams viz. Communist Party of India(Marxist Leninist) [CPI (ML) or People's War Group] and Maoist Communist Centre (MCC) is now not left with many leaders to take charge and the only option is to consider internally-rotating their existing leadership. Chalapathi and Aruna – who were in charge of the Dandakaranya area have been moved to MKVB region, for example.
There are many reasons behind this leadership and organizational crises in the Maoists regime.
1] One of the most important and direct reasons is the Anti-Maoists operations by Police and security forces that is killing the top Maoists leadership across all the nine states. For example, in September 2013 – Podia encounter took place in which 13 Maoist leaders were killed. Podia is a major transit zone to AP and Chhatisgarh for Maoists, in Malkangiri district. In 2007 Sande Rajmouli was killed, in 2010 Cherukuri Rajkumar alias Azad and in 2011 Mallojula Koteswara Rao alias Kishenji, who led the movement in Nandigram in West Bengal was killed.
Prominently in Oct last year – Acting on the credible intelligence input, the Joint anti-Maoists operation lead by Greyhound commandos of Andhra Pradesh and armed forces of the Odisha wiped out almost the entire leadership of the MKVB and AOBSZC. It included 24 members of the AOBSSZ in Malkangiri district, including 19 of its top leaders. Among those killed were Bakuri Venkata Ramana alias Ganesh (SZCM), Kistayya alias Daya (SZCM), Gangadhar (DCM) and Prithviraj alias Munna (DCM). However, AOBSZC leader Ramkrishna alias RK escaped. This was a befitting revenge of the June 29, 2008 cowardly attack by Maoists at the Chitrakonda reservoir at Alampaka in which 35 Greyhound jawans from Andhra Pradesh were martyred. The Ramaguda operation had crippled Maoist top leadership and, since the military operation has continued since then, the crises within the camp is only expanding.
Adding to their woes, Home Minister Rajnath Singh has made it very clear that rooting out the Maoist movement in the country is his Ministry's top priority.
He is reviewing situations in all the Maoist affected states with CMs of the states and is countering the LWE by sending additional battalions of CRPF, BSF, ITBP and SSB, along with UAV deployment. On June 11, 2014, Chhattisgarh has been promised 10 additional battalions. Infrastructure for Special Forces for operations like Grayhounds carried out are being prepared. This includes STF in Chhattisgarh, SOG in Odisha, C-60 in Maharashtra, Counter-Insurgency Force in Jharkhand and Thunderbolts in Keralam. An unprecedented level of Military is being deployed with state of the art weaponry to handle any situation.
What is known as Unite, Fight Back and Defeat- the third phase of OGH, which was started in 2009 has been intensified by the Modi Government.
"Declaring large bounties on the heads of the leadership, announcing new surrender policies, increasing the amount of compensation for counter-revolutionary elements punished by the people, fake reform and civic action programmes, etc., are being intensified" admits Ganapathi, General Secretary of the CPI (Maoist) party, in an interview in 2015 [1].
2] Surrender by Maoist leaders and members is yet another big factor. Many ACMs and DCMs and hundreds of Maoist supporters, including militias have surrendered to Police in recent times. An effective negotiation by the current government is to get the credit for this.
3] Rebellion within the party is another small yet significant reason. Citing internal-sectarian conflict, leadership and regional differences, leaders such as Sabyasachi Panda are leaving. Prominent Members in Chhattisgarh, Jharkhand and Bihar have left too and joined the mainstream politics [2]. 
4] Old leadership is down-at-heel and is deceasing away and to fill the vacant places in CC or PB, it takes years.  
5] Many members of the PB and who formed the CC, who could drive it, are already in jail for long and further arrest of local leaders (such as of Sudip Chongdar in Kolkata) have weakened state leadership of CPI (Maoist).  The new recruits have gone down significantly too. Left Extremism is now failing to target new ideologies from universities [3]. If all these factors continue to work in tandem, it could be a matter of time before the entire Maoist regime is decimated and go completely leaderless like Tamil people and the national liberation forces LTTE.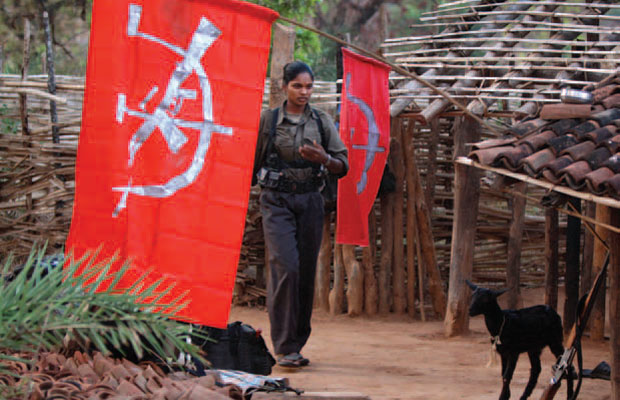 Besides, now the new leadership is being chosen based on ethnic and caste grounds, and is mainly passing on to the Tribals which has given rise to internal-Maoists conflict with the non-tribals (as reported by Rahul Sharma , SP in Visakhapatnam District). Many Leaders, who could have otherwise led the party, but who showed dissent against it, were removed on similar grounds. (Ironically, this is in stark contrast with the formulative-ideology of the term (Left) itself, since the time of French Revolution, which opposed Monarchy and Caste-distinction).
An indirect but uncanny resemblance between the Maoist leadership deficiency and that of the leadership-paucity of other communist parties can be made here based on the two common reasons. One, the anti-party activities by party's members and second, the aging leadership. While the anti-party activities are not an uncommon culture of the communist parties but many are now reeling blood due to same (Kerala's unit of CPI(M) with Mr. Achuthanandan emotional support and Sitaram Yechury's CPM being the worst sufferer with unknown future in the current political setup).
Ritabrata Banerjee of CPM who was selected as the party's Rajya Sabha MP from West Bengal in February 2014 was expelled in 2017. The revelations he made in the interview had left Prakash Karat, Brinda Karat and Mohammad Salim red faced. Prasenjit Bose is another example. And there are dozens to quote. Left and left-ideological wings (including the left student organisations such as SFI, AISF, AISB, PSU) have no room for dissent or progressive views.
Infact, many communist parties in India are in a depressing condition.
They are facing internal battles. Ideological conflicts are arising in them out of the dissent shown by their own members to their own constitution leading to the expulsion of even senior members. And older ones are medically unfit to be replaced. Most professors, think-tank and political science gurus have claimed that the left and communism is not only declining but is on its last legs.
Today, the ideology of the CPI (Maoists) is all about radicalization and militarism. Killing of innocent tribals in the name of unifying underprivileged social communities and mass movements in order to retain their leaderships is all what they focus upon. Hiding behind the narrative of their long lost objective of bringing social change through Marxism-Leninism as a tool in India's social settings is their only defense to the world.
Maoists are terrorists in the hiding who wait for their chance of ambushing, while the country's intelligence, police and security guards keep a hawk-eye vigil round the clock to ensure the safety of its citizens. The government understands that the encounter is the last resort, and is all-supportive of helping those who surrender to join the main economic and socially-progressive stream of the nation, but the government can also not undermine the internal national security threats that Maoism and other left-extremists groups pose to the nation. The only area where the government is helpless is when such extreme elements take the more fancy routes of soft-terrorism – through journalism, rallies, student organizations, elections etc.
The Maoist nexus that runs across the country is in its weakest today but it is not wise to think that the worst is behind us. How deep the rabbit hole goes, no one knows. But operations like Ramaguda that strike at the root of the Maoists leadership and imperils it certainly holds a candle to its depth.
Glossary
CC – Central Committee
PB – Politbureau (PB)
LWE – Left Wing Extremism
CMC – Central Military Commission, a committee of the Maoist.
AOBSZC – Andhra-Odisha Border Special Zonal Committee, a working division in the Maoists Camp.
MKVB – Malkangiri-Koraput-Visakhapatnam Border 
PGLA – People's Liberation Guerilla Army
Source: http://mha.nic.in/sites/upload_files/mha/files/LWE_FAQS_190815.pdf
Selected References
[1] http://www.signalfire.org/2015/06/20/maoist-information-bulletin-mib-interviews-cpimaoist-general-secretary-comrade-ganapathy/
[2] http://www.tehelka.com/2013/09/top-maoist-leader-ganapathi-admits-to-leadership-crisis-in-party/
[3] The last notable entry was Naveen alias Balakrishna, a research scholar at a top university and active member of AIRSF (All India Revolutionary Students Federation). He was killed in an encounter in Darakonda in Visakhapatnam agency in 2000.
Source – http://www.thehindu.com/news/national/maoist-rudderless-as-leadership-crisis-looms-large/article19896314.ece
[4] http://www.janmyrdalsallskapet.se/av-jan-myrdal/item/8-intervju-med-cpis-generalsekreterare.html