Things are not turning out as expected by Mr. Ratan Tata. The ouster of Chairman designate Cyrus Mistry by the Tata Sons Ltd. Board has not gone well. As quoted by CNBC, Ratan Tata and Mr. Noria (Board member of Tata Sons & Harvard Dean) approached Cyrus Mistry prior to meeting and told him that things are not going right and he must resign, and the Board is not happy with his performance. Mr. Mistry was taken aback and chose not to resign and fought back with the two. This then led to a Board meeting wherein Mr. Mistry was asked to step out as the matters in the Board meeting concerned him. It seems Ms. Farida Khambatta and Mr. Ishaat Hussain abstained from voting while the rest of the Board voted for removal of Mr. Mistry. Mr. Mistry is now a non-executive Director of the Board until Mar 2017, when his appointment is due for renewal. Whether it gets renewed or not is a matter of time.
Lot of source based allegations on Cyrus Mistry's way of operations, his firing of people esp., Mr. Dickinson of Indian Hotels who was perceived close to Ratan Tata and appointment of Mr. Sarna, who was given free hand despite complaints against him; are matter of concerns.
In fact, Mr. Mistry's ability to judge people is questioned and whether he did the right thing with appointment of Group Executive Committee is also worth pondering. The information which is coming out is mostly 'Source Based' in the Finance dailies like Economic Times, CNBC, etc. However, it seems the move to have Mr. Mistry removed had been planned for quite some time. The way Articles were amended to ensure all decisions run via Board, which was not in the case of Mr. Ratan Tata or appointment of Mr. Ajay Piramal and Mr. Venu (TVS Group) on the Board without consultation are worth questioning. However, as of now the fight is public.
You might say, why everyone is after Tata Sons Ltd? See, Tata Sons Ltd., is the holding company of all Tata Group companies. A holding company means a company holding more than 50% shares in any other company or even company capable to extending control on the decision-making process of other companies. Extending control could come by way of Board representation or even ability to take crucial decisions. Technically, whoever controls Tata Sons technically controls all these entities. Well, control does not mean like taking day to day decisions say at TCS, but working with the TCS management to ensure the company does well. But, the Chairmanship at Tata Sons Ltd., is probably the highest calling in the Group. Hence, the fight for the Iron Throne, if I may say so, is critical.
To give you an insight, the following table shows shareholding of Tata Sons Ltd., in the Group companies: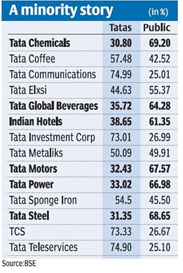 http://www.thehindubusinessline.com/opinion/tata-sons-and-the-dismissal-of-cyus-mistry/article9277339.ece
And Who Owns Tata Sons Ltd.?
Pallonji Group
Sterling Investment Corporation Pvt. Ltd. 9.19%
Cyrus Investment Pvt. Ltd. 9.19%
Tata Group
Tata Trusts 65.29%
Tata Motors 3.06%
Tata Steel 3.06%
Tata Chemicals 2.53%
Tata Power 1.65%
Indian Hotels 1.11%
Ratan Tata 0.83%
Jimmy Naval Trust 0.81%
 MK Tata Trust 0.60%
Source: http://www.bloombergquint.com/markets/2016/10/27/tata-said-to-approach-sovereign-funds-on-buying-out-ousted-chief
When a Chairman Designate and single largest shareholder must go to such desperate end, you need to know this is not as clean in Tata Group, as it seems. Here we analyze the 5-page letter which was leaked to media / CNBC yesterday. We have attached the letter for the benefit our readers who would like to go thought it. Let's summarize the key points in the letter:
Administrative Challenges
Cyrus Mistry was a reluctant Chairman; Ratan Tata & Lord Bhattacharya approached him and asked to take over the reins.
Cyrus Mistry alleges he was not given a free hand in the organization; which is based on fact that there were alterations in the Articles of Association, which changed the way Tata Sons dealt with. This argument seems unfair as Alterations to Articles requires Board & Shareholder approval. In fact, he pointing to this issue is self-damning for Mr. Mistry; as his inability to assess what's right or fair is in doubt.
Mistry says, he inherited tons of problems as a Chairman. This para is self damning for Mr. Mistry as he clearly states that the Non-Executive Directors are generally unware of runnings of the Tata Group.
Financial issues or Legacy Hotspots
Tata Steel: Cyrus Mistry has pointed to flawed acquisitions by Tata Group, except JLR & Tetley. He is highly skeptical about the Tata Steel Europe business. There is a case for impairment to the tune of USD 10 bn which translates to approximately INR 70,000 cr., for the Steel Business; of which only some were taken till date. The current market cap of Tata Steel is INR 38,566.97 cr., (and the turnover for FY16 is INR 120,418 cr.) assuming even 50% of the write off is taken till date, still the amount of write off will exceed the overall market capitalization of the company. This is a serious lapse on the part of both Tata Steel Board and its Auditor viz., Deloitte Haskins & Sells LLP, this kind of write off questions the Going Concern of the entity. If the allegation is true, there is an issue with both the Board not discharging its function and Auditors not taking a firm stand.
Taj Group or Indian Hotels: Indian Hotels Corporation Limited (IHCL) has 'beyond flawed' international strategy. He has stated that the company has acquired:
Sea rock property at highly inflated price,
Foreign properties of IHCL or Taj is in loss
Orient Hotel is in loss
Major issue faced by IHCL is that its entire net worth is lost. This is reflected in company's stock price of Rs. 114 per share and market cap of Rs. 11312.35 cr. Now, with Cyrus Mistry pointing to such flaws and company having a turnover of Rs. 4706 cr., I believe there is huge room for correction in the stock as its valuation is 3x sales; with no profits. If such write offs are taken, then the company's stock can hit sub-50 levels. Again, the auditor in this case is DELOITTE HASKINS & SELLS LLP and M/s PKF SRIDHAR & SANTHANAM LLP.
Tata Capital – NBFC: Tata Capital, another crown jewel NBFC, has abnormally high NPA. The company has given loan to Siva Group which has added to the NBFCs NPA woes. The Siva Group which runs Aircel is in court battle with the Marans. Seems, Tata Capital may have financed their Telecom License. Business Standard reports that NPAs for Tata Capital had climbed to 4.2 in 2014-15 reached 3.2 in 2015-16. Given the allegations, the NPA monster is far from tamed.
Tata DoCoMo: Tate Teleservices business model is questions to the extent of initial deal making with DoCoMo. As shutdown may cost the company USD 4-5 bn and further compensatory payments to DoCoMo. USD 5 bn would translate to INR 28,000 cr., against the company's market cap of INR 1343.0 cr. This again leads to question of going concern for the company, i.e. ability of the business to continue on a foreseeable future. Frankly, the company's stock price reflects the grim picture of business operations. Even the strategy mentioned that the company plans to have an EBITDA of INR 400 cr to INR 2500 cr. is flawed, the existing Telcos are bleeding and with the advent of JIO and company extending free offer to 31 Mar 2016, the Tata DoCoMo business may never see the light of day.
Tata Power: The company has bid aggressively for the Mundra project which has resulted in losses of INR 1500 cr., against a capital employed of INR 18,000 cr., there seems to be no right decision making in the company.
Tata Motors: Finally, Ratan Tata's pet Nano project is seen a source of huge loss to the company. In fact, Tata Capital has extended Rs. 4000 cr., line of credit to Tata Motors, which is in loss. Moreover, the company has aggressive accounting policy which leads to higher capitalization. Now, simply put the Tata Motors is not booking Losses, it is adding the amount of expense in Balance Sheet, it may be challenging to Layman, simply put its fudging and Auditors viz., Deliotte needs to be taken to task.
Nano Gliders: Ratan Tata has a stake in a company which uses Nano Gliders that creates conflict of interest. The company in question is called Amphere wherein Mr. Ratan Tata has invested; however the entity is too small in comparison to Tata Motors and too smaller hole. This point may be irrelevant now; in case adequate disclosures were made.
Airlines business is flawed business, if you look historically, one business that always goes to dust is Airline Operations. No person with huge capital needs to invest in Airlines. Ratan Tata did the exact opposite, he invested heavily in Airline. Cyrus Mistry points both AirAsia and Singapore Airlines deals are flawed. There are allegations of kickback in the same; and huge investment was made in the business. In fact the Singapore JV has an investment of USD 100 mn. These transactions, when your other businesses are bleeding, are questionable.
All in all, Mistry claims that there is case of write off of INR 118,000. Cyrus Mistry states some write-offs have already been done, however there is room for more.
SEBI has taken a note of the above points raised by Cyrus Mistry and is checking if adequate disclosures were made by the Companies in question. Moreover, Tata Sons have already issued a statement condemning the actions taken by Mr. Mistry over the leaked e-mail; and that Mr. Mistry's allegations are baseless and mis-representations. In fact, the word coming out of Tata Sons stable is that none were happy with Mistry's performance, and in fact the Board was even unhappy with the Strategy 2025 documents circulated by Mr. Mistry. We wish Mr. Mistry leaks that document, it would be a good read too. The Group has refrained from issuing any statement on the items raised by Mr. Mistry; but as per sources (quoted by Economic Times), the group is planning a point by point rebuttal to the allegations.
Let's be honest we or even press are not privy to many of the dealings that happen at Corporate level. Whether Cyrus Mistry should have leaked the letter to the press, is a point to ponder. Probably, it was his desperation or his attempt to break the clean image of Mr. Ratan Tata or his ego was deeply hurt with this untimely removal, or he was attempting certain steps in his Chairmanship capacity, which could not have been undone by the Tata Sons Board.
As per the table above, Shapoorji Paalonji family via Sterling Investing & Cyrus Investment is the only non-Tata Trust shareholder of Tata Sons; so what steps the family might take going forward is difficult to tell. In fact, there were news on Bloomberg yesterday that Tatas are looking at a sovereign wealth fund to acquire stake of Shapoorji Paloonji family. Whether Cyrus Mistry will allow this exit is something to watch.
It would be a case study to look at, after the Reliance family feud, or the Mallya Saga, among others. But, I feel something is seriously off here, and we are just seeing the tip of iceberg.  Lot more seems to be at stake here. Coming days would put more light on the events.
Source:
http://www.bloombergquint.com/business/2016/10/27/letter-wars-tata-ons-terms-cyrus-mistrys-allegations-as-malicious
http://www.bloombergquint.com/markets/2016/10/27/india-said-to-probe-alleged-governance-lapses-at-tata-group