He is the Paan Singh Tomar who was unjustly thrown into the ravines of Chambal by his evil cousin. He is the Pi Patel, who recounts his experience as a survivor of a major storm, with a tiger for company. He is the cheeky Rana Chaudhary who makes Bhashkor Banerjee experience inner peace, relieving him of his constipation forever before death. He is the 'hyper realist' Irrfan Khan, both in reel as well as real life.
Born on 7th January 1967, in Jaipur, this man needs no introduction. Belonging to a not so privileged family, Irrfan worked his way up to the echelons of the Indian film industry, initially showing his prowess in television serials like 'Bharat Ek Khoj', 'Chanakya', 'Just Mohabbat', 'Star Bestsellers' to name a few. Although he initially struggled with his films, despite being the talented actor that he is, Irrfan finally found his cup of fame with Vishal Bharadwaj's 'Maqbool', an Indian take on the Shakespearean play, 'Macbeth'. However, it took the famous biopic on famous athlete turned rebel, 'Paan Singh Tomar', to catapult his status from a classy/non mainstream actor, to a superstar in Bollywood. Films like 'Slumdog Millionaire', 'Life of Pi', 'The Lunchbox', 'Piku' etc. only stamped his authority as an actor of his own class.
Recently in limelight, for his upcoming release, 'Madaari' the maverick actor from National School of Drama put forward some really sensible questions. Questioning the validity of animal sacrifice during Islamic festivals like Eid ul Azha, Irrfan Khan pointed out that one should understand the meaning of traditions carefully and not make a mockery of them. In his opinion, 'Qurbani' means sacrificing something that one cherishes the most, not the sacrifice of animals. His being a radical opinion of its own class, Irrfan Khan was appreciated not only by his fans, but also by the religious scholars.
However, not everyone was happy with Irrfan's views. Ultra fanatic clerics slammed Irrfan Khan for his opinion, mocking on his 'knowledge' of Islam, while the so called Liberals, as is the norm, maintained a deafening silence. Some of the clerics even indirectly threatened Irrfan Khan, asking him to concentrate on his film career, rather than 'making random statements about the religion.' The cabal of intellectual terrorists, led by the ever biased mainstream media, weren't behind either, twisting Irrfan's statement into saying that Irrfan questioned the authority of Ramzan festivals!
However, little did these jerks realize that this time, they had messed with the wrong person. Unlike other celebrities, Irrfan did not budge, and openly retorted them in a tweet this week, saying (as noted below:-
Clerics don't scare me !! Thank God I don't live in a country governed by religious contractors (thekedars ) #FREEDOM

— Irrfan (@irrfank) July 1, 2016
Irrfan Khan tweeted: "Clerics don't scare me. Thank God I don't live in a country which is controlled by religious 'thekedaars'………Plz bhaiyon, who are upset with my statement, either u r not ready to introspect, or u r in a hurry to reach a conclusion.'
What does this mean? In a way, our Irrfan Khan killed two birds with a stone. He not only told to the Islamic bigots that he doesn't care a damn, he also proved that India is a secular nation, not the intolerant hell the intellectual terrorists routinely fantasize about, and the model that pseudo secular politicians use effectively to scare minorities into voting for them. Irrfan Khan ji, thank you for exposing the Goebbels propaganda of these pseudo seculars! True, our country is not exactly a heaven, but certainly, it is not the horrifying hell, as claimed by these intellectual terrorists either!
If that is enough, Irrfan Khan also openly condemned the dastardly attacks in Bangladesh, condoling the unfortunate death of the victims and their bereaved families, while at the same time, questioning the silence of the Muslim community. In his opinion, those who massacre innocents can't be Muslims.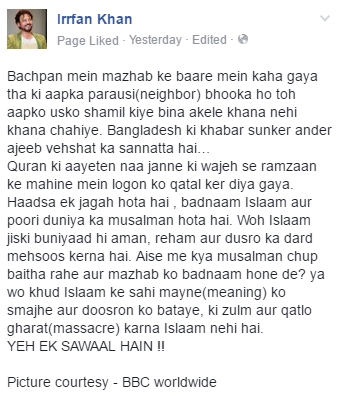 If someone has the audacity to tell what custom and tradition actually means, and is not scared at all of facing the ridiculous backlash, he seriously deserves some respect. When he is actor Irrfan Khan, he deserves all the more respect. Irrfan Khan ji, no matter whosoever says what to you, we are proud of you. You prove what a true Indian is actually, above any prejudices.