JNU Student Union president's Kanhaiya Kumar's Electrifying (well) Speech clearly mentioned the sad state of rural economy in India & more specifically the sad condition of the Nation's 'Aan dataas' aka farmers. Quoting him "The thousands of farmers who are committing suicide, who grow grain for us and our youth on the border; farmers who are fathers to these youths do you have anything at all to say about that, about them? I want to tell that leader the farmer who works in the field is my father." Source (http://thewire.in/2016/03/04/english-translation-kanhaiya-kumars-electrifying-speech-at-jnu-23820/)
While condemning the suicides of thousands of farmers across the country, Kanhaiya Kumar ji should also study who exactly is responsible for this miserable condition of our farmers. We must realize that there is no one reason for this situation. In this article I will try to explain a number of those situations
The slow growth of Non-Agriculture jobs
One of the most important reasons of the current rural crisis is the overdependence of India's work force on Agriculture for Jobs. Agriculture and allied sectors like forestry, logging and fishing account for 17% of the GDP and employ a massive 49% of the total workforce in 2014. The growth of Manufacturing and Service's sector over time should have contributed to creation of millions of skilled jobs in the country providing an alternate avenue for the excess labour in the Agriculture sector.
Quoting a report (Joblessness and Informalization: Challenges to Inclusive Growth in India) of the Institute of Applied Manpower Research (IAMR), a think-tank of the now defunct Planning Commission, "despite clocking phenomenal growth which has made India the world's fourth biggest economy, employment in total and in non-agricultural sectors has not been growing. This jobless growth in recent years has been accompanied by growth in casualization and informalization". The report also said "in the period 2005-10, the manufacturing sector saw the loss of 5 million jobs. The services sector, which saw a massive growth of jobs during 2000-2005 of 18 million jobs, witnessed only 4 million additional jobs in 2005-2010. This was rather odd considering the growth period is often called that of 'service-led' growth." Economic mismanagement & Policy paralysis by UPA-1 & 2 alone cannot be blamed for the lack of jobs in Secondary & Tertiary sector, from adoption of a flawed Soviet style model of economic development by Nehru, to an Indira Gandhi committed to destroy the private sector by regulations & allowing the communist unions to draft anti-labour, anti-Industry labour laws, to replacement of Licence Raj by Approval Raj by the 2 UPA governments contributed to an era of Jobless Growth.
Under Investment in Rural Infrastructure
No one can deny that if any country wants to expand its rural economy it should invest in basic Infrastructure. Quoting Neelkanth Mishra, Equity Strategist at Credit Suisse "The biggest impact has been on productivity. Once there is connectivity, hitherto isolated hamlets become part of larger clusters of 200-300 villages with 50,000-100,000 consumers, against 1,000-2,000 previously. This allows for economies of scale, specialisation and flourishing of microenterprises."
Successive governments from Nehru to Indira Gandhi to Manmohan Singh led UPA have voiced support for Infrastructure development so that the benefits of growth can be extended to all the sections of our society. However, all this talk is yet to result in solid action. Considering that NDA-1 laid the foundation for accelerated road development in India, so by the time UPA-1 came, NH length increased, institutional mechanism was in place to execute projects. Then came private investors and hence road development gained momentum. Ideally UPA 1&2 should have taken advantage of this opportunity & rapidly invested in road development and other Important Infrastructure necessary for the rapid development of rural economy.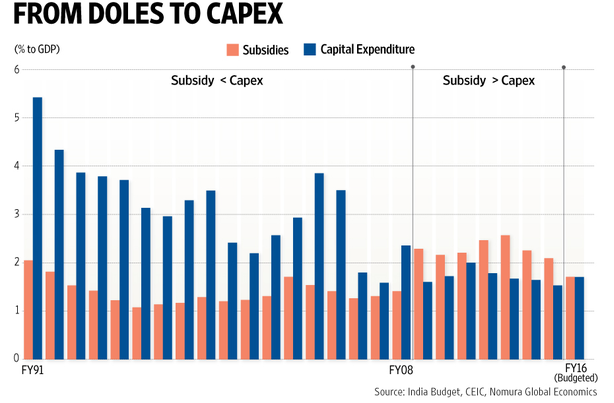 Sadly, the UPA being UPA decided that increasing subsidies through a totally corrupt & inefficient distribution network, majority of which never reached the needy, was a better idea than a sustained investment in Infrastructure which could have changed the face of Rural India. The few projects that were sanctioned got caught up in red tape & corruption. Whether it be the 72,000 crore Maharashtra Irrigation scam or the thousands of road & irrigation projects which were a victim of the UPA's 'Allowance raj'.
The UPA government must be held responsible for squandering away a golden opportunity of fixing India's agriculture.
Implementation of schemes like MGNREGA
There can be no doubt that the Mahatma Gandhi National Rural Employee Guarantee Scheme (MGNREGA) has generated massive rural employment & helped take some burden off from NCR & Mumbai. However, If one closely examines the scheme one will find just how wasteful, ineffective, leaky anti poor it is. While the scheme was launched in good faith by the UPA government it has failed to achieve its objective of 'elimination of rural poverty'. The quality of Assets created by MGNREGA, if you consider digging up holes & filling them back as 'assets', is of very poor quality. MGNREGA could have been used to supplement other rural schemes like Pradhan Mantri Gram Sadak Yojana(PMGSY) & used to create world class rural infrastructure in areas like roads, irrigation, fisheries, animal husbandry etc. Public works programmes like these can help reduce uncertainties over future household incomes. Programmes like these may even encourage farmers to make investments on the farm, knowing they have access to a safety net during bad economic times, but due to the poor implementation & not many 'assets' being created, MGNREGA is nothing but yet another scheme which will is set to fail.
Let's take a look at the example of the programme's poor implementation in Assam. According to a CAG report (http://www.business-standard.com/article/economy-policy/assam-s-mgnrega-scheme-fails-to-ensure-primary-objective-cag-113071801053_1.html) "Only 9.03 per cent of the registered households in Assam were provided with 100 days employment from 2007 to 2012 rendering failure of ensuring primary objective of the scheme," it also added "Assam government "has failed" to ensure the primary objective of livelihood security to each rural population by providing 100 days guaranteed employment in a year due to "improper" and "ineffective" planning. It found discrepancies and irregularities such as non-utilisation of funds, non-transparent process of registration and issuance of job cards, non-payment of unemployment allowances and compensation to eligible workers, inadequate capacity building, failure in creating durable assets, etc." In short MGNREGA is a band-aid solution to a wound which requires a proper surgery.
Low productivity of Farm sector
One of the main reasons why the farm productivity in India is low, other than underinvestment in rural Infra, is the strong opposition by the un-scientific GMO lobby who compromise mainly of leftists NGOs. Scientific studies around the world have overwhelmingly disproven the myths being purported. It is necessary to place scientific facts at the centre of this narrative, and allow society and governments to make informed decisions than ones based on paranoia, pseudo-science, or religion-like dogmas. The results of this malicious campaign has been horrible. Devastating for large number of people not only in India but around the world for people who continue to suffer from starvation, and malnutrition.
The former Environment Minister Jairam Ramesh took full advantage of this Left-NGO movement to cultivate a political base that he never had. It also suited the agenda of the NGO filled NAC(National advisory council) led by Sonia Gandhi. Further, Jairam Ramesh cleverly changed the name of the Genetic Engineering Approval Committee (GEAC), to an "appraisal" committee to make sure that the final decision, regarding the bt brinjal, rested in his own hands. He completely dismissed the nation's Inter-Academy Report on GMOs (genetically modified organisms) at the behest of the anti-technology NGOs. Then, for some reason thought that public consultations should be conducted to solve a purely scientific matter, which is of critical importance to India's food security. Jairam Ramesh at the behest of Leftists-NGOs politicized a completely non-political issue.
So hollow is the Left-NGO argument is that they won't even allow the field trials of the field trials of the GM crops! Without field trials, consultation and experimentation, how would these NGOs know which hybrid would be toxic and by what degree or be absolutely harmless?
The main argument of India's so called 'Environmentalist' NGOs is that GM technology is anti-farmer and anti-people & a tool to of the western capitalist to economically colonize the poor & underprivileged Indian masses. These NGOs argue that by adopting modern biotechnology, developing nations will lose their food sovereignty and food security. Needless to say these arguments are presented without any proof. Why the UPA & her Leftists friends shouldn't be held responsible for creating a strong anti-GM and wasting thousands of cores of public money being invested in Agriculture R&D because of which even the home-grown GM crops like DMH11 (Dhara Mustard Hybrid 11) are suffering ?
Needless to say the Successive Congress regimes & the peddlers of a failed economic theory are the main reason why Indian Agriculture is in a dire strait.