What comes to mind when you hear about the Green Revolution? Wheat? Maize? Paddy? Overpopulated fields in mostly North Indian states like Punjab and Haryana? Norman Borlaugh? How about M. S. Swaminathan? Any one of them or all But I bet only a few can associate Pandurang Khankhoje with the revolution. That is what brain drain does to us.
Born with revolutionary genes
Revolutionary, inventor, innovator, agriculturalist, nationalist, empathic These are some of the few adjectives that can be used to define Pandorum. He was born on November 7, 1884, at Wardha. His father worked as a petition writer, which means that the child had no shortage of knowledge sources to learn from. To top it all, his grandfather had fought in the 1857 independence movement.
The genes started to manifest when young Pandurang relocated to Nagpur. Figures like Bal Gangadhar Tilak and Swami Dayanand Saraswati and their movements inspired him a lot. According to Live History India, after studying the history of revolutions, he became an admirer of the way in which French and American revolutionaries toppled the existing regimes. To put it simply, he liked historically weak ones mustering their courage to thrash the stronger.
Travelled across the world to raise awareness about nationalism
This may be the reason why Bal Gangadhar Tilak sent him to Japan. Japan had beaten a massive Tsar Army in the Russia-Japan war of 1905. There he got to meet people like Sun Yat-Sen. During his East Asia sojourn, Panduram got interested in farming. In 1906, Americans called for Chinese labourers to rebuild earthquake-hit San Francisco. Pandurang also went with them, but his body was not made for slavery-type physical strain. According to his daughter, Shivani Sahane, Pandurang worked as a waiter and hospital attendant to survive. He used the earnings to study agriculture at California and Berkeley Universities.
Also Read: Chandra Shekhar Azad Death Anniversary: 3 Accused, 1 Motive: Who betrayed Chandra Shekhar Azad?
But his zeal for revolutions didn't die. In his free time, Pandurang used to study how Latin American countries and Ireland were fighting against Spain and the British Raj, respectively. In 1910, he enrolled in the Mount Tamalpais Military Academy to train for armed rebellion against the Brits. Confident Pandurag then strived to form the Indian Independence League with Sohan Singh Bhakna and Pandit Kashmir. All 3 then roped in Professor Lala Hardayal of Stanford University and formed the Gadar Party.
The party then went on to infuse nationalistic sentiments among economic migrants and people located back home. Patriotic songs and articles were being read by Indian soldiers fighting for the British in World War I. The British sensed the smoke of mutiny and started to look for Pandurang. In fact, with the help of Germans, Pandurang was trying to enter India through Balochistan. But, within 1 year, the Gadar revolt failed.
Pandurang was now visiting places like Berlin, Paris, and even Russia to meet like-minded individuals. In Russia, he found a man who was a common enemy. It was Vladimir Lenin. Eventually, with the victory of the Brits in the First World War, Pandurang was forced to fly to Mexico. Here, he was faced with a hunger crisis.
Also Read: When Aurangzeb's daughter fell in love with Chhatrapati Shivaji
Revolutionized farming in Latin America
As they say, tough times create tough men. Pandurang saw millions of Mexicans suffering alongside him due to low crop production. He started looking for old Mexican colleagues whom he had met in the USA. Ramon Pe. De Negri, a friend, had become Minister of Agriculture, and another, Luis Manzón, was a parliamentarian. He became a professor at the National Agricultural School in Chapingo due to his interest in agriculture.
He worked day and night with Mexican farmers. Pandurang was head of the Mexican Corn Breeding Program. Under his leadership, lots of new varieties of corn with higher breeding capacities were developed. The new variety was copied by other Latin American countries, as they were suffering from the same problem of food insecurity. Due to Pandurang's efforts, the people of these countries went from sleeping hungry to having more than the required amount of food.
He also developed drought-resistant wheat. Later, Norman Borlaugh brought this variety of wheat to Punjab, fostering the Green Revolution. Students of plant genetics owe a huge debt to Pandurang. It is thanks to him that the subject got mainstreamed. The Mexican government later appointed him as director of the Department of Agriculture.
Father of the Green Revolution?
In Mexico, Pandurang is a revered figure. Diego Rivera has painted a mural depicting Pandurang at the head of the dinner table. Pandurang is cutting bread with a knife, with farmers and soldiers standing beside him. Other tables are occupied by different countries that benefit from them.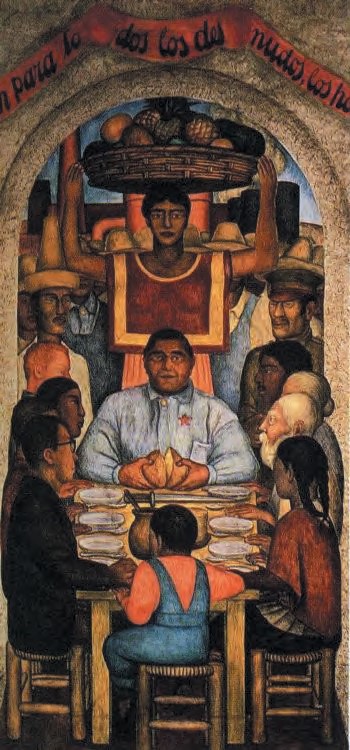 PC: Scroll
When India got political independence in 1947, Pandurang sought to return to his own country. Initially, the Nehru government ardently followed the British ban on him. It didn't grant Visas for Pandurang, his Belgian wife Jen and daughters Savitri and Maya. After 8 years of ardent efforts, he was finally successful in returning to native country.
Pandurang rejected the government's economic aid to him and asked to spend it on agriculture in India. He spent his later years cutting off from public life, while reading old Indian literature in Nagpur. In the midst of the Green revolution, his soul left the body on 22nd January 1967. By then, he had seen the fruits of his efforts in Mexico benefiting his own countrymen and women.
Support TFI:
Support us to strengthen the 'Right' ideology of cultural nationalism by purchasing the best quality garments from TFI-STORE.COM
Also Watch: