Oil and gas are the two things on which modern day Gulf is built. In spite of inhuman policies, countries like Qatar get away only because it is the third largest natural gas exporter of the world. But, India does look in a mood to dump Qatar and choose Russia as a more viable and safe option.
GAIL and Gazprom cooperating
According to a report by The Economic Times, India's GAIL and Russia's Gazprom are in talks for supplying India with cheaper Gas from Russia. Due to SWIFT sanctions, Gazprom has offered GAIL to purchase it in Future trade from Gazprom Singapore and settle payments in Euro for the time being. The supply had come to standstill in May this year due to sanctions. Russians are ready to pay demurrage charges for use of containers beyond the earlier stipulated free time period. Indian Economic Trade Organization (IETO) is facilitating all these negotiations.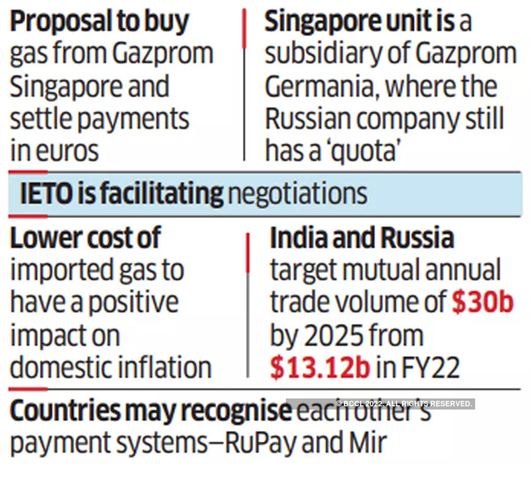 Asif Iqbal, President of IETO said, "India should benefit from lower energy prices if we buy LNG (liquefied natural gas) from Russia. Both Gazprom and GAIL are holding discussions on this to figure out broad contours like Singapore route payment settlements. This should also help control domestic price rises by curbing imported inflation."
Currently, GAIL and Gazprom are cooperating through a deal under which Gazprom supplies 2.85 million tonnes of LNG to India annually. The delivery started in 2018 and will continue till 2038. According to an estimate by the Indian government, the deal has helped save India anywhere between Rs 8,500-Rs 9,500 crores.
India's Gas prospects
However, in spite of the enormity of the deal, Russia is currently nowhere in the list of Top LNG suppliers to India. Currently, Qatar, a country more infamous for its intervention in India's internal matters, rules India's Gas import basket. In 2019, Qatar supplied 41 per cent of our gas. This percentage has gone down, but negligibly. Qatar still provides us with 40 per cent of our gas requirements.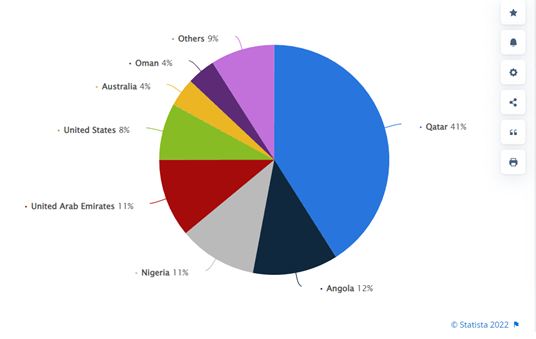 But things change pretty quickly in the International market and especially the energy one. India has already planned for the change, and in one way India's actions are the one which will cause these changes as well. Let's understand the Russian gas sector and India's involvement in it.
Also Read: Muslim Brotherhood launches anti-India campaign on social media with support from Qatar, Pakistan, and Turkey
Russia is more reliable supplier
According to a report by the International Energy Agency, Russia is the second largest producer of natural gas. In 2021 alone, the Putin administration produced 762 bcm of natural gas and exported 27.5 per cent of it. 210 bcm of exports made Russia the largest exporter of natural gas. Moreover, Russia is preparing to increase its dominance in the sector. Estimates suggest that by 2030, Russia will dominate 20 per cent of the global gas market.
But, the question is where does India fit in the scheme of things?
Well, it is estimated that by 2030, Indians will be consuming 3 times the amount of gas they were consuming by the end of last year. Indian companies know it and they also know that equations with countries like Qatar, the UAE, and the US are more prone to geopolitical equations than those with Russia.
India's investment in Russian gas sector
This is one of the reasons why Indian companies have poured billions of Dollars in Russian gas sector. Icing on the cake is that most of these companies are owned by the Indian government itself. Imperial Energy, Russia, is fully owned by ONGC. In Sakhalin I oil and gas plant, LNG holds 20 per cent of share. ONGC invested in Sakhalin way back in 2001.
ONGC also holds a 26 per cent share of CSJC Vankorneft, a Russian oil company operating in Eastern Siberia. When the deal was finalised, it cost $2.2 billion to the Indian government. By spending $2.02 billion, a consortium of Oil India Limited (OIL), Indian Oil Corporation Limited (IOCL), and Bharat PetroResources Limited (BPRL) bought another 23.9 percent of Vankorneft. In essence, 49.9 per cent of shares in Vankorneft are held by India alone. The consortium also holds 29.9 per cent stake in Taas-Yuryakh Neftegazdobycha LLC, another oil and gas exploration company.
India is prepared for future
The extent of India's inroads into the Russian Gas sector can be gauged from the fact that when Shell plc, a transnational corporation "oil major" wanted to shelve its responsibility of Sakhalin-2 LNG plant, Indian energy companies were the ones it decided to poach.
In essence, India is well prepared for future gas requirements. In a few years, the European Union, a key destination of Russian gas, will be reducing its dependence on Russian gas. India is ready to tap in, chopping Qatar's wings.
Support TFI:
Support us to strengthen the 'Right' ideology of cultural nationalism by purchasing the best quality garments from TFI-STORE.COM
Also watch: