India has declared two-day mourning due to the demise of the iconic personality Bharat Ratna Lata Mangeshkar. The flag at the Rashtrapati Bhawan is flying half-mast to mark respect to the departed dignitary. The whole nation bowed down in respect and gratitude on Sunday after Lata Mangeshkar's soul left for heavenly abode. People lined in toartists offer respect to the departed soul at Shivaji Park. India went into collective mourning and people condoled her demise. But on this very same planet, some people exist who can never leave their absurdity. The left-liberals hurled hate at the dignitary, some even shamelessly celebrated her demise.
Read More: Lata Mangeshkar, the Goddess of Singing who never compromised with her core values
Hate hurled at Bharat Ratna Lata Mangeshkar
Lata Mangeshkar passed away on Sunday due to complications of Covid-19. She was laid to rest with full state honours. While the nation mourned the demise of legendary singer' some celebrated her demise and called her 'Sanghi' and 'fascist'.'
The so-called Liberals not only celebrated the demise of the national icon but also took this opportunity to criticize and abuse her. Several social media users posted on Twitter calling her out. The main reason responsible for her trolling was her nationalism. She never bowed down and lived her life with her core values. She survived in an industry surrounded by hate but never gave in. Rather she stood tall against all odds and fought all her battles bravely.
Tweets calling her 'fascist' and 'Sanghi'
A Twitter user with handle Manveer Singh called Lata Mangeshkar a 'Sanghi' and a 'fascist' sharing an old image of her with RSS chief Mohan Bhagwat that she posted on Bhagwat's birthday.
He went ahead to educate the people that, before posting RIP one should note that she supported the RSS. For this reason, Manveer called her a Fascist.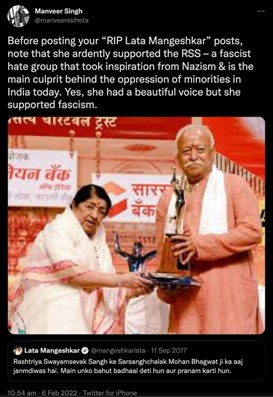 This shows that the Modi Government is not at all concerned about education. The government should bring in some welfare schemes for such innocent adults so that they can get some knowledge of Political science along with history and know what Fascism means.
Also Read: When Tanmay Bhat mocked Lata Mangeshkar for her old age
Another Twitter user, with the name Shivangi who explains herself as a left-liberal columnist, writing for FirstPost and NewsClick disrespected Lata Ji in a manner never done before. She asked the mourners to save the RIP stuff and even compared Lata Mangeshkar's voice with a whistle of a Pressure cooker. She even wrote that Mangeshkar became popular because she started singing in the radio era. She called Mangeshkar's voice an "extra sweet diabetic voice."  People like her who claim to be columnists and journalists should do some research and realize that Lata Mangeshkar was worshipped as a living incarnation of Goddess Saraswati, and she was an institution in herself.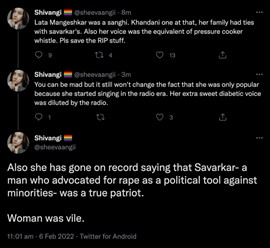 Another user with the handle of Tanjiro Tan propagated that, Mangeshkar single-handedly suppressed innovation in the Indian Music Industry. This user said that the diversity only returned to the industry after Mangeshkar stopped singing. It went on to claim, "Mangeshkar viciously denying independent artisters space in the film.
Unpopular opinion: #LataMangeshkar single-handedly suppressed innovation in the Indian music industry by viciously denying independent artistes space in the film industry.

It was only when she grew old and was unable to sing that diversity returned to the Indian music scene!

— Tanjiro Tan (@TanjiroTan) February 6, 2022
Reasons for Hating Legend Lata Mangeshkar
As a true patriot, one can only feel disheartened at Lata Didi's demise, as the nation called her. Lata Mangeshkar was not only an iconic playback singer but also an ambassador of Indian Culture. Her singing career spanned over seven decades. She is an immortal voice in the hearts of every Indian.
Read More: Lata Mangeshkar and her contribution to Shri Ram Janmabhoomi
Lata Mangeshkar was not just a singer but marked her presence in the Parliament too. She was a member of Rajya Sabha with Bhartiya Janta Party's support from 1999 to 2005. She garnered even more respect in her tenure as a Member of Parliament. She took no allowances for her tenure as MP.
Read More: Lata Mangeshkar thrived in an industry of hate but never gave up on Veer Savarkar
Lata Mangeshkar spoke openly about her family ties with a man who is a hush-hush topic in India. Mangeshkar never denied close associations between her father and Freedom Fighter Veer Savarkar. She referred to Savarkar as a true patriot and freedom fighter. This move of hers attracted a lot of hate from people with different political ideologies.