A talent that soothed generations. A voice that registered itself into posterity with its sweetness. A voice that will forever be the guiding light for millions of Indians. Sadly, that voice and the gentle soul imbibing it passed last morning. 
Lata Mangeshkar and her contributions to Indian music are well known. However, her contribution to the cause of nation-building and especially Ram Mandir has seemingly gone under the radar. Not many are aware that she played a key part in strengthening the nation-building movement.  
In 1990, when Lal Krishna Advani was gearing up to spearhead the Rath Yatra for the construction of a grand Ram Mandir, it was Lata Mangeshkar that sang and recorded the now immortalized 'Ram Dhun' and presented it to LK Advani. The Bhajan was played throughout the Rath Yatra. 
In a condolence note released by LK Advani's office, the BJP leader reflected upon the relationship he shared with Lata Mangeshkar, "Lataji has been my all time favourite among popular singers and I feel fortunate to have shared a long association with her. I recall the time when she recorded a beautiful Shri Ram Bhajan and sent it to me when I was about to undertake my Ram Rath Yatra from Somnath to Ayodhya," 
Read More: Lata Mangeshkar, the Goddess of Singing who never compromised with her core values
Lata Ji celebrated the Ram Mandir Bhumipujan
When the Ram Mandir bhumipujan took place in 2020, Lata Ji took to her Twitter account where she remained active to share a video of the Bhajan with a caption, "This song was reverberating in my mind while watching the speeches of all the dignitaries on television during the Shri Ram Mandir Bhumipujan ceremony in Ayodhya today." 
नमस्कार। आज अयोध्या में श्री राममंदिर भूमिपूजन समारोह के दौरान सभी गणमान्य वक्ताओं का भाषण टेलीविज़न पे देखते हुए मेरे मन में यही गीत गूंज रहा था.https://t.co/yrtqgRBwMf

— Lata Mangeshkar (@mangeshkarlata) August 5, 2020
She further thanked Balasaheb Thackeray, PM Modi, LK Advani, RSS Chief Mohan Bhagwat amongst others in her post. 
"Namaskar. Today, the dream of several kings, generations and Ram Bhakts from around the world is becoming a reality. Today, Bhoomipujan of Bhavya Mandir of Bhagwan Ram is happening after many years of exile. A lot of credit goes to Shri Lal Krishna Advani Ji, who conducted Rath Yatra and spread awareness among the people of India. Credit also goes to Shri Balasaheb Thackeray Ji."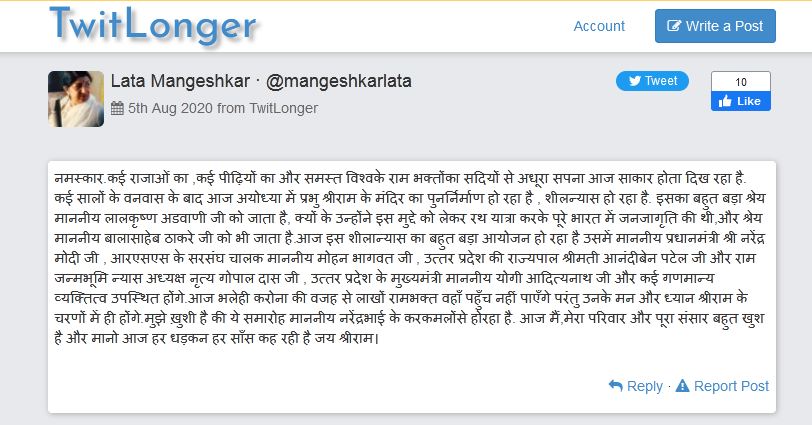 An artist-driven by nationalist interests
For Lata Mangeshkar, nationalism wasn't a commercial programme. She didn't use it for hogging the limelight as an artist. She internalised it. She wore patriotism on her sleeves even if it meant upsetting some influential sections of the society.
In an age and era where big personalities refuse to take a clear line, Lata didi continued to openly and proudly support Vinayak Damodar Savarkar or Veer Savarkar. There is no need to emphasise the kind of trolls that you have to face if you admire Veer Savarkar or acknowledge family relations with the freedom fighter. But this was Lata Mangeshkar. She came from a family of singers with strong cultural values, and she wasn't the one to give them up.
Read More: Lata Mangeshkar thrived in an industry of hate but never gave up on Veer Savarkar
Lata Mangeshkar remained an epitome of grace throughout her life. Unlike many singers of the present era, she never turned into a performer. Lata Mangeshkar has passed away, but she continues to represent the great Indian culture of music and singing in the way she sings and the way she carried herself in public life.