It appears that India's obsession with imposter film stars is not going to end soon. All thanks to our elected politician's insistence on pleasing them. A recent selection of Sanjay Dutt as the brand ambassador of Arunachal Pradesh is one more example of populism going wrong.
Sanjay Dutt is now brand ambassador of Arunachal Pradesh
In a bizarre move, Pema Khandu, the chief minister of Arunachal Pradesh has appointed Sanjay Dutt, the tainted film actor as the brand ambassador of the state. Dutt confirmed it in an Instagram post where he is posing for a photo with Rahul Mittra(Brand Advisor), State Chief Minister Pema Khandu, and State Legislative Assembly speaker Pasang Dorjee Sona. All four are standing with a smile on a staircase.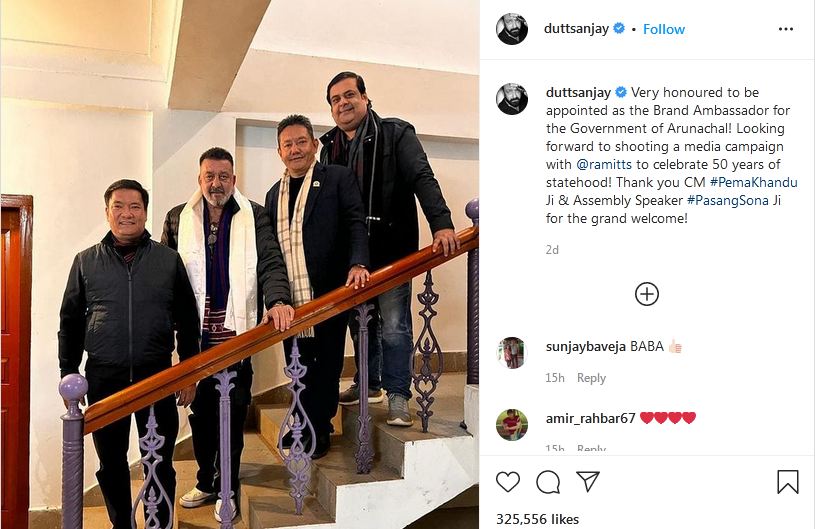 In the photo, Sanjay Dutt is seen wearing a cold white muffler, a colloquial symbol of hilly regions of Arunachal Pradesh. In his gratitude to Arunachal Pradesh's authorities, he wrote, "Very honoured to be appointed as the Brand Ambassador for the Government of Arunachal! Looking forward to shooting a media campaign with @ramitts to celebrate 50 years of statehood! Thank you CM #PemaKhanduJi and Assembly Speaker #PasangSonaJi for the grand welcome!"
Dutt has been roped in for tourism but may end up harming the tourism industry
Sanjay Dutt will be the lead of one-month-long celebrations of 50 years of the naming of Arunachal Pradesh. The celebrations will kick start on 20th January 2022 and will end on 20th February 2022. Dutt's main role will be to shoot promotional videos for state tourism.
Though it's quite understandable that the government is trying to cash on the established popularity of the star, it has the potential to turn out as a big turn-off for the audience. Sanjay Dutt is a much-derided figure when it comes to moral authority in the country. 
Sanjay Dutt has a long history of adventurism with law-enforcement agencies.
Sanjay Dutt – A convicted criminal
 In 1993, Sanjay Dutt was held for illegal possession of weapons and explosives. According to the police reports, Sanjay had procured them from the hardcore elements of "the underworld", the same people who were the chief conspirators and executioners of the Mumbai bomb blast.
Sanjay Dutt was arrested under the Terrorist and Disruptive Activities (Prevention) (TADA) Act for illegal possession of arms. Later he was convicted and his conviction was held by the honourable Supreme Court in 2013. He was sentenced to five years in Jail.
 Read more: Meet Satish Manshinde, The infamous 'whitewasher' of Bollywood
Dutt is also known for creating sympathy wave for the negative elements of the society through his films like Khalnayak, Munna Bhai MBBS. Lately, when deeds him being a druggie, sex maniac started to emerge in the public domain, he hired his industry friends to soften his image through his movie 'Sanju'.
 Read more: Rajkumar Hirani admits to 'whitewashing' Sanjay Dutt in Sanju
It is an unwritten rule of society that people practice what they see in an idolised class of society. If the chief minister of a Democratic state decides to appoint a convicted criminal as a brand ambassador of the state, no one should be surprised if eventually law and order starts to deteriorate in the state within a few years.