Pakistan should start counting its days, as Prime Minister Narendra Modi has put his foot on the gas to take back the illegally occupied areas of Pakistan-occupied Kashmir (PoK). Reportedly, Air Marshal Amit Dev, Air Officer Commanding in Chief (AOC-in-C) of Western Air Command, speaking at the 75th anniversary of Indian troops' Budgam landing, remarked that India will soon be coming for PoK, and that someday, it will govern the entirety of the region.
The high-ranking official said, "All the activities which were carried out by the Indian Air Force and the Army (on October 27, 1947) resulted in ensuring the freedom of this part of Kashmir. I am sure that someday, the Pakistan-occupied Kashmir will also join this part of Kashmir and we will have the whole of Kashmir in years to come,".
On 75th Infantry Day, a top Indian Air Force commander has vowed to take back PoK. Air Marshal Amit Dev, AoC-IN-C, Western Air Command, told reporters in Srinagar that had United Nations not intervened at the time of 1947 India-Pakistan war, the PoK would have been captured by.. pic.twitter.com/9hNeAQPD0G

— Eagle Eye (@SortedEagle) October 27, 2021
Air Marshal Amit Dev also added that people in PoK were being treated unfairly and that the two parts of Kashmir will soon be joined, "Entire Kashmir is one, the nation is one. People on both sides have common attachments. Today or tomorrow, history will witness that nations come together. We do not have a plan at the moment, but, God willing, it will always be there because people in Pakistan-occupied Kashmir are not being treated very fairly by the Pakistanis,".
Interestingly, the statements by the Indian Air Force and its top-ranking official come at a time when Union Home Minister Amit Shah visited the Kashmir valley for the first time ever, since the abrogation of article 370. It is pertinent to note that it is Narendra Modi government's outreach program, under which Union ministers are traveling to the region and Amit Shah's visit also comes under the same program.
Winds of change blowing?
The Indian forces are known for their water-tight discipline and unlike the army in our neighborhood, it does not release immature statements to please the masses. Pakistan army and its top generals routinely sell the false utopia to its citizens that they will soon capture Kashmir and in turn, India. However, the Indian forces always remain tight-lipped about their future course of action.
Thus, Air Marshal Amit Dev speaking confidently and with some assuredness about the forces coming for PoK is a surprise, a good one at that too. It also means that the winds of change have started to blow in the PMO (Prime Minister's Office) and that the government is getting ready, for perhaps, its biggest rendezvous.
We are ready to give our lives for PoK: Amit Shah:
As reported by TFI, in 2019 Union Home Minister Amit Shah had asserted in the lower house of Parliament after the abrogation of article 370, that PoK and Aksai Chin are part of Jammu and Kashmir. He thumpingly said: "We are ready to give our lives for it".
Amit Shah had added, "When I say Jammu and Kashmir, it includes PoK. Both Indian and J&K constitutions also say that the state is an integral part of India and this gives us the right to form laws for the state, which includes PoK and Aksai Chin,"
Read More: Amit Shah boldly reasserts Indian claim on PoK and Aksai Chin- rattles Pakistan, China and Congress in one breath
Not many know about this, but 24 seats in the Jammu and Kashmir assembly are left vacant for the people of PoK. Shah later reiterated his statement at a news channel event that PoK is an integral part of India and a decision regarding its official inclusion as a part of the Union of India will be taken at a right time in the future.
India wants complete control over J&K:
A resolution unanimously adopted by the parliament on February 22, 1994 affirmed that "the State of Jammu & Kashmir has been, is and shall be an integral part of India", and demanded that "Pakistan must vacate the areas of the Indian State of Jammu and Kashmir, which they have occupied through aggression".
Read More: India has got a golden chance to take back PoK by force
Contrary to popular belief, PoK is a rather small strip of land where the majority of Kashmiris are located. Gilgit-Baltistan, Aksai Chin and the part ceded by Pakistan to China are the other regions that make up the entire state of erstwhile Jammu & Kashmir.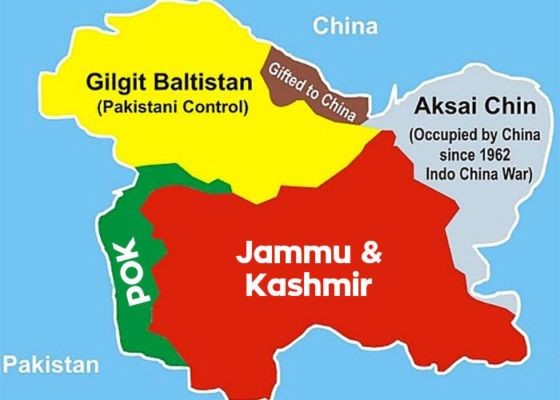 Following the signing of the instrument of accession with India by the then ruler of Jammu and Kashmir Maharaja Hari Singh, Indian troops landed in the valley on October 27, 1947, the very next day after Pakistani tribals carried out raids and seized access to the region.
As for Gilgit-Baltistan, the region landed in Pakistan's lap courtesy of the betrayal of the British military officer of the Maharaja. While Maharaja was signing the instrument of accession, Major Brown, sworn to protect the region, revolted and captured King's governor Brigadier Ghansara Singh.
Major Brown then informed his former British boss stationed at Peshawar about his decision to accede to Pakistan. He defected on November 1 and the Pakistani forces occupied Gilgit-Baltistan on November 4. Since then, Gilgit-Baltistan has been under Pakistan's administrative control.
Separate weather bulletins for Pok and Gilgit Baltistan:
However, with Air Marshal Amit Dev reiterating that India wants to govern the entirety of Kashmir, it means that other than PoK, the forces could be planning to take back Gilgit Baltistan. And if the operation is successful, they might possibly come for Aksai Chin, which was gifted to China by a certain Congress statesman.
It was for precisely this reason that last year, the India Meteorological Department (IMD) had made a significant move by adding PoK and Gilgit-Baltistan in its weather forecast.
IMD has started referring its meteorological sub-division of Jammu and Kashmir as "Jammu & Kashmir, Ladakh, Gilgit-Baltistan, and Muzaffarabad". Muzaffarabad is part of the illegal PoK, while Gilgit-Baltistan is also under illegal Pakistani occupation.
Brilliant. After IMD, Doordarshan's weather bulletin today onwards will have forecasts for Mirpur & Muzaffarabad in Pakistan Occupied Kashmir & Gilgit in Northern Areas which are illegally occupied Indian territories. Constant reminder to Imran Khan/Bajwa & Co. We are coming. 🇮🇳

— Aditya Raj Kaul (@AdityaRajKaul) May 8, 2020
Moreover, as argued by TFI, ever since Afghanistan fell to the Taliban, Pakistan has got the nod to shift its terrorist launch pads near the Indian border in PoK and Gilgit Baltistan. It wants to ramp up its terrorist activities. Sensing that the nuisance by Pakistani terror outfits could pose problems to India's internal security, the government is planning to stay ahead of the curve.
A tried and tested playbook in hand to take back PoK:
For taking back the annexed territory of PoK, India already has a tried and tested playbook – that of the Indo-Pakistan 1971 war. India had assisted East Pakistan in its liberation war from West Pakistan, making a new territory of Bangladesh.
One of the shortest wars in history, lasting just 13 days, the hostility had ended with the Eastern Command of the Pakistan military signing the 'Instrument of Surrender'. India had showcased an excellent harmonious relation of perfect statesmanship and vigilant armed forces, and the same needs to be replicated once again.
The Modi government has set the ball rolling and given the astonishing track record this government has in achieving the unthinkable (Read: 370, Ram Mandir, Triple Talaq), this proposition seems like a challenge that the dynamic duo of Modi and Shah will be hell bent to overcome.