Although wholesome wisdom is not expected from cricketers or other celebrities who rely on public relations management companies for their image-making, people still expect some level of awareness from them. However, Virat Kohli's condemnation of imaginary hate campaign against Mohammed Shami seems to be an ignorant's attempt to fuel anti-Hindu rhetoric on social media.
Kohli saves Shami from imaginary attacks
In probably one of the boldest statements not related to cricket, Indian Cricket captain Virat Kohli has come out lecturing on secularism to the nation. Commenting on those who trolled Indian pacer Mohammed Shami's religious identity for his below-average performance against Pakistan, Kohli said, "Attacking someone over religion is the most pathetic thing a human being can do… it is the lowest level of human potential one can operate at. We stand by Shami fully. We are backing him 200%. All those who have attacked him can come with more force if they want to (but) our brotherhood, our friendship within the team… nothing can be shaken"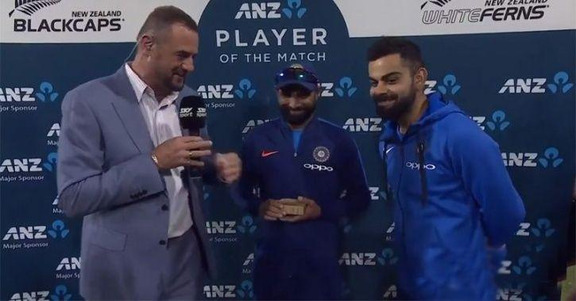 Kohli further elaborated on the nature of social media and people's mentality behind the screen. "All this drama created on the outside is purely based on people's frustrations, their lack of self-confidence, their lack of compassion, and hence they find it so amusing to go after people," said Virat.
Only we can judge our performance, hints Kohli
He further added that people commenting negatively on India's humiliating 10-wicket loss to Pakistan do not understand the game much and only players like him involved in the game have the potential to grasp the win-loss scenario and individual players' real failure or success in the game. "People take out their frustrations because they have no understanding of what we do as individuals. They have no understanding of how much effort we put into the field. They have no understanding of the fact that someone like Mohammed Shami has won India 'n' number of matches in the last few years and has been our primary bowler with Jasprit Bumrah". Virat described the dressing room as totally peaceful and having no iota of any kind of discrimination based on religion, caste, creed or any other feature not inherent to the game.
Indian captain's factual blunder
Though said in a good sense and with good intentions, India's cricketing rockstar made a factual blunder in an attempt to win the hearts of 1 billion Indians. As reported by the TFI, the hate campaign against Shami on which Kohli was commenting did not emanate from India. The tweets and comments were sent from Pakistan based handles in an attempt to ignite social harmony in India. A majority of tweets against Shami were sent from Karachi, Islamabad and Multan. Thousands of fake accounts were created and Shami was abused. One such Pakistani account hurled abuses to Shami in 28 different tweets. Bot accounts were created on Instagram where Shami was targeted, while the real Indian accounts showered love and sympathy for the pacer.
Read more: How the anti-Shami campaign was manufactured in Pakistan to malign Hindus
Campaign against Shami and misrepresentation by left-wing media
However, various Indian Journalists jumped the gun and allegedly in an attempt to garner the 'Noble Peace Prize', various Journalists like Barkha Dutt, Rana Ayyub started to defame India in foreign-based magazines and newspapers editorial columns. These journalists did not even do a background fact-check on the issue and simply started to voice anti-India rhetoric. Virat Kohli seems to be aware of only these journalists' accounts of the hate campaign against Mohammed Shami and not the real news.
The islamophobic hate against #shami with aspersions on his patriotism and his commitment to the country. If this and the state enabled hatred against Indian minorities is not worth taking a knee, I don't know what is @imVkohli @BCCI

— Rana Ayyub (@RanaAyyub) October 25, 2021
Read more: How an Indian 'journalist' tried desperately to win the Nobel Prize and failed
Indians never doubted Shami
Indians have seen Mohammed Shami flourishing in his cricket career for more than a decade. He is probably the most skilful bowler of India who can bowl all kinds of deliveries at more than 145km/hr. Riding on his hard work, Shami has garnered an almost irreplaceable place in the volatile playing XI. People of the country have recognised Shami's role in the team and have been supporting him through Kith and Kin. Even when people from his own religion targeted his family for being un-Islamic, Indians extended support to him. Additionally, when he was going through a bad divorce and custody battle, Indians had come out in huge numbers to lay their support for the skilful bowler.
No support by Virat for cricketers targeted because of being Hindu
There have been various instances of cricketers being targeted simply because they were Hindus.
In April 2020, 'The Print' Journalist Jyoti Yadav, who proudly flaunts her Yadav surname requested Ravindra Jadeja to stop being a Rajput boy.
In August 2020, Sachin Tendulkar was accused by liberals of promoting casteism, simply because he was wearing a Janeu while worshipping Bhagwan Ganesh.
In July 2021, Suresh Raina drew ire from the left-liberals when he simply stated his Brahmin identity in a commentary stint for Tamil Nadu Premier League.
In all those above instances, no office-bearer of BCCI, no cricketer and certainly not our beloved captain issued any statement in support of Jadeja, Raina or legend Sachin.
Whenever something untoward incident happens to Muslims of the country, the cabal of Islamoleftists and liberal media start to drive a hate campaign against Hindus. Virat Kohli's either unaware of Pakistanis' hands behind the campaign against Shami or he is trying to please pro-Pakistan Bollywood for his post-retirement plans. In any case, it harms the Hindus of the country. An Indian cricket captain is probably one of the most responsible posts after Prime minister of the country. People of the country expect better from him.