The Indian cricket team was decimated by the Pakistani side in its first encounter in the T20 World Cup in Dubai on Sunday (October 24). The defeat was humiliating and left the Indian cricket fans with a sour taste in their mouths as India's invincible 12-0 record against Pakistan in the World Cup's came to a halt.
However, a major controversy erupted after the match where big Islamoleftist accounts started peddling the propaganda that pacer Mohammed Shami was being unfairly targeted by Indians for his performance just because he was a Muslim.
Useful idiots doing the bidding of Pakistan
The likes of Barkha Dutt were the first to start the narrative which later guilted former Indian cricketers like Sachin Tendulkar, VVS Lakshman, and Virendra Sehwag to issue statements of solidarity for Shami.
Have to give it to her. Sheer grit. Out of job, out of favour, youtube channel for a front, and still causes more damage to India than lutyens media and united opposition combined. Kathua, CAA riots, funeral pyres, Shamigate, the origin of all unrest. ISI links should be probed.

— Ajit Datta (@ajitdatta) October 27, 2021
However, turns out, the entire campaign of 'Shami being abused by Indians' was planned and manufactured by Pakistan. Using the echo chambers of social media platforms, such allegations were compounded and the focus shifted from Pakistan-loving students studying in Government funded colleges in Kashmir and singing Pakistani national anthems, while other burst crackers to celebrate the victory.
How fake narrative was created to divert attention from crackers and college celebration after Pakistan's win #ShamiKiFarziTrolling pic.twitter.com/4u4IOhtUCU

— Ankur Singh (@iAnkurSingh) October 26, 2021
Read More: After Aryan Khan, Islamoleftists single out Mohammad Shami to play the Muslim victim card
Fake accounts connected to Pakistan targeted Shami
Thousands of fake accounts were created and Shami was abused. One such Pakistani account hurled abuses to Shami in 28 different tweets. Upon closer look, it was observed that the account only followed Pakistan-based handles.  However, after the account was called out, the supposed Pakistan user, deleted it.
Similarly, Pakistani social media teams picked up the issue and made a mountain out of a mole hole. They targeted Shami and added to the empty cacophony of the online platform, which was picked up by influential Twitter handles who amplified the reach of the false accusations.
#mdshami episode is a classic case of social media warfare

Pak intended 3 specific mischiefs-

1⃣ Portray India as Islamophobic society
2⃣ Create sense of fear among Indian minorities
3⃣ Divert attention from Indians chanting Pak anthem & celebrating Pak victory

A thread🧵(1/8)

— Anti Propaganda Front (@APF_Ind) October 27, 2021
Bot accounts were created on Instagram where Shami was targeted, while the real Indian accounts showered love and sympathy for the pacer.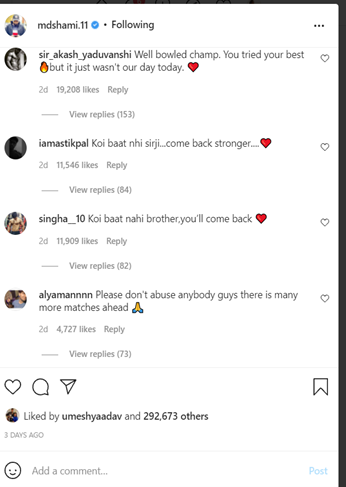 Meanwhile, a Pakistani journalist named Mubasher Lucman planted the seeds of discontent by claiming that Shami was made the 'scapegoat' by Indian skipper Virat Kohli who asked him to bowl the eighteenth over, which turned out to be the last over of the match because he was a Muslim.
He stated, "I was listening to the commentators and they were saying that Virat Kohli made Shami bowl the critical over. I began thinking as to why the Indian skipper did such a thing. I mean he had a lot of other bowling options. I was watching the match with my wife when I realised that it was done to make a Muslim player the target."
Read More: Pakistan has been pushing "Cricket Jihad" for decades, Waqar is just another chapter
Every player was criticized for the poor performance
After the defeat, the netizens were naturally disappointed. While some called out Kohli and his team for focusing on woke agendas like 'taking the knee' rather than focusing on cricket, others called out the individuals for their performance.
In short, nobody was spared. However, the liberals of the country, influenced by the propaganda of Pakistani social media machinery, milked the opportunity to full effect by claiming that only Mohammed Shami was targeted. Akin to the entire drug arrest saga of Aaryan Khan where the liberal media claimed that Shahrukh's son was only targeted because he was Muslim.
However, fiction writer at propaganda portal 'The Wire' Aarfa Khanum Sherwani, the most communalized of the lot also didn't miss out on the opportunity. She tweeted, "Great that you oppose racism and showed empathy for the Black Americans. Now try to get up and stand up for your own colleague, your fellow Indian player Mohammed Shami and show that you oppose communalism too.
Great that you oppose racism and showed empathy for the Black Americans.
Now try to get up and stand up for your own colleague, your fellow Indian player Mohammed Shami and show that you oppose communalism too. pic.twitter.com/0kSp13GIeV

— Arfa Khanum Sherwani (@khanumarfa) October 25, 2021
Gurmehar Kaur, the liberal champion who threw his father who served in the army under the bus to gain some woke points quickly jumped in on the controversy and pretended to show her solidarity with Shami. She tweeted, "We love you @MdShami11 !!"
We love you @MdShami11!!

— Gurmehar Kaur (@mehartweets) October 25, 2021
Nobody chastened Shami but just like other Indian players, he had to cop the blame for the defeat equally. Just because some anonymous Pakistani bot accounts targeted Shami using his religious identity, it didn't mean the real Indian fan plummeted low and disparaged its star player.
Cricket is cruel at times. The players understand that it is the occupational hazard of the job that when 1.3 billion are cheering for you, some will get angry when the team does not perform at its optimum. However, making the issue communal, was the making of Pakistani deep state machinery and the Indian liberal cabal.