For someone who has never been to Bihar, Uttar Pradesh, and Jharkhand, the Bhojpuri film industry mostly reminds them of sounds with high-pitched vulgar music. They are not wrong in their perception, as late 1990s onwards, Bhojpuri singers and writers have only relied on sexually explicit content to garner name and fame. Now, a path-breaking movie 'Jugnu' on 'Stockholm syndrome' is set to break apart from this trend.
Jugnu's trailer released on Youtube
The trailer of the movie has been released on Youtube, under the banner of 'Worldwide Records Bhojpuri'. The movie has been produced by Ratnakar Kumar, with Awdhesh Mishra handling the story, screenplay, dialogue writing, and direction of the movie.
The trailer suggests that the movie is an emotion-cum-action drama. The story of the movie revolves around the idea of revenge and how a person full of revenge can be changed into a kind and loving person. The main character in the movie is shown kidnapping the home minister's daughter, the motive for which, is revealed later in the trailer. The trailer looks to be inspired by Stockholm syndrome, in which the evil protagonist starts to feel fatherly love for the kidnapped girl.
Trailer gets supports from all corners
The trailer received love and support from people from all around the world. At the time of writing, the 222-second trailer had garnered nearly 3 million views and 40,000 likes on Youtube. According to director Awdhesh Mishra, the film 'Jugnu' has come out of the mind of an artist. Despite being a mainstream film, it does not include the typical masala and worn-out formula.
Bhojpuri's glorious history is not known to everyone
Bhojpuri film industry has a long history of producing iconic movies and songs. Bitia Bhail Sayan, Chandwa ke take Chakor, Hamar Bhauji, Ganga Kinare Mora Gaon and Sampoorna Tirth Yatra were some of the most successful movies made during 1970s and 1980s. Stars like Amitabh Bachchan, Mithun Chakraborty, Krishna Abhishek, Sachin Pilgaonkar, Sadhana Singh have been part of Bhojpuri cinema in the past. Daler Mehndi, the Punjabi pop-icon, recently described Bhojpuri as the best language in India.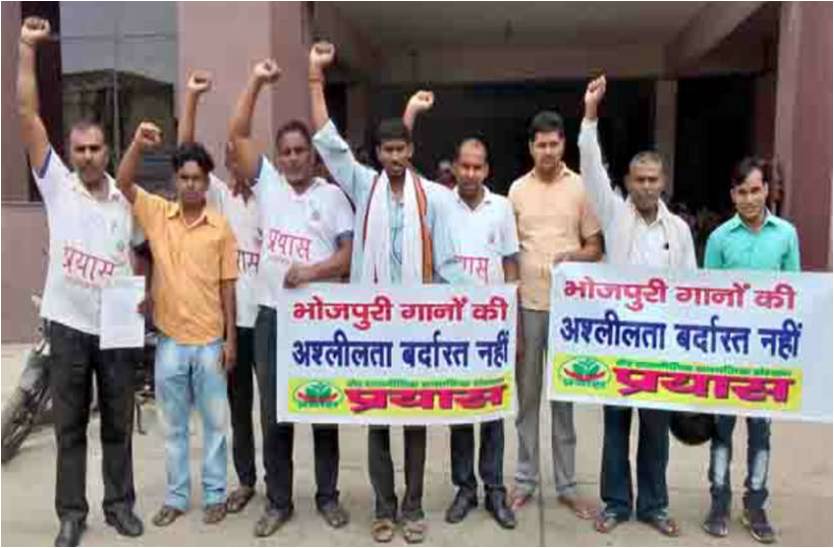 Though after the year 2000, songs like 'Tu lagawelu jab lipistic', 'Bagal wali aankh mare', 'Bagal wali jaan mareli', and hundreds others have vilified the name of Bhojpuri, in and outside India. Songs and movies starring actors and singers like Manoj Tiwari, Pawan Singh, Dinesh Lal Yadav Nirahua, Kheshari Yadav and Ritesh Pandey, have been the main face of Bhojpuri cinema in the 21st century. Notably, these songs based on implicit body organs of both genders did provide an economic boost to the industry, but the greed of money ended up destroying the respect for Bhojpuri culture.
Read more: No, Bhojpuri is not a vulgar language. But Bhojpuri pop culture vulgarised it and has defamed the community
People outside Bihar, Uttar Pradesh and Jharkhand could never learn the glorious past of the Bhojpuri culture.
'Lorikayan', the story of Veer Lorik, contains Bhojpuri folklore from Eastern Uttar Pradesh. The Ahir community treats it as their own 'Ramayan'.
Bhikhari Thakur's 'Bidesiya' a play written on women empowerment, migration and poverty, as a book holds an iconic place in Bhojpuri literature.
'Phool Daliya' is a well-known book by Prasiddh Narayan Singh, which describes the Indian freedom struggle.
Songs of popular stalwarts like Bharat Sharma, Bishnu Ojha and Gopal Rai used to be launched from T-Series albums. In that golden period, folk songs like Birha, Dugola and Sarhat used to be popular.
Now, Awdhesh Mishra has taken an extremely courageous step in his effort to weed out vulgarity from the industry. In spite of getting threats and facing unemployment risks, he continued with the project, which is a commendable job. The Bhojpuri culture needs more people like Awdhesh Mishra to clean its image and project its true nature to the people of India, and abroad.