Despite not being a part of The United Nations Convention Relating to the Status of Refugees, or The 1967 Protocol Relating to the Status of Refugees, India has been suffering the menace of illegal immigrants. Varying estimates suggest that the total number of illegal immigrants in India vary from 20 million to 30 million. Illegal immigration comprises much of the pro-Pakistan Muslim population. Some areas infiltrated by them are even called Mini Pakistan. Kishanganj in Bihar is one of them. Now all these will end soon in Seemanchal with the DM's new plan against illegal immigrants.
Kishanganj-The first to crack down on illegal immigration
Kishanganj District Magistrate (DM) Aditya Prakash has instructed the district administration to identify suspected illegal refugees residing in the city, especially along with the border areas. DM Aditya Prakash has written a letter to District Public Relation Officer (DPRO) asking him to circulate a Patna High court order regarding the identification of the illegal immigrants in the city. Citing the High court's order, DM letter read- "In fact, we are of the considered view that such process of sensitizing people, more so along with the border areas, must be carried out vigorously both through electronic and print media as also associating the public-spirited persons/NGOs, for the deportation of illegal immigrants is of paramount importance and in the national interest." Further, he requested the common public to provide as much information as possible about illegal immigrants. At the same time, a similar notice has also been issued by the Superintendent of Police, Siwan, in which people have been asked to inform about illegal immigrants and especially 'Bangladeshi immigrants' at the nearest police station.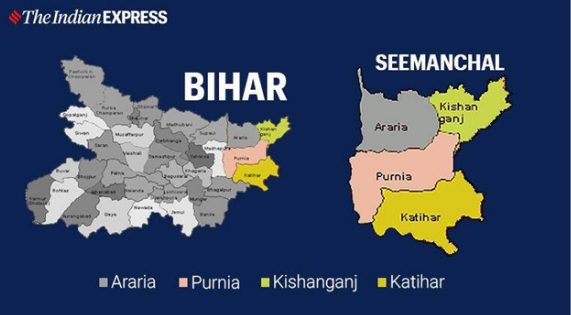 AIMIM fears being wiped out
The letter has sent down chilling waves in the political circles, especially Asauddin Owaisi led AIMIM are not contend with the District Magistrate's Order. Commenting on the issue AIMIM national president Owaisi tweeted- "Bihar government is implementing NRC in Bihar from back-door. Officials are asking the general public to report "foreign nationals" and "illegal immigrants" living nearby to the nearest police station. Similar legal action has been misused in Assam on a large scale." Continuing the thread he said- "False cases have been filed against many respected Indians, due to which people have to face a lot of trouble. The people of the SanghParivar have been spreading this lie for many years that the Gayur people of Seemanchal are infiltrators, there is no truth in this fact."
बिहार सरकार चोर-दरवाज़े से बिहार में NRC लागू कर रही है।
अधिकारी आम लोगों से कह रहे हैं कि वो आस-पास रहने वाले 'विदेशी नागरिक' और "अवैध प्रवासियो" की सूचना नज़दीकी पुलिस स्टेशन को दें।

असम में भी ऐसे ही क़ानूनी कार्रवाई का दुरूपयोग बड़े पैमाने पर हुए हैं 1/ pic.twitter.com/roQ3j2qcx4

— Asaduddin Owaisi (@asadowaisi) September 7, 2021
कई बा-इज़्ज़त भारतीयों पर झूठे मुक़दमे दर्ज किए जा चुके हैं जिससे लोगों को बहुत ही ज़्यादा मुश्किलात का सामना करना पड़ा है
संघ परिवार के लोग कई सालों से इस झूठ को फैला रहे हैं कि सीमांचल के ग़य्यूर अवाम घुसपैठिए हैं, इस बात में ज़रा भी सच्चाई नहीं है2/ https://t.co/lP7dGnBeVx

— Asaduddin Owaisi (@asadowaisi) September 7, 2021
Seemanchal region which comprises mainly of four districts;  Kishanganj, Purnea, Araria, and Katihar is a heavily Muslim-dominated area. A party like AIMIM, which is headquartered nearly 2000 km away in Hyderabad was able to garner 5 seats in Bihar Assembly only on the back of Muslim domination in Seemanchal. Estimates suggest that the Muslim population in Seemanchal varies from 40 per cent to 70 per cent of the total population. According to BJP leader Harendra Kumar Pandey, over 50 lakh illegal Bangladeshi immigrants have populated all four districts of Seemanchal. And the fear of AIMIM comes from the fact that Panchayat elections are about to take place in the whole of Bihar. A crackdown on illegal immigration will mean that a large majority of Muslims will be sent back to their own countries, that is Bangladesh and it will affect demography by huge margins. Simply put, wiping out illegal immigration from Seemanchal may end up in wiping out AIMIM from Bihar.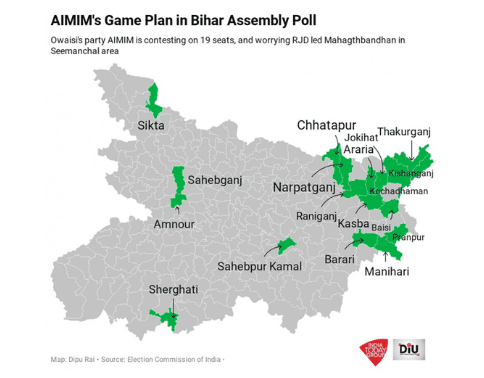 Elections and Immigration
As Panchayat elections are nearing, a lot of false voter identification cards were anticipated by the administration. To stop illegal voting, administrations in Bihar are taking strict actions to make sure that the rule of law is enforced and politicians do not end up winning through illegal means.
Illegal immigration has been a contentious issue in the country. When they arrive in the country, they are state-less, jobless, property-less; politicians give them doles and they end up voting for them. Over a period of time, these illegal immigrants turned out to be a new vote-bank for the politicians. This phenomenon was rampant in West Bengal and Assam before Modi Government fastened the NRC process.