Those criticising Chetan Bhagat for his vaccine remarks are completely nuts. Chetan was right. Chetan Bhagat, a few days ago, tried to project himself as the cause of India's admirable vaccination drive. India has so far twice administered more than one crore doses in a single day. Today, India's vaccination campaign is progressing very well, and a large share of the credit for the same rests with the Modi government, vaccine manufacturers and frontline workers. Chetan Bhagat also contributed tremendously to this campaign.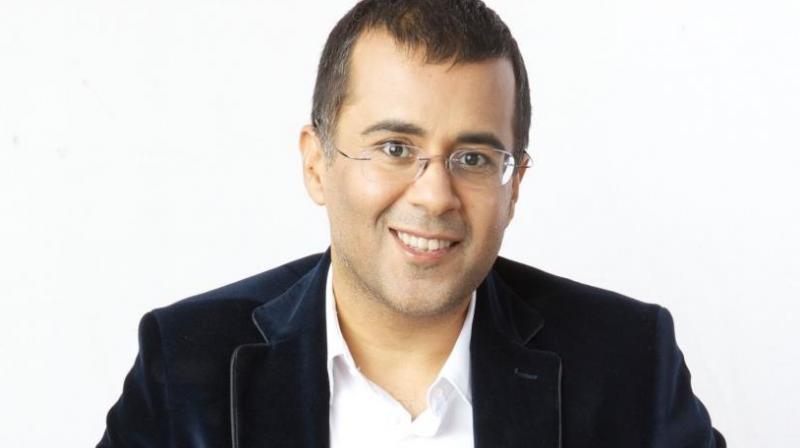 In his own words, he said, "Glad vaccination pace picked up now. Happy to have contributed to bring attention to slow vaccination back in April and May. My column from then here, making the case for increasing pace 5-10x, which we have finally achieved now." To make his point, Bhagat also linked his blog from May 2021 which, had questioned India's vaccination module. Interestingly, this was the same blog that had lobbied for American vaccines. 
Glad vaccination pace picked up now. Happy to have contributed to bring attention to slow vaccination back in April and May. My column from then here, making the case for increasing pace 5-10x, which we have finally achieved now. #StaySafe https://t.co/cX28l8x9MT

— Chetan Bhagat (@chetan_bhagat) September 1, 2021
Chetan Bhagat has received unimaginable flak for trying to hog the credit for India's vaccination numbers. Such outrage is unfounded. Not only did the renowned author help with vaccine awareness more than a decade ago through his novel titles, but he also warned us about the pandemic all these years. Get ready to be blown away as I explain how.
Wrote a thread on TFI for a change. It's probably a masterpiece for I talk about HH @chetan_bhagat – the man who talks to time and time whispers in his ears. Leave everything and read. https://t.co/A7mdx93TD5

— Atul Mishra (@TheAtulMishra) September 2, 2021
Five Point Someone
Through this title, Chetan predicted the five variants of Coronavirus (original, Alpha, Beta, Gamma, Delta), while the mantissa (after the decimal) part suggested that the virus will always be mutating into newer, more virulent and more lethal forms.
Currently, the Delta variant is wreaking havoc across the world. Interestingly, the world had thought that the mutations of Covid-19 would not be fast enough and that one vaccine will work to control the pandemic. However, it was Chetan Bhagat's foresight that predicted in 2004 itself the emergence of the novel Coronavirus, its five variant and their ever-evolving nature. 
One Night at the Call Center 
Call Centers represent crammed workplaces or any crowded place in general. The virus is so communicable that all it takes is a night for you to be infected and, then you will infect everyone around in the cramped workplace (or any crowded place). Chetan Bhagat shed light on the propensity of Covid-19 to spread from one person to another in 2005 itself. It is completely justifiable for him to now claim credit as India vaccinates its population against the disease in record numbers
2 States
Through this title, Chetan warned that 2 states will decelerate India's fight against the deadly virus. The 2 states are – Kerala and Maharashtra. Sheer genius.
Kerala is currently contributing around 70 per cent of India's daily new infections. Kerala threatens the country as a whole today. Maharashtra is not far behind. The Maha Vikas Aghadi-ruled state has been a nightmare since last year when it comes to Covid-19 handling. 
3 Mistakes of my Life
1. No mask 
2. No hand-washing or sanitisation 
3. No social distancing 
The three mistakes that can turn anyone into a COVID patient! Chetan Bhagat knew all along. His contributions to the world's fight against Covid-19 are simply beyond quantification. 
Half Girlfriend
With Covid-19, came lockdowns and with lockdowns, came physical and social distancing. Physical distancing was painful for everyone, but for lovers, it was nothing but a painful nightmare. The virus eventually turned actual girlfriends into half girlfriends.
Revolution 2020
Should we call him Chetan Bhagat or Chetan Nostradamus? Let's refer to him as the modern-day Nostradamus already, please! The man predicted that 2020 will mark a revolution. 2020 changed the world as we knew it. Vaccine development started in the year 2020. Shockingly, the first vaccines were approved for use in the world in 2020! Chetan Bhagat always knew that 2020 would be revolutionary. 
So, before you laugh at "His Highness" Chetan Bhagat for doing his bit, take a hard look at yourself. Introspect, foolish people. The man, like Da Vinci, put clues in his work for us to see. But we, illiterate knuckleheads, couldn't decipher them. The shame is for us to carry all through our lives. And such is our ignorance, that we even trolled him when he rightfully claimed his place as a Covid-warrior. The whole nation, nay, the whole world owes Chetan Bhagat a heartfelt apology.