18 September 2016 is a landmark day in India-Pakistan relations. The day marks the ending of India's soft stance on Pakistan. The terrorist attack on Indian armed forces stationed in URI backfired on Pakistan, resulting in the birth of "Naya Bharat". The "Naya Bharat" is armed with changed cultural, political, diplomatic, and economic alerts on Pakistan.
On 18 September 2016, troops from 6 Bihar regiments were replacing troops from the 10 Dogra regiments. For a brief period during the transition, the forces from both troops were stationed in Indian Army brigade headquarters in Uri. At around 5:30 AM, when everybody was asleep, Pakistani terrorists sent by Jaish-e-Mohammed attacked Uri headquarters with bombs and grenades. They reportedly hurled 17 grenades in less than 3 minutes. In the attack, 17 army personnel were martyred, and 19 to 30 were left injured.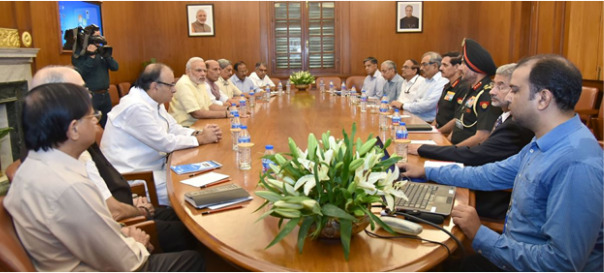 After the Uri attack, the Indian public came out in full support of the Modi government's hardened stance on Pakistan. Additionally, some significant changes were observed vis-à-vis Indian relations with Pakistan.
Cultural change
Post Uri attack, it became untenable for Pakistanis to keep appearing in Indian films and serials and many Pakistani artists were removed from their ongoing projects. The Indian Motion Picture Producers' Association (IMPPA) passed a resolution to ban Pakistani actors from the industry in the wake of the Uri terror attack. Indian TV entertainment channel called Zindagi announced the discontinuation of airing Pakistani TV shows on their channel.
Coming to sports, BCCI ruled out the possibility of reviving bilateral cricket ties with Pakistan. BCCI also asked the International Cricket Council (ICC) to not group Indian and Pakistan cricket teams together in international tournaments, keeping in mind the border tensions between the two countries. Badminton Association of India decided to boycott the Pakistan International Series scheduled to be held in Islamabad in October, as an act of "solidarity" with the government's diplomatic offensive against Pakistan.
The Political change-Tit-for-tat
Modi government reported sharply to the attack with the National Investigation agency taking the investigation into their hand. After URI, India shut down any hopes of diplomatic engagement with Pakistan vis-à-vis Kashmir and decided to administer Kashmir on its own. 
The political leadership of the state government and Hurriyat Conference were rendered ineffective and India started wiping out militants hidden in Kashmir. In August 2019, the Modi government decided to revoke a special provision given to Kashmir under article 370 of the constitution. The removal of Article 370 proved to be a boon for Kashmiris as it opened their way for integration with the rest of India.
Read more: Article 370 Revoked: Celebrating Kashmiriyat
India's Diplomatic change-No more passive resistance
Modi government decided to go full throttle against Pakistan at every level of diplomatic engagement. India postponed the SAARC summit which was to be held in Pakistan, while a bilateral boycott of trade and cultural relations with Pakistan was initiated. India also revoked the "Most Favoured Nation" status from Pakistan. India's diplomatic efforts ensured that the Uri attack was condemned by not just the major countries around the world but also international organisations, such as the UN and EU.
India launched a diplomatic offensive to isolate Pakistan on the international stage. Several resolutions against Pakistan-backed terrorist groups were sent to the United Nations Security Council by India. By this, India made it clear that it will not accept any third party interference in Kashmir, which included United Nations as well.
Military offensive
Eleven days after the Uri attack, India conducted retaliatory surgical strikes on Pakistani launch pads in Pakistan Occupied Kashmir. Indian Director General of Military Operations (DGMO) Lt Gen Ranbir Singh said that it had made a preemptive strike against "terrorist teams" who were preparing to "carry out infiltration and conduct terrorist strikes inside Jammu and Kashmir and in various metros in other states". 
The Economist reported that Indian commandos crossed the Line of Control and struck at the safe houses, allegedly killing approximately 150 Pakistan-sponsored terrorists.
This led to Pakistan taking few steps back in its terrorism support. But, in February 2019, a heinous terrorist attack was launched on Indian forces in Pulwama. This time India decided to counter it with a more offensive airstrike in Balakot, targetting Jaish-e-Mohammad camp in the area. The airstrike killed more than 300 Jaish terrorists in the process. This was the first time India decided to use its air power against terrorists in a foreign country. The airstrike was also compared with United States Navy Seal operation killing Osama Bin Laden in Pakistan.