On Saturday, 7 August 2021, Javelin champion Neeraj Chopra ended India's century-old wait for a gold medal in athletics at the Tokyo Olympics 2020. Bollywood celebrities, politicians and netizens took to social media to pour in wishes for the star javelin thrower. A number of congratulatory messages and memes were posted on social media which involved fans saying that Akshay Kumar should star in the possible biopic of Neeraj Chopra.
GOLD GOLD GOLD GOLD!! 🇮🇳
Congratulations @Neeraj_chopra1!!!
Our very first gold in Athletics…an incredibly proud moment for the whole nation!!
History has been made! pic.twitter.com/RWFRiJ5Fd6

— Anil Kapoor (@AnilKapoor) August 7, 2021
@akshaykumar Sir, hope you are ready for another legendary sporting biopic!!! INDIA needs more stories like these and you have the means to tell a nice story!!😄 pic.twitter.com/coKYQVYNiL

— Anshuman Banerjee (@AnshBanerjee13) August 7, 2021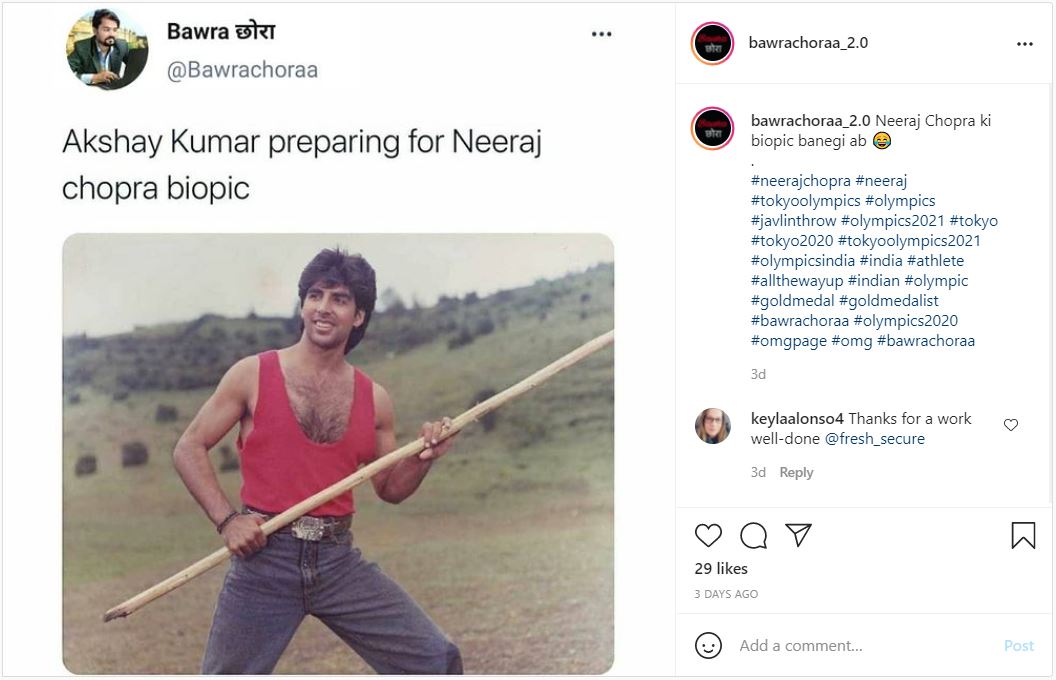 However, Facebook user Maurya Mondal was two steps ahead of everyone else as he created and shared an entire narrative of the biopic. This 'script' has now gone viral among fans on social media. The analysis of the Facebook user Mondal will definitely give you a good laugh as he had added much 'reel' entertainment to the athlete's 'real' life, adding some Bollywood 'drama' and plot twists inspired by several other biopics, like Bhag Milkha Bhag, MS Dhoni: An untold story, Sultan and Dangal.
Hereby presenting you a movie based on India's pride 'Neeraj Chopra', directed, and twisted with the 'masala formula' by Maurya Mondal. The opening scene of the movie depicts a small village in Haryana. Some boys are playing cricket and the batsman hits a huge six. The ball falls into a nearby field where a man is working with his son in the field. The fielder asks the child to pass the ball, however, as the child was about to throw the ball, the fielder mocks him saying that the ball would never reach them. The little kid throws the ball so far not only does it reach the ground, but it also hits the middle stump, and everyone is stunned, adding an unrealistic yet 'Bollywood' touch to it. This incident catches the eye of Gajraj Rao, who happens to be an athletics coach and was coincidently passing by. Gajraj then analyses the child and finds that the boy has a lot of hidden potential.
Gajraj approaches the child in a bid to take him under his wing. However, the child, belonging to a poor family, declines stating that he cannot even afford a pair of shoes, but Gajraj is determined and convinces the child's father to let his kid join the academy. After years of training, the kid grows up to be Akshay Kumar. He is a national-level javelin thrower and an Army officer.
The movie is further dramatized by establishing a narrative where the national athlete protects the female protagonist, 'Kiara Advani', who gets attacked by some goons; he scares the hooligans away by hurling a javelin at them and rushes for practice before Kiara could thank him.
The very next day, Akshay participates in a march-past at a major function at the Cantonment and notices Kiara Advani sitting next to the Commanding Officer; he then realizes that she is the daughter of the senior officer, "eyes meet, song plays, and love blossoms." A generic Bollywood love theme is established, which gets the crowd applauding.
As normal Bollywood stories carry on, after love, comes separation which keeps the audience hanging, "They fall in love, but Akshay tells her that his focus is only getting gold for India at the Olympics. She says she will support him and wait for him till he wins gold."
Akshay wins various international events. Then the Patriotic perspective takes over the narrative, where a small war breaks out with Pakistan. Akshay is determined to join the battle to serve his motherland. The administration refuses, as he is a medal prospect for the country, but for Akshay, nothing is more important than his country. Everyone salutes him. During the war, he is surrounded by the Pakistani army and his bullets run out, then he somehow finds a long tree branch and uses that as a javelin to kill his attackers.
Akshay gets badly injured, and the doctors tell him that he will be able to throw javelin again, but he is determined. Kiara Advani is equally resolute. As the healing process and prayers start, 'Love wins', and after a miraculous recovery, Akshay is fit again and qualifies for the Olympics.
His main competition in the Olympics comes from a massive evil German athlete and an African athlete. The African athlete is barbaric, he has honed his skills by throwing spears at lions. The German athlete mocks Akshay and claims that Indians are weak and thus he will not be able to beat him, but nevertheless, Akshay tops the qualification. The German athlete gets worried and conspires to attack Akshay. Our protagonist then fights a group of Germans alone and displays his martial arts skills. Meanwhile, the members of the Indian hockey team, who have won their match, come forward and help him beat the Germans away.
Seems like all is well now, but just before his final throw, Akshay learns that his father's farm has caught fire. 'The emotional Aspect', he breaks from inside, yet his country needs him, his coach encourages him, everyone in the village is praying for him. As he throws his final decisive bet, the members of the Indian team shout, 'Bharat Mata ki…'Akshay successfully throws the bet and screams 'Jai!' to the entire stadium.
Akshay is the real champion as everyone congratulates him; even the Germans come up to him and apologize. India erupts in joy as Medals are distributed and the Indian National Anthem is being played creating a sense of patriotism. The movie ends on an average Bollywood note as the athlete and his girl dances to an item number: Badshah's remix of Sona kitna sona hai, Tumera Hero Number 1.
Akshay Kumar is the man who constantly appreciates the gems of our country and himeslf a motivation for most of them .
Most loved superstar ❤ pic.twitter.com/b7DqoyJPh8

— Delightful Anubhav (@Delightfulstar1) August 7, 2021
Over the past few years, the trend of biopics has gained a lot of momentum amongst Bollywood directors, and producers earn a lot of money by making such biopics by giving them a Bollywood dramatic perspective. The satirical piece on Neeraj seems to have gone viral keeping in mind the athlete's popularity after he bagged the gold in Olympics.
Meanwhile, Neeraj now seems to have changed his mind about a biopic on him. After his Olympic win, he told Hindustan Times in an interview "Don't make a biopic on me yet. I'm still playing (the sport) and would like to continue doing so. I believe there are more stories to be added to my journey, and "main chahta hun aur medal leke aaun. Jab tak career chal raha hai tab tak ruk jana chahiye" (I want to win more medals. Until I am still playing, the biopic should be on hold). I want to focus on my game. I'd like it if a biopic is made on me, but after my journey is over and I retire from sports!"
What Neeraj says makes sense. He is at the top of his game and has a long sporting career ahead of him. The last thing he needs is to be distracted from his career goals. A biopic on Neeraj Chopra will tell us his life story, true, but his story is not over yet. He still has a long way to go. He still has medals to win for our country. He still has to carve out a legacy for himself.