Gift-giving is a skill that does not come so easily to everyone. If you find yourself worrying when special occasions such as a wedding anniversary are around the corner, you have come to the right place. Whether it is a celebration of your marriage or crossing important milestones of a relationship, gifts such as pair watches remain a classic option.
Even if you have not been a fan of couple gifts in the past, it is hard to go wrong with the right pair watches. They are a tasteful and fail-safe option when it comes to gifting. But, it can be difficult to find the perfect couple watches.
So, we have simplified the process for you by bringing a list of pair watches you might like. Here are a few of them: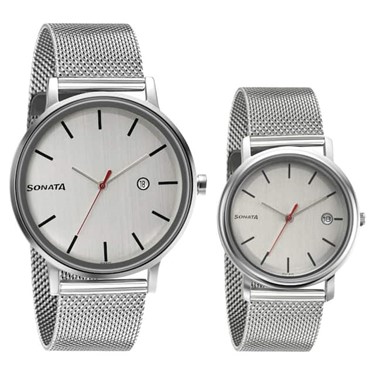 Sonata is one of the most trusted watch brands in India. So, when it comes to pair watches, you can be sure to find excellent options from their collection. These silver dial analog pair watches by Bandhan from Sonata are an impressive example. With a metal case material and silver strap, these pair watches are designed to last long and provide optimal performance. Besides, the white dial colour adds to the charm of the piece flawlessly.
The beauty of these pair watches is that they will look great with both traditional and western outfits. If you are looking for an accessory or ornate that suits both your style and your budget, this brand will almost certainly have your desired timepieces at a reasonable price.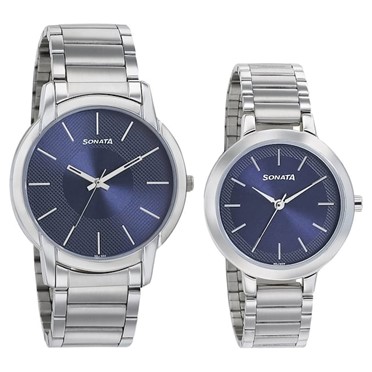 This lovely set of pair watches by Sonata is sure to please. They come in a sleek and sophisticated design, with a blue dial that matches the stainless-steel straps perfectly. These watches can complement your daily lifestyle as well as jazz up your outfits for special occasions. The Sonata Blue Dial Pair Watches comes with analog function, keeping your style statement classy and singular.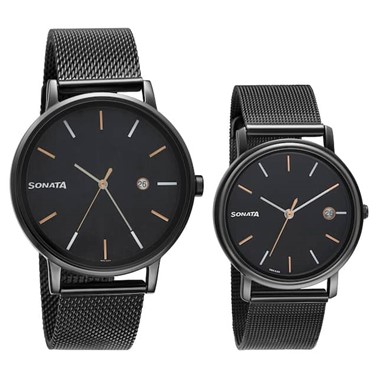 These black dial analog pair watches are another stunner set by the Bandhan collection from Sonata. They strike the ideal combination between fierce and elegant. The black strap and dial with the mineral glass material will undeniably make you stand out in a crowd. You can be sure to gain some points with your partner this anniversary when you gift them these pair watches.
If twinning with your partner is your thing, don't miss out on this timepiece from the Bandhan collection by Sonata. These pair watches can be the ideal anniversary present to symbolize love and commitment. The two-toned strap colours make them a beautiful accessory for your wrists. They also add a little bit of zest to your overall look when you pair them with your outfit.
Day or night, the Sonata silver-white dial analog pair watches are a fabulous choice to turn heads wherever you and your partner go!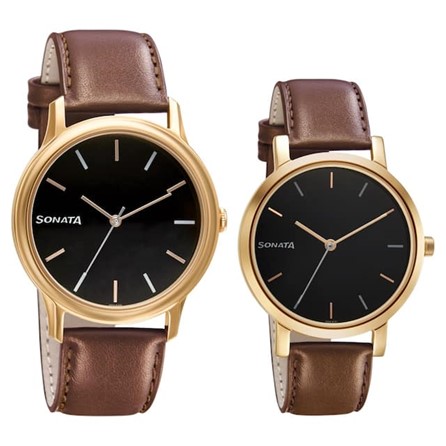 The black dial analog pair watches by Sonata is what happens when vintage meets modern! If you have an undying love for classic styles of watches, this may be another gorgeous piece to add to your collection. The tan leather strap of these pair watches says sophisticated, graceful and pristine. These are wonderful for gifting to your partner to wear in those corporate meetings. Nothing like a stylish piece of accessory to add a little excitement to a monotonous day!
Although flowers and chocolates are still the go-to when looking for gifting options, couple gifts can hold a special place. And, among different couple gift options that you can explore, pair watches can be one of the most stylish and meaningful presents.
If you are feeling inspired to gift your loved ones something special this year, make sure to check out the Sonata collection of pair watches. With exceptional quality standards and trust built over the years, they are among the finest brands for watches. Furthermore, they are well-known for providing excellent after-sales and customer support, which can only improve your shopping experience!