Eros Now, which is a digital OTT platform owned by Eros International Media Ltd, is being lambasted on social media for its highly offensive, denigratory and outrageous posts, particularly on Twitter. Since October 17, Navratri is being observed by millions of people in India, particularly Hindus, for whom, the nine days of spirituality hold deep significance. Notwithstanding such sentiments, Eros Now took to its Twitter handle to publish cheap posts, abound with sexual innuendo, while using references of Navratri and hashtags to the same effect as well.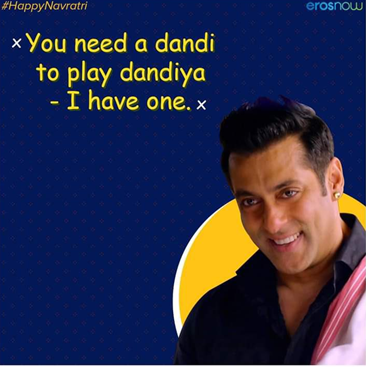 The said posts were deleted after heavy outrage directed against Eros Now for their specific targeting of a Hindu religious occasion, using the highly revered festival of Navratri as an opportunity to further their own luscious content, laced abundantly with sexual connotations. Subsequently, on Thursday morning, Eros Now came out with a statement and apologised for the recent posts which had rightfully outraged many on social media. "We at Eros love and respect our cultures equally. It is not, and it has never been, our intention to hurt anyone's emotions. We have deleted the concerned posts and we apologise for having offended anybody's sentiments," the statement read.
— Eros Now (@ErosNow) October 22, 2020
This did not stop social media users from making #BoycottErosNow the top trend. While the specific targeting of Hindu festivals for moral grandstanding, virtue signalling and environmental activism has been observed and even tolerated to an extent in the past, such disgusting usage of a Hindu spiritual occasion has perhaps never been seen before. While users announced a boycott of Eros Now, activist Ramesh Solanki even took to declaring that he will soon be initiating legal action against the OTT platform.
Dear @krishikalulla and @ErosNow get ready to face legal music for insulting and hurting the sentiments of Hindus

Dont take us Hindus lightly warna dhandha band hojaayega ( legally ) share market mein seedha niche⬇️ samjhe

Shame on you perverts at Eros Music @HinduITCell pic.twitter.com/QdtPbIzbhp

— Ramesh Solanki (@Rajput_Ramesh) October 21, 2020
We must preserve cinema as a community viewing theatre experience,its more difficult to enthrall large section of audience than sexualise content for personal viewing, digitisation of art faces this major crisis, all streaming platforms are nothing but a porn hub. SHAME @ErosNow pic.twitter.com/qKHde2R4HI

— Kangana Ranaut (@KanganaTeam) October 22, 2020
Now we know why @ErosNow is so vulgar to Hindus. Thanks to their new CEO Ali Hussein #BoycottErosNow#BoycottBollywood pic.twitter.com/rMiRXu2q6L

— arun pudur (@arunpudur) October 22, 2020
Sorry @ErosNow those tweets were disgusting and insulting to Hindus. Your apology is NOT accepted 😠

RT If You Also Agree #BoycottErosNow pic.twitter.com/hl6wVPuWM5

— Arun Yadav (@beingarun28) October 22, 2020
This is how we celebrate #Navratri. …
And how @ErosNow shamelessly tweet on Navratri !!!!

From now,#BoycottErosNow pic.twitter.com/jXfRZVkRvJ

— ISHWAR TIDKE (@ishwartidke) October 22, 2020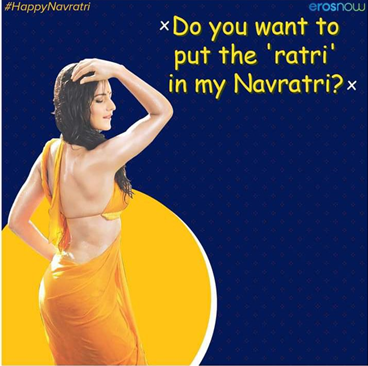 Only recently, Tanishq Jewels was in the centre of a massive social media storm owing to their abject wishful and fictitious thinking of certain families being absolutely accommodating and tolerant towards Hindu women who get married outside their faith. The advertisement was slammed mainly for its blatant ignorance of facts on the ground, where Hindu women are made victims of love jihad and are forcefully converted into Islam by the groom and/or by his family.
Having learnt no lessons from the recent fiasco, Eros Now has invited an even bigger hell on itself. Why would any enterprise publish outrageous and sexually laced posts during Navratri? What does Eros Now mean when a post by it reads "Do you want to put the 'ratri' in my Navratri?" Will the over-sexual employee of Eros be sacked for posting such offensive material on social media? In case Eros Now thinks that it can get away with a mere half-hearted apology, it is highly mistaken.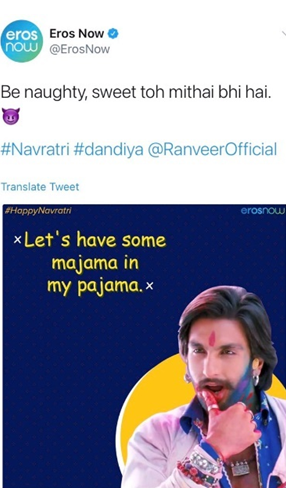 This is a marketing disaster for Eros, which will have far-reaching, long-term repercussions. It is also a lesson-in-point to all those who have been thinking about posting similar anti-Hindu and outrageous posts on social media, using references of Hindu festivals which are held sacred by crores. The actors who were made a part of such posts will be well-advised to speak out against Eros Now for attempting to make a sacred Hindu festival all about sex.