What do political opportunists in the opposition ranks do, when they can't fault the government? They start grabbing attention with one-liners or so-called 'witty' jibes. So, the latest piece of senseless propaganda being passed around is that the Modi government took a loan from a 'China-sponsored' Bank- the Asia Infrastructure Investment Bank (AIIB).
Of course, accuracy is being compromised for the sake of sensationalism here. None of the enraged critics seems to care about how AIIB isn't a Chinese Bank or a Chinese development agency. In fact, it is a multilateral institution with 103 countries and India itself is the second-largest shareholder in this multilateral body.
It all started with The Telegraph report, titled, "China loan horse without a mouth," which stated that India borrowed a sum of $750 million from the AIIB. The Telegraph further reported, "Narendra Modi government has formally confirmed that India took two loans totalling $1,350 million (Rs 9,202 crore) from the China-controlled Bank in the thick of the border standoff."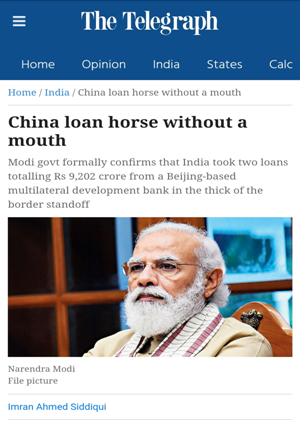 The Telegraph then tried to take a dig at the Modi government by claiming, "Action of delinking the government's financial transactions from bilateral tensions goes against the Centre's policy of cracking down on Chinese business relationships in India. Besides, the Indian external affairs ministry has been asserting that it cannot be business as usual in the face of Chinese attempts to unilaterally change the facts on the ground along the border."
Soon the entire left-liberal ecosystem was up in arms. INC legislators, journalists and the rest of the leftist political spectrum came together to ask- Why the Modi government took loan from the AIIB? To somehow create a narrative, the AIIB is now being described as a 'Beijing-based Bank', 'China-sponsored Bank' and INC leader Randeep Singh Surjewala even called it a 'Chinese government Bank'. And let's not even talk about what Rahul Gandhi, the perpetual Prime Minister-in-waiting had to say about the AIIB loan.
गलवान घाटी में सैनिक क़ुर्बानी देते हैं,

सेना सीना ताने जान हथेली पर लिए खड़ी है,

ऐसे में….मोदी जी
ऐप्स बैन कर तो वाहा-वाही लूटते हैं,
और
चीन की सरकार के बैंक से गुपचुप क़र्ज़ लेते हैं।

यही है झूठी राष्ट्र भक्ति,
नही चाहिए चीन का पैसा,
देश के स्वाभिमान पर समझौता मंज़ूर नही। pic.twitter.com/8nTNvr5boj

— Randeep Singh Surjewala (@rssurjewala) September 16, 2020
आप chronology समझिए:

🔹PM बोले कि कोई सीमा में नहीं घुसा
🔹फिर चीन-स्थित बैंक से भारी क़र्ज़ा लिया
🔹फिर रक्षामंत्री ने कहा चीन ने देश में अतिक्रमण किया
🔹अब गृह राज्य मंत्री ने कहा अतिक्रमण नहीं हुआ

मोदी सरकार भारतीय सेना के साथ है या चीन के साथ?

इतना डर किस बात का?

— Rahul Gandhi (@RahulGandhi) September 16, 2020
Understand the chronology:

🔹PM said- no one crossed the border
🔹Then, took a huge loan from a China-based bank
🔹Then, Def Min said- China occupied our land
🔹Now, MOS Home says- there's no infiltration.

Is Modi Govt with Indian Army or with China?

Modi ji, why so scared?

— Rahul Gandhi (@RahulGandhi) September 16, 2020
June 15: Chinese troops kill 20 Indian soldiers in the Galwan Valley.

June 19: India signs a loan agreement with the Asian Infrastructure Investment Bank (AIIB) for $750 million (Rs 5,521 crore) of which China is the largest shareholder. 56 inch ? https://t.co/Sg2UKWbt09

— Rana Ayyub (@RanaAyyub) September 16, 2020
Yesterday, Govt confirmed in LS that four days after Galwan attack, Govt took a $750 million loan from Beijing based, Chinese controlled AIIB bank, to pay for Pradhan Mantri Garib Kalyan Yojana(PMGKY)

Bankrupt Modi govt Bans apps to distract while taking $$ loans from Chinese!

— Srivatsa (@srivatsayb) September 16, 2020
On June 19, days after our soldiers were martyred, the BJP govt signed a $750 Million loan with China-controlled bank AIIB. On the same day, PM Modi agreed with China's line that there have been no incursions.

China effectively bought PM Modi's silence!https://t.co/99X0i6Q4UV

— Shama Mohamed (@drshamamohd) September 16, 2020
Now, we at TFIPOST also have a question. We want to ask the distinguished economists of the leftist ecosystem- why should India not borrow from the AIIB? China may be the largest shareholder but India is also the second-largest shareholder in this multilateral development Bank.
Let us check some numbers- China does have a 26 per cent stake in the multilateral bank, but the rest of the stake is owned by more than 100 countries. India itself has an 8.7% share in AIIB, being the second-largest investor with a mammoth 8.4 billion Dollars stake. Also, India is a founding member of the Asia Infrastructure Investment Bank.
To Whom It May Concern: Borrowing From AIIB No Different Than Borrowing From World Bank – @karanbhasin95 https://t.co/4fSNRBfelq via @swarajyamag

— Aashish Chandorkar (@c_aashish) September 16, 2020
Now that India has played its role in giving birth to this Development Bank, why shouldn't it avail cheaper loans from the AIIB for fuelling its own development? India has a deep and inalienable interest in the AIIB and India's Union Finance Minister also sits on the Bank's Board of Directors.
What an attempt to brew panic! India took the loan from AIIB – the Asia Infrastructure Investment Bank. India is the FOUNDING member of this 'multinational' development bank. https://t.co/BwAiAvzS8r

— Varun Jhaveri (@Varun_Jhaveri) September 16, 2020
Our finance minister sits on the board of governors of AIIB. https://t.co/4ESFXZi5jr

— SandeepParekh (@SandeepParekh) September 16, 2020
So, if we may do a little fact-check, the AIIB is neither a Chinese agency nor a China-controlled bank. And it is certainly not a China-sponsored bank. AIIB is just another infrastructure development Bank, and it isn't very different from the World Bank or the Asia Development Bank.
A tactical ploy as laughable as the #CPC propaganda inspired story about #India taking loans from a #China based bank'. #AIIB is a multilateral institution. India is second largest investor with $8.4 bn stake and 8.7% share. India has taken a loan of $1.3 bn for #COVID19
1/n https://t.co/a5joLxjWa6

— Kanchan Gupta (@KanchanGupta) September 16, 2020
By borrowing from a multilateral institution, India didn't really borrow Chinese money. And what is the deal with the AIIB's Beijing headquarters? How does that make the multilateral Bank Chinese, especially when as many as 103 countries are members of this multilateral body?
Even the World Bank is headquartered in Washington, does that make it an American institution? For decades, India and China have borrowed heavily from the World Bank. China still borrows indiscriminately from the World Bank though it doesn't really need such soft loans. The US still has a 17.25 per cent stake in the World Bank, yet China hasn't stopped borrowing from the multilateral body.
Beijing still benefits out of the World Bank notwithstanding China's endless disputes with the democratic world. So, why should India stop borrowing from the AIIB to fuel its own development?
.@ttindia👇

US has 17.25% stake in #WorldBank&every WB president since inception has been US citizen,but that does not make @WorldBank an American body

AIIB,like WorldBank,is a multilateral organisation,located in Beijing-this trashy piece by Imran Ahmed Sidiqqui,is a new low😑 https://t.co/NlFKDedAP1

— Sanju Verma (@Sanju_Verma_) September 16, 2020
Just because a few Sinophiles think that the AIIB is a Chinese bank, Beijing doesn't gain ownership of the AIIB. New Delhi has every right to develop its infrastructure by availing soft loans from the AIIB. And in doing so the Modi government is neither buying Chinese money nor is it legitimising China.