China is scandalising and defiling some of the most fundamental inter-governmental organisations that were supposed to make the world a better place. And since, China's collusion with these inter-governmental organisations is becoming clearer than ever before, they are found covering up their indecent China connections shoddily. The latest Chinese collusion getting unearthed is the World Bank-Beijing collusion.
In a new shock to the global community, the World Bank has confessed that its "Ease of Doing Business" list is unreliable. Four countries- Azerbaijan, China, Saudi Arabia and the United Arab Emirates (UAE) reportedly committed data irregularities in its 2018 and 2020 lists. This latest revelation only adds up to World Bank's chequered history of a strong bias towards China, including its generous lending for a country that itself happens to be a giant, global creditor.
Now, since the World Bank has to cover-up for its culpable shortcomings, it has decided to pause the publication of the 'Doing Business 2021' report. But we are compelled to ask what kind of a solution is this? If China committed irregularities and fooled, then it should be punished for its wrongdoings and debarred from getting ranked in the next 'Doing Business' report but the World Bank has no right to hold up the annual exercise and keep the entire world at ransom.
Why does the World Bank think that the entire world should keep waiting even when China shows no signals of correcting its fraudulent behaviour? While the World Bank pauses its 'Doing Business 2021' rankings report, it is countries like India– that are transparent, fair and forthcoming when it comes to sharing their data– who will suffer. These countries are also going up in the 'Doing Business' list but the World Bank seems to be more interested in protecting an exposed China than safeguarding interests of transparent countries.
China has risen dramatically in the World Bank's 'Ease of Doing Business' rankings. Between 2016 and 2020, China's "Ease of Doing Business" rankings improved from 84 to 31. More shockingly, China's rankings improved from 78 to 31 between 2018 and 2020, which is the same period that has now come under the scanner.
Now, the World Bank feels that it erred and therefore the entire world needs to come to a standstill. But what was the World Bank doing while China was taking this Washington-based supranational institution for a ride?
The World Bank was singing paeans for "China's Strong Reform Agenda", while the Xi Jinping administration was fast making China an unpopular business destination. It is well known that it isn't easy to do business in China- especially for foreign firms. State dominance in certain sectors, political interference, an extensive negative list of sectors in which foreign firms are restricted and other restrictions make mainland China a not-so-popular business destination. Why did the World Bank not take these factors into account while ranking China?
In fact, China's unfriendly business conditions are the main reason behind its unimpressive 96th rank in the World Bank's 'Doing Business' list in 2014. But it seems that China was soon able to overwhelm the intergovernmental financial institution with its increasing shareholding and influence in the administration.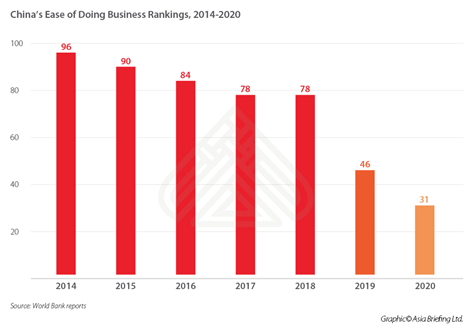 It cannot be a mere coincidence that China's staggering improvement came only in the decade when it assumed a towering position within the World Bank. In 2010, China became the third-biggest shareholder of the Washington-based organisation with its voting power at the institution hitting 4.42 per cent. In the next ten years, Chinese influence in the World Bank kept increasing and as of 2019, it enjoyed a 5.05 per cent voting share at the leading inter-governmental financial institution.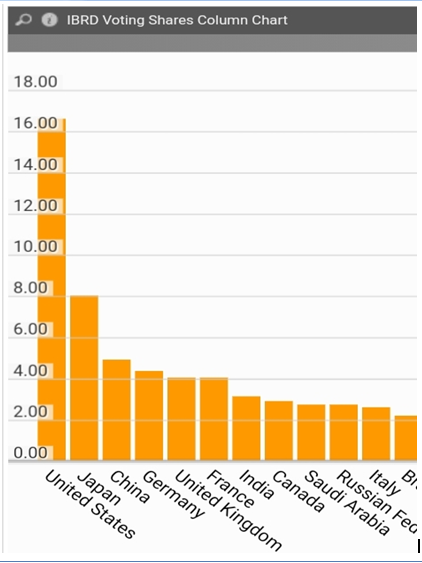 Now, the World Bank is trying to cover up for its lapses with a decision to pause the 2021 'Doing Business' rankings list. Maybe the World Bank and China would have continued to mislead us had it not been for some China hawks sitting around the world today. The World Bank has to cover up now because it understands that countries like Japan, the United Kingdom, France, the United States and India which hold around 35 per cent voting share in the Washington-based body could come after it if they find out how China has been favoured in a rather unfair manner.
The World Bank has anyway been on Trump's target over its generous loans to China. At 6.19 billion US Dollars, China got the second-highest amount of capital from the World Bank, next only to India between 2016 and 2018. Even last year, the World Bank adopted a lending plan to aid China with $1 billion to $1.5 billion in the form of low-interest loans until 2025, despite objections from the Trump administration. The plan contemplates only an insignificant decline from the previous five-year average of $1.8 billion.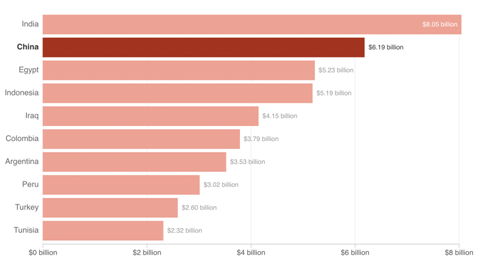 Trump had then tweeted, "Why is the World Bank loaning money to China? Can this be possible? China has plenty of money, and if they don't, they create it. STOP!" It makes no sense for the World Bank– an institution supposed to aid development programmes in developing and Least Developed Countries (LDCs)– to hand out generous loans to China, the second-largest economy on the planet as if it were a developing country.
The World Bank has been subsidising China's usury and debt-trap diplomacy. While China is a large-scale World Bank borrower, it is a giant lender at the global level. China's outstanding claims in the world exceed 5 per cent of the global GDP. China and its State-run companies are estimated to have directly lent a whopping 1.5 trillion US Dollars to 150 countries around the world. And we are not even mentioning China's "hidden debt" around the world.
Moreover, China's lending capabilities are going to rise even further with its 1 trillion US dollars Belt and Road Initiative (BRI) that unabashedly uses high interest-rate loans as a foreign policy tool. By doling out billions of US dollars at low-interest rates, the World Bank is arming China with more and more Capital to lend further at market rates of interest, which China uses for entrapping smaller economies in exorbitant debts. And who is paying for this Capital? Countries like the US, Japan, India, the UK and France, and all other leading shareholders in the World Bank.
But if the World Bank thinks that it can conceal its role in making China an even bigger bully, then it is grossly mistaken. It cannot simply exculpate itself by pausing the 'Doing Business 2021' report. The World Bank-China nexus is out in the open and it is becoming clearer that another inter-governmental organisation has gone the WHO way. It is now for the democratic world to either set things right within the World Bank and marginalise China from the annual exercise of 'Doing Business' rankings.